Hi
I have this tendency to put off doing important things until the very last minute.
But it's handy in a funny kind of way because it means that all kinds of tasks get done that would never normally reach the top of my priority list.
This week I've avoided my deadline task and:
▶️ sorted through a whole boxful of recipes clipped from magazines (twenty years' worth) and got rid of most of the box
▶️ ordered new sofa covers because Alfie chewed the old ones when he was a pup (he is now two!)
▶️ backed up my downloads folder
▶️ called my accountant to chase up my annual accounts
All useful stuff but I should've been writing a sales letter!
Still, I did all that and then (because I had a firm deadline) I got the sales letter finished with two hours to spare.
That's what I call a result! 🤣
If you have a lot of tasks that have been hanging around forever on your To Do list, see if committing to a deadline for something else will help shift them.
Human brains never cease to amaze me.  💖
************************************
NEW! 2023 FULLY LINKED & DATED PLANNER FOR AFFINITY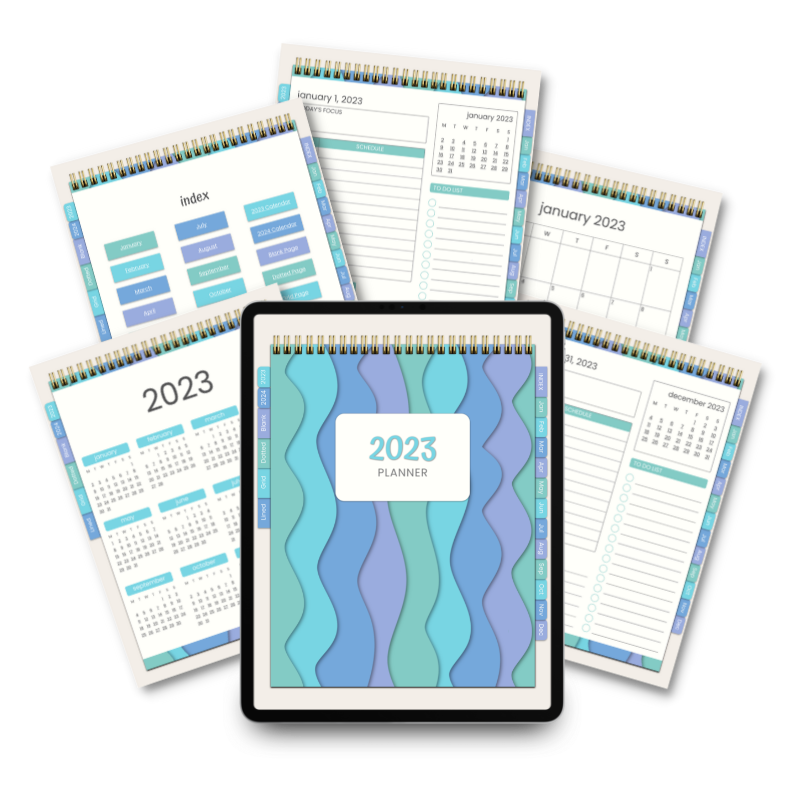 If you always wanted to make a fully dated planner in Affinity Publisher but only had templates for Powerpoint or Keynote, help is at hand.
A few months ago, my friend Jayne and I launched a course to show you how to transfer a printable PDF template to Affinity.
(You can see that course "To Affinity & Beyond" here if you missed it.)
While the techniques are great for printables, they don't work for digital planner templates as the links don't carry over.
It's all right if you have to recreate one or two links but dated fully-linked planners have thousands of the things.
These templates have to be made from scratch.
So, I kicked off a project to do just that, and now it's ready: a fully-dated 2023 digital planner template for Affinity Publisher with hundreds of pages and thousands of links.
Along with the template you'll find a 41-page manual with step-by-step instructions for changing your planner (if you wish) so that you can easily create something unique to sell.
Just $27 for both template and instructions during the launch (ends midnight 25th)
There is also a chance to scoop up another done-for-you design at checkout at $9.95 but no other upsells.
Save weeks of work and learning how to do this and stock your shop with gorgeous and highly functional digital planners made in Affinity Publisher!
Get all the details here: https://simplehappiness.biz/cool-blue-affinity-digital-planner/
************************************
See the PS for today's awesome freebie! 
************************************
NEW! FREE PROFIT TRANSFORMATION REPLAY
If you missed signing up for Monica's free Profit Transformation training which took place earlier today, never mind, you're in luck as there's a replay (which I'll be catching too)
https://simplehappiness.biz/monica-profit-transformation-replay
************************************
SO MUCH CONTENT! UNBREAKABLE RESILIENCE
Unbreakable Resilience is an awesome mega pack from quality provider Tools for Motivation dealing with a topic that is essential in every walk of life.
This pack gives you a ton of fantastic content to edit (if you wish) and that you can use to create products, lead magnets, and content for your blog.
Take a look at everything you'll receive and the special launch pricing here: https://simplehappiness.biz/tfm-unbreakable-resilience
Just $37 (regularly $147)
My bonus: If you purchase this product through my link, you can choose any one bonus reports from the list at the end of this newsletter 💖💖💖
************************************
SALES PAGE HELP! ELEMENTOR TEMPLATES
Faith has just launched a pack of awesome guided sales letter templates for Elementor (a website builder for WordPress.)
If you use Elementor or you're thinking about it, take a look.
Because this is not just a comprehensive set of templates with a product sales page template, a product giveaway page template, a tripwire offer page template, and a downsell offer page template in three different design styles, there's also a step-by-step video tutorial on how to customize these Elementor templates to suit your own style and branding.
The templates and tutorial will be super helpful in selling your products.
Use code ELEMENTOR50 to enjoy $50 discount. (Usual $97) — coupon code is valid until 30 October.
Get more info here: https://simplehappiness.biz/faiths-elementor-templates
My bonus: If you purchase this product through my link, you can choose any one bonus report from the list at the end of this newsletter 💖💖💖
************************************
MORE AFFINITY HELP! CREATE PRINTABLES IN AFFINITY
Catherine Beebe of Printables Academy is celebrating the first anniversary of her Create Printables in Affinity training this month. This is her six-hour long flagship course and it assumes a little bit of knowledge of Affinity so she has bundled it with some beginner's courses (as an option) if you are starting from scratch.
Save $30 on either the flagship course alone or the whole bundle with coupon code ANNIVERSARY for the rest of October.
The Affinity Course Bundle of four courses includes
▶️ Affinity Publisher Basics
▶️ Affinity Designer Basics
▶️ Using Affinity Publisher for Low Content Books
▶️ Create Printables in Affinity
Get all the details here on the flagship course: https://simplehappiness.biz/create-printables-in-affinity
And here on the bundle: https://simplehappiness.biz/affinity-course-bundle
My bonus: If you purchase any of these options through my link, you can choose any one bonus report from the list at the end of this newsletter.  💖💖💖
************************************
ENDS TODAY! 2023 MARKETING PLANNER
Lynette has just launched this 2023 Marketing Planner which you can use yourself or edit, brand, and sell as it comes with templates and commercial rights.
This is a planner will help you and your customers focus on three key marketing tasks daily, every week to help them build the consistency that snowballs into massive results.
Launch price $23 (Regular price: $47)
Special deal ends Tuesday, October 18
Get all the details here: https://simplehappiness.biz/lynette-2023-marketing-planner
My bonus: If you get the planner through my link, you can choose any one bonus report from the list at the end of this newsletter 💖💖💖
************************************
ENDS TODAY!  ARE YOUR DIGITAL PRODUCTS FLYING OFF THE SHELVES?
If you're not selling as many digital products as you'd hoped, it could be that you have a design issue and not even know it.
The problem may be that your course, printable, or planner has to compete with all products designed by professional graphic designers.
And if it doesn't look the part, buyers will pass right on by, even if your same-price offer has better content!
Unfair, but true.
As a non-designer, it's often in selecting fonts and laying out text where mistakes are made.
But you can level the playing field and compete with the best very quickly by using the principles and tips you'll discover in my new course.
No need to take a diploma in graphic design or hire an expensive graphic designer to raise your game.
One hour is all you need!
Launch price just $27
Get more details here: https://simplehappiness.biz/one-hour-fonts/
Note: We start with fonts as this is where most mistakes are made, but buyers will also have the opportunity to get One Hour Graphics at an even lower price which will cover use of images in a design.
************************************
ONE DAY ONLY! ANOTHER SPECIAL DEAL FROM CINDY
Cindy is running a special sale this October from today until the 22nd with one of her most popular products at half price each day (but only for that day!)
Coupon: Promo code OCTOBER22 saves 50% on a different resource each day
Today's product is her awesome Membership Site Mastery training! 
Cindy is a master of membership sites as she creates much of her very healthy income from running one!
Find out how to do it the easy way directly from her.
Get all the details and grab 50% off here: https://simplehappiness.biz/cindy-membership-site-mastery
My bonus: If you get the training through my link, you can choose any one bonus report from the list at the end of this newsletter 💖💖💖
************************************
LAUNCH ENDING! LIMITLESS DESIGN KITS FOR ANY USE
If you worry about the licencing that comes with graphics, or you struggle to make something unique out of the graphics that you get from the usual graphics sites, help is at hand.
Because there's a new membership site that offers a pack of 250 graphics a month without all the restrictions that usually get in your way.
The graphics are awesome as they are created by an illustrator especially for the membership.
With the licence offered, you can even use these illustrations for PLR products, and print on demand, and you can make stickers with them too! 
Take a look here at all you get and get grandfathered in at the lowest price: https://simplehappiness.biz/limitless-design-kits
This launch is ending but it's not all bad news – because until the 20th, you'll get two launch kits for the price of one as the new content comes out!
My bonus: Join through my link and choose any two bonus reports from the end of this newsletter 💖💖💖
************************************
AWESOME DEAL! GET ALL LEONIE'S TRAINING FOR A YEAR FOR $99 
This is an amazing deal from Leonie Dawson.
I have purchased a lot of her training at full price and never regretted it.
Though I'm a little miffed that I bought so much that is included already  😢, I've purchased this annual deal anyway as it will give me access to all the many things still on my wish list and the courses she creates this coming year too🥳
Get all the details of Leonie's Brilliant Life & Business Membership here:  https://simplehappiness.biz/leonie-annual-membership
And even if you don't buy, enjoy the sales page!
No one creates a web page like Leonie!
My bonus: Join through my link and choose any three bonus reports from the end of this newsletter 💖💖💖
************************************
GREAT VALUE! TWO SPECIAL CONTENT KITS FROM PASSION FOR PLR 
DEVELOP PASSION AND PERSEVERANCE
The first contains content to help entrepreneurs develop the passion and perseverance that they need to succeed in business.  It has one pillar post and enough supporting material to make sure your post gets attention. You could even make several products and lead magnets with the content of this package.
Purchase during October to get launch price $13.50 (50% off) with coupon code STRIVEOCT
Get all the details of this epic content kit here: https://simplehappiness.biz/grit-content-kit
SHADOW WORK 
The second Passion for PLR October launch helps people get over a traumatic past with shadow work.
Shadow work is a practice that helps individuals process their darker emotions. It is a powerful technique that can help people gain strength.
The practice is often used in conjunction with other forms of psychotherapy and is particularly useful for those who have experienced trauma, such as an abusive relationship or a death.
Use this content kit to show your audience the benefits of Shadow Work and the ways to use it in their life.
Purchase during October to get launch price $23.50 (regularly $47) with coupon code SHADEOCT
Find out more here: https://simplehappiness.biz/shadow-epic-content-kit
My bonus: Choose any one bonus report from the list at the end of this newsletter for each of the kits you purchase through my link 💖💖💖
************************************
BONUS SELECTION (  💖💖💖  ITEMS ONLY) 
When you buy 💖💖💖 marked products through my links you can choose any of the items in the list below.
To claim just send your receipt(s) to me ([email protected]) and let me know which bonus(es) you would like. I'll verify with the vendor and send them right back to you, usually within a day or so.
Here are the currently available bonuses.
▶️ My plan for making $3K a month from Amazon KDP in 2022
▶️ Aargh! exactly what to do when you feel like quitting
▶️ My millionaire plan (February 2022 update) for how I plan to retire with a lot of fun money
▶️ Simplify! 15 things I do to avoid getting overwhelmed
▶️ Graphics – my process for making PLR unique using graphics
▶️ 339 best-selling printable ideas
▶️ 25 ways to get more mileage from the PLR on your hard drive
▶️ 27 best converting lead magnet ideas
▶️ Boost your business by reviving old blog posts
▶️10 Steps to Creating a Winning Strategy for Your Next Project
▶️ 5 minute miracle start to make every day a success
▶️10 Ways to Make an Extra $1000+ this year
▶️10 Places to Sell Printables Other Than Etsy
▶️10 Reasons it took me ten years to make a living online (Find out how not to be me!)
▶️ Unstuck! How I take decisions in my business and move forward without fear
▶️ Easy! The Simplest Products that Sell to Create from Scratch
▶️ How to Find the Best Canva Templates to Elevate Your Brand
▶️ Be Unique! How to Stand Out in a Crowded Marketplace by Finding Your USP
Have a great day and I'll be back soon with more tips, freebies, and some offers but only the ones I personally think are great value and know the quality to be good.
love
Jan

https://simplehappiness.biz
P.S. TODAY'S FREEBIE
FREE from Piggy Makes Bank "Start your day with Gratitude and Positivity" includes 7 articles and 7 emails with PLR commercial rights: https://simplehappiness.biz/pmb-gratitude-and-positivity