Hi
Those of us setting up and running a business online are busy.
There really is so much to do and there's always more that we could be doing.
But are we really "too busy"?
Too busy to do the things that matter?
Too busy to take care of ourselves properly?
I started to read a book at the weekend that Leonie Dawson sent me as part of a prize in one of her affiliate contests and this quote jumped out at me.
So, I'm now looking at what I can cull from me endless "To Do" list.
It's just not coming to me yet.  My boundaries need work! 🤣
I hope you have a better handle on all this than me. 💖
************************************
ENDS TODAY! RAISE THE LEVEL OF YOUR PHOTOS & GRAPHICS 
Make your blog and social media look gorgeous by using graphics from stock photo site Ivory Mix.
They are like a secret weapon in gorgeousness.  🤣
Not only that but Ivory Mix has some superb training courses, too.
The VIP membership is currently open but today is the last day (VIP is the level I have enjoyed for a few years) and if you join today, you also get $750 worth of solid training.
If you just want to try them out, there's a free membership level, too!
I started with that but quickly upgraded and getting their (always more than they promise) new image packs is like a birthday gift every month.
Find all the details here: https://simplehappiness.biz/ivory-mix-vip
My bonus: If you purchase the VIP membership through my link, you can choose any two bonus reports from the list at the end of this newsletter 💖💖💖
************************************
NEW! FAITH'S GROW TOGETHER GIVEAWAY 
Gorgeous FREE bundle of 80+ goodies – more than 40 you can brand, edit and sell in your shop or use as freebies, and others (equally gorgeous) for personal use.
Support the creators by signing up to get all the goodies you can use (by Sunday 30th October as they all go away on the 31st).
And then be sure to use what you download and not let it gather dust of the digital variety!
I contributed something to these bundles too so look out for that.
Get everything here: https://simplehappiness.biz/faiths-grow-together-giveaway 
************************************

FREE! MONEY ON THE FLY 
This is a recorded teleclass by successful business owner Alice Seba from Ekithub.com
You can benefit from watching the training yourself, but you can also use the content for your own customers.
It includes Private Label Rights to Audio Recordings, Slide Show & Transcripts!!!
$97 value but free to you 🥰
Get your copy here: https://simplehappiness.biz/money-on-the-fly-free
************************************
See the PS for more new freebies!
************************************
UNIQUE! GAMERS JOURNAL TEMPLATE WITH PLR
Michelle of PLRniche.com created this together with her son who is a keen gamer, and it makes the perfect gift for the gamers in your life.
Add this to your printables shop or your KDP empire. It's easy to customize with your brand and it comes with commercial use rights.
The template comes with 25 unique pages with 4 different covers and is editable in Powerpoint.
Use Coupon Code: GAMER to get 50% off $35 regular price.
Only $17.50 for a limited time
Sale ends October 26th at midnight central time.
Get all the details here: https://simplehappiness.biz/plrniche-gamers-journal
My bonus: If you purchase this product through my link, you can choose any one bonus report from the list at the end of this newsletter 💖💖💖
************************************
USE & SELL!  AI MARKETING PLAYBOOK
Twenty training videos on how to use AI tool Jasper to create all kinds of content for your marketing efforts with very little effort from you!
You just need to know how to use the tool to get the best results.
You can also use these videos on your own blog or sell them as a package.
Great value and currently less than $10
Get all the details here: https://simplehappiness.biz/AI-marketing-playbook
************************************
SALE! ZEN STYLE FLORAL PLANNER 
Ruthie has a few things on sale just now so check out her site starting with this gorgeous zen style floral planner.
Coupon code OCTNEW20 saves 20% until October 31, 11:59 p.m. EDT
You can grab that here: https://simplehappiness.biz/zen-style-floral-planner
Click the shop link at the bottom of the page to find other sales surprises!
************************************
FLASH SALE! CEO STARTER KIT 
Get this toolbox from Monica Froese this weekend only for just $8 with coupon code FALL20
More info here: https://simplehappiness.biz/monica-ceo-starter-kit
************************************
DONE-FOR-YOU COURSE! OVERCOMING IMPOSTER SYNDROME

Teach your customers to banish their inner critic and recognize their true worth with this done-for-you comprehensive course by quality white label provider Content Sparks.
Currently on launch sale until Wednesday, October 26th at midnight (Pacific).
Take a look at everything included: https://simplehappiness.biz/cs-overcoming-imposter-syndrome
My bonus: If you purchase this product through my link, you can choose any two bonus reports from the list at the end of this newsletter 💖💖💖
************************************
ENDS TOMORROW! EFFECTIVE DAILY PLANNING PRE-WRITTEN CONTENT
Help your customers improve their productivity through effective daily planning.
Use this content kit to create blog posts, articles, and products and then promote them using the included social media graphics.
Take a look at everything in this kit here: https://simplehappiness.biz/pfp-planning-for-prosperity
Enjoy the $14.95 low cost during launch until end of day Tuesday 25th.
My bonus: If you purchase this product through my link, you can choose any one bonus report from the list at the end of this newsletter 💖💖💖
************************************
$7! GET READY FOR CHRISTMAS PLANNER
Cool Bean PLR has a sale on their Christmas Planner template with commercial use.
Get it for just $7 (regularly $27) with coupon code HOLIDAYPLAN until the end of the month.
Gorgeous design!
Get all the details here: https://simplehappiness.biz/coolbean-christmas-planner-template
************************************
LAUNCH ENDS TOMORROW! 2023 FULLY LINKED & DATED PLANNER TEMPLATE FOR AFFINITY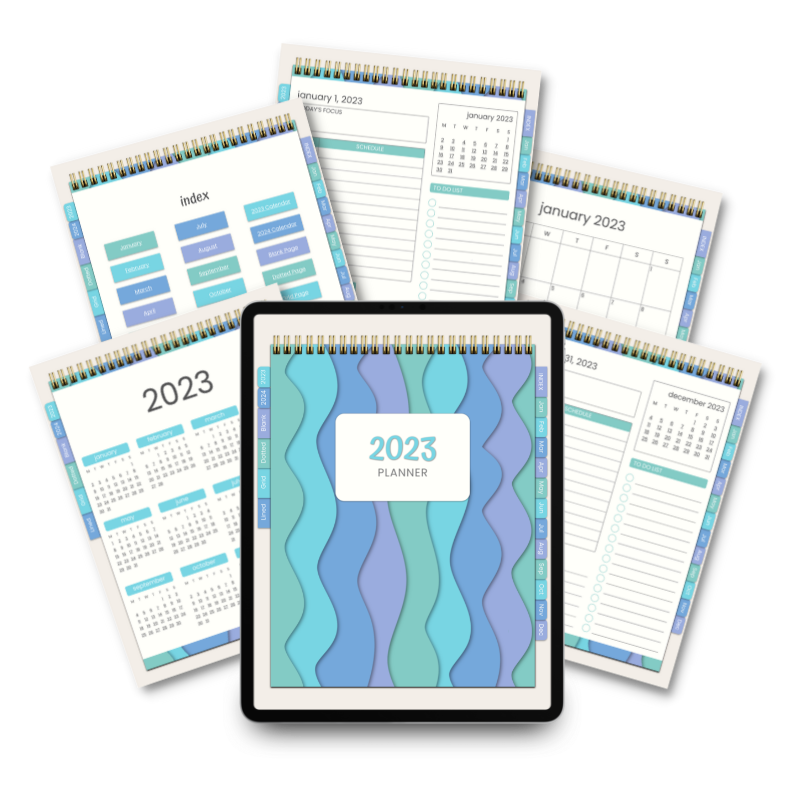 If you always wanted to make a fully dated planner in Affinity Publisher but only had templates for Powerpoint or Keynote, help is at hand.
A few months ago, my friend Jayne and I launched a course to show you how to transfer a printable PDF template to Affinity.
(You can see that course "To Affinity & Beyond" here if you missed it.)
While the techniques are great for printables, they don't work for digital planner templates as the links don't carry over.
It's all right if you have to recreate one or two links but dated fully-linked planners have thousands of the things.
These templates have to be made from scratch.
So, I kicked off a project to do just that, and now it's ready: a fully-dated 2023 digital planner template for Affinity Publisher with hundreds of pages and thousands of links.
Along with the template you'll find a 41-page manual with step-by-step instructions for changing your planner (if you wish) so that you can easily create something unique to sell.
Just $27 for both template and instructions during the launch (ends midnight 25th)
There is also a chance to scoop up another done-for-you design at checkout at $9.95 but no other upsells.
Save weeks of work and learning how to do this and stock your shop with gorgeous and highly functional digital planners made in Affinity Publisher!
Get all the details here: https://simplehappiness.biz/cool-blue-affinity-digital-planner/
************************************
MORE AFFINITY HELP! CREATE PRINTABLES IN AFFINITY
Catherine Beebe of Printables Academy is celebrating the first anniversary of her Create Printables in Affinity training this month. This is her six-hour long flagship course and it assumes a little bit of knowledge of Affinity so she has bundled it with some beginner's courses (as an option) if you are starting from scratch.
Save $30 on either the flagship course alone or the whole bundle with coupon code ANNIVERSARY for the rest of October.
The Affinity Course Bundle of four courses includes
▶️ Affinity Publisher Basics
▶️ Affinity Designer Basics
▶️ Using Affinity Publisher for Low Content Books
▶️ Create Printables in Affinity
Get all the details here on the flagship course: https://simplehappiness.biz/create-printables-in-affinity
And here on the bundle: https://simplehappiness.biz/affinity-course-bundle
My bonus: If you purchase any of these options through my link, you can choose any one bonus report from the list at the end of this newsletter.  💖💖💖
************************************
AWESOME DEAL! GET ALL LEONIE'S TRAINING FOR A YEAR FOR $99 
This is an amazing deal from Leonie Dawson.
I have purchased a lot of her training at full price and never regretted it.
Though I'm a little miffed that I bought so much that is included already  😢, I've purchased this annual deal anyway as it will give me access to all the many things still on my wish list and the courses she creates this coming year too🥳
Get all the details of Leonie's Brilliant Life & Business Membership here:  https://simplehappiness.biz/leonie-annual-membership
And even if you don't buy, enjoy the sales page!
No one creates a web page like Leonie!
My bonus: Join through my link and choose any three bonus reports from the end of this newsletter 💖💖💖
************************************
BONUS SELECTION (  💖💖💖  ITEMS ONLY) 
When you buy 💖💖💖 marked products through my links you can choose any of the items in the list below.
To claim just send your receipt(s) to me ([email protected]) and let me know which bonus(es) you would like. I'll verify with the vendor and send them right back to you, usually within a day or so.
Here are the currently available bonuses.
▶️ My plan for making $3K a month from Amazon KDP in 2022
▶️ Aargh! exactly what to do when you feel like quitting
▶️ My millionaire plan (February 2022 update) for how I plan to retire with a lot of fun money
▶️ Simplify! 15 things I do to avoid getting overwhelmed
▶️ Graphics – my process for making PLR unique using graphics
▶️ 339 best-selling printable ideas
▶️ 25 ways to get more mileage from the PLR on your hard drive
▶️ 27 best converting lead magnet ideas
▶️ Boost your business by reviving old blog posts
▶️10 Steps to Creating a Winning Strategy for Your Next Project
▶️ 5 minute miracle start to make every day a success
▶️10 Ways to Make an Extra $1000+ this year
▶️10 Places to Sell Printables Other Than Etsy
▶️10 Reasons it took me ten years to make a living online (Find out how not to be me!)
▶️ Unstuck! How I take decisions in my business and move forward without fear
▶️ Easy! The Simplest Products that Sell to Create from Scratch
▶️ How to Find the Best Canva Templates to Elevate Your Brand
▶️ Be Unique! How to Stand Out in a Crowded Marketplace by Finding Your USP
Have a great day and I'll be back soon with more tips, freebies, and some offers but only the ones I personally think are great value and know the quality to be good.
love
Jan

https://simplehappiness.biz
P.S. TODAY'S FREEBIES 
Merry Christmas Graphics bundle (great for festive backgrounds) https://simplehappiness.biz/cf-merry-xmas-graphics-bundle
************************************
In case you missed it:
Enjoy a free ticket to Planner Craft Pro – a 3-day online event for planner lovers to find planning inspiration + learn fun, planner-themed crafts to make or sell!
https://simplehappiness.biz/free-summit-planner-craft-pro
************************************
Free package of content with PLR commercial rights "Cultivate Your Self Esteem" from Tools for Motivation: https://simplehappiness.biz/tfm-cultivate-self-esteem