Hi
If you don't like where you are right now in your business or the way things are going, July is a great time to press the reset button.
You have six months left in the year, give or take, to implement a change.
In many cases, you won't want to give up what you already have and that's fine. You can do a slight pivot without burning your bridges.
But if you do want a fresh start, how do you begin again?
1. Set new goals. 
Without them you'll just drift.
It's critical to know which direction you're now heading in.
What do you want to achieve exactly?
2. Get rid of the old.
Junk, delete or archive anything that relates to your old project unless it will help your new one: paperwork, emails, courses, equipment.
Clear your desk and your workspace to clear your head.
3. Let go
Let go of guilt over past purchases and mistakes and release feelings of regret and failure.
You don't need to be laden down with that baggage on your new venture.
Give yourself a real fresh start and begin again. 💖
************************************
See today's freebie in the P.S. section.
************************************
NEW: BACK TO SCHOOL PLANNER (WITH PLR COMMERCIAL RIGHTS)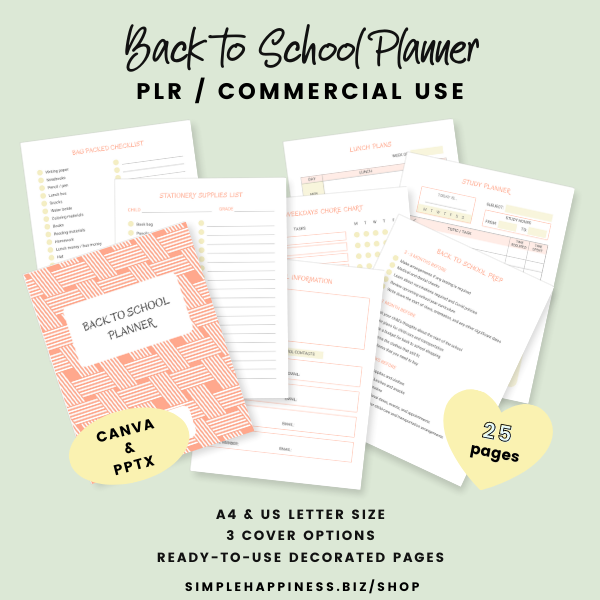 The kids have just finished school for the summer in many areas but very soon, parents will be thinking about getting their kids ready to go back to school.
Our new Back to School planner is perfect to help parents get organized and will make a great lead magnet or product for mom bloggers.
Just $13.50 (half off) with coupon code SCHOOL50.
See the video of all the pages here.
If you don't have our matching academic planner, with 39 additional pages, you can get the two planners in one bundle for just $27 with coupon code SCHOOLBUNDLE (scroll down on the same page to see that offer and video)
Mix and match over 60 different pages and add your own colors and designs to create a fantastic unique product.
Launch offer ends July 14th.
NEW: RAPID PRINTABLE CREATION
Mitzy has brought out a wonderful new low cost ($19.95) course Rapid Printable Creation to help you create printables super fast.
You get 7 hours of video training and 12 modules to get you up to speed even if you have no experience.
Module 1: Prepare Your Content
Module 2: Perfect Page Layout
Module 3: Essential Design Elements
Module 4: Keeping It Congruent
Module 5: The Best Text Effects
Module 6: Turn Up The Speed
Module 7: Perfect Planners
Module 8: Joyful Journals
Module 9: Terrific Trackers
Module 10: Wonderful Wall Art
Module 11: Lovely Lists
Module 12: Gorgeous Games
There are even templates included for each of modules 7  to 12 so you can get an even quicker start.
Get all the details here and grab this one quickly before the crazy $19.95 launch price ends. (Regular price is $97)
Note: There are two upsells on this – one is $27 and the other is $67. Neither are essential but they would be nice to have.
My bonus: If you buy the main course through my link, you can choose any one of my reports from the end of this newsletter (and if you get any of the two upsells you can choose another report for each one you get)  💖💖💖
NEW: AFFILIATE MARKETING FOR BEGINNERS with COMMERCIAL RIGHTS
Lynette's new Affiliate Marketing for Beginners workbook (ready to publish with PLR commercial rights) just launched today.
This is the perfect guide for anyone looking to get started including tips on finding profitable affiliate programs, how to promote them, and how to earn commissions through email marketing.
Get it for half price until Tuesday, July 12, 2022
No coupon required.
Take a look at everything included here
My bonus: Buy the workbook through my link and choose any one of my bonus reports from the end of this newsletter 💖💖💖
NEW: CREATE YOUR DREAM LIFE WITH A VISION BOARD EKIT
Grab this fully-editable and brandable content Create Your Dream Life with a Vision Board from Alice during the launch period.
Just $14.95 for over 500 pieces of content you can use right away.
Such a fun and profitable niche!
My bonus: Buy the e-kit through my link and choose any one of my bonus reports from the end of this newsletter 💖💖💖
RUTHIE'S ZEN STYLE FLORAL COLORING PAGES 
I don't often advertise coloring pages but I think these Zen-style Floral Coloring Pages are gorgeous and would make a great subscriber gift in many niches.
They would also make a wonderful addition to a planner where you could use the designs on covers or divider pages or reduce the opacity to make great page backgrounds.
Get all the details here and use coupon code ZENFLOWER15 to save $15 until July 10th. 
My bonus: If you get Ruthies coloring pages through my link, you can choose any one of my reports from the end of this newsletter. 💖💖💖
GROWTH MINDSET CONTENT KIT