Hi
You know those moments when you get a good idea, when your gut says "I should do that" and then the moment passes and you don't take action.
What happens in those moments?
I know that when that happens to me it's because I second guess myself.
"That's so much work."
"I don't have time."
"I wouldn't be any good at that."
"It probably won't sell/make any difference."
And I scuttle back into my comfort zone, and forget all about the idea.
But those scary brainwaves are exactly the things we should be acting upon.
They are the things that drive us forward and make a huge difference to our life or business.
Will every thought that we act on lead to success?
No!
Life's not like that.
But you can be sure that taking action after action will get you there in the end, whereas not acting is never going to be the answer to your dreams. 💖

NEW: FREE 52 PAGE WORK LIFE BALANCE JOURNAL
Get this amazing deal (this weekend only) from Jennifer. It's a 52 page journal with 52 different prompts on work life balance.
Grab your amazing freebie here.
My bonus: No bonus for this one as it's FREE 🤣 but if you happen to buy anything to the value of $20 or more through my links while you're picking up your freebie, you can choose one of my reports from the end of this newsletter  💖💖💖
NEW: LYNETTE'S VACATION PLANNER
This latest planner from Lynette is perfect for the holiday season especially now we are all going places again.
You get get her Vacation Planner at half price during launch week too. (Ends May 3rd)
Lynette has more formats than anyone I know so you can use your favorite software to update this product and she also includes social media graphics to help you sell your planner.
Take a look at everything included.
My bonus: Buy Lynette's planner through my link and choose a bonus report of your choice from the bonus section at the end of this newsletter. 💖💖💖
LAST DAY: NAIMA'S FLASH SALE: TOTALLY TRELLO 
If you want to get organized and save time, don't forget about Trello which is a brilliant FREE tool.
I use this every single day, for To Do lists, for organizing everything, and for communicating with my VAs.
But I've barely scratched the surface of what it can do.
To help you get the most out of Trello in minimum time, Naima has her Totally Trello course.
It's currently on a FLASH SALE where it is 50% off the already low price. But that ends today.
I have this already and really need to follow it.
For people like me, who buy courses and then don't do them, Naima has another answer.
You can rent the course for an even lower price and you get access for 14 days.
This means you will be sure to schedule and do the course so you don't waste your money.
Take a look at the sales page to see both options.
My bonus: If you buy or rent Totally Trello through my link, choose any one of my bonus reports from the list at the end of this newsletter. 💖💖💖
MORE HELP TO GET ON TOP OF THE TIME SUCK 
Leonie's new Get Organized course starts on 1st May so you don't have long to grab it if you want to do the live sessions.
I'm looking forward to this so much  because I really, really want to know how Leonie runs a 7 figure business and gets it all done despite all sorts of challenges including ADHD and a young family. And she doesn't outsource to a big team – she has only two part time helpers who work 20 hours between them and she works 10 hours a week herself.
If you don't have your copy yet, you can grab it here before 1st May and join it live (or catch the replay if you can't.)
Take a look here at everything included
As usual the sales page is super cool and totally Leonie worth a look even if you're not interested in getting organized!
My bonus: Choose any two of my bonus reports from the list at the end of this newsletter. See the bonus section for how to claim. (or get a $100 coupon off my Freedom from Overwhelm course making the whole 12 week course  just $27 – just let me know what you'd like when you claim.) See details on how to claim in the bonus section below  💖💖💖
QUIT SUGAR CHALLENGE
My latest product out today will help you and your customers quit the sugar habit that is so bad for us.
And you can grab it for just $12.95 with coupon code QUITSUGAR
Get all the details and see the video here.
If you didn't get a chance to get my Gluten Free Journal you can also get that on the same page for just $12.95 with coupon code GLUTENDEAL
Or scroll down the page to get both together for just $19.95 with coupon code HEALTHYBUNDLE
SERVING SUGGESTION 🤣
Combine some PLR articles on sugar with the challenge to make your own unique product.
If you don't already have articles on your hard drive, look at these packages: Piggy Makes Bank Sugar Detox PLR (10 articles for $10) or a whole bundle with report and articles on quitting sugar from Jennifer for just $17.
The written content from Piggy or Jennifer's packages could also be added to your blog and you could either sell the challenge or offer it as an upgrade to build your list
FONTASTIC FONTS 
I love how Marian takes complicated processes and finds much simpler ways to achieve the same thing.
And then puts everything you need to know in short, very clear videos anyone can follow.
That's exactly what she's done with her latest course Fontastic which is all about creating your own fonts.
Creating a font has been on my bucket list for years so I jumped all over this.
Why would you want to create your own font?
Firstly, it's a fantastic way of making your promotions or products unique to you. Whether you're making web pages, logos, stickers, planners, or journals, no one will have anything exactly like yours. And your own fonts are perfect for creating PLR with fancier fonts where you are usually restricted to freely available fonts.
Secondly, you can sell your fonts in many different places online.
Thirdly, you can have a lot of fun with this. Not only making fonts in the first place but you can also make a font of your own handwriting and easily "hand write" a lot of notes for friends and family or quotes for books and social media.
Get all the details here and then jump on this during launch when it's only $19 (ends 1st May)
My bonus: Buy Marian's course through my link and choose a bonus report of your choice from the bonus section at the end of this newsletter. 💖💖💖
LAST FEW HOURS: TROPICAL SELF CARE PLANNER
This Tropical Self Care Planner helps you choose your wellness goals, offering daily and weekly reminders, inspiration, reflection and tracking so you can create a self-care routine and stick to it.
The Powerpoint template is editable and has PLR commercial use rights.
It has 31 beautiful pages and is just $18.99 during launch until April 29th, 2022
My bonus: Buy the self care planner through my link and receive any one of my bonus reports from the list at the end of this newsletter 💖💖💖
LAST DAY: HANDLING REJECTION $10 PLR PACKAGE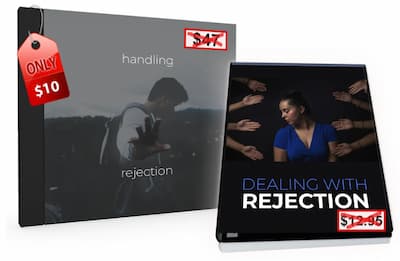 There's one thing you learn very quickly as an author and that's dealing with criticism and rejection.
Self publishing helps avoid rejection letters but people can be vicious online.
The anonymity of the internet has a lot to answer for. ☹️
And of course you always pay more attention to "this really sucks" than you do to "this makes my heart happy" LOL
I used to pretend it wasn't me on the receiving end by using pen names 🤣
But the funny thing is, if you search for the great works of literature on Amazon.com, you'll find many one star reviews saying how terrible they are, so it's all a matter of taste!
Anyway, it's always handy to be able to brush off rejection and not let it ruin your day or your life.
And Justin at Tools for Motivation has brought out the perfect package for that.
Just $10 for this Handling Rejection bundle (no coupon required) until Friday April 29th.
This package includes articles, audio files, mini reports, slide decks, tip posters, and more.
Grab it quickly before the deal is over.
ENDS SUNDAY: CONTENT CREATION MADE EASY 
The Content Creation Collection Toolbox contains over sixty products worth $2115.99 to tailor and sell in your shop for one low, low $27 price. Get it while you remember!
At that price, you can afford to be selective about the products you use, but the products are so good, you'll be spoiled for choice. 😊
My bonus: If you get the Content Creation toolbox through my link, choose one of my reports from the end of this newsletter including my new one below. 💖💖💖
ENDS TOMORROW: 30% OFF FLASH SALE 
Jayme from Cupcakes and Haystacks has all her training at 30% off so it's a great time to grab any of her fantastic courses.
The sale is only on for a few days and will disappear without trace on 30th.
Take a look here while you remember to see what's available.
My bonus: If you purchase one of Jayme's courses or template sets through my link, choose one of my bonus reports from the end of this newsletter.  💖💖💖
ENDS TOMORROW: COACH GLUE $10 DEALS 
Or get them all for just $47
From now until the end of the month, you can get any of the above Coach Glue products for just $10.
A brilliant and low cost way to add products to your portfolio, content on your site, or stock to your shop.
Take a look at everything available here, and grab what you can use.
My bonus: Buy two or more Coach Glue products through my link or the bundle and choose a bonus report from the end of this newsletter 💖💖💖
FAITH'S FREE 30-DAY BUSINESS PLAN SUMMIT

This is a free event to help bloggers and online sellers develop a STRATEGIC plan to break through $1K months by selling low content digital products. (If you read my intro above, choose only those strategies that fit your current plan or if you're a beginner, use the summit to choose one thing!)
Enjoy the talks from the speakers from 2nd to 6th May when you register.
Optional: If you'd like to access later, you'll have the opportunity to buy an all access pass to the event.
My Bonus: If you buy the all access pass through my link, you can choose a bonus report from the list at the end of the newsletter. If you upgrade to also include the bundle of training products, you can choose two reports.  💖💖💖
BONUS  SELECTION (  💖💖💖  ITEMS ONLY) 
When you buy 💖💖💖 marked products through my links but you can choose any of the items in the list below.
To claim just send your receipt(s) to me ([email protected]) and let me know which bonus(es) you would like. I'll verify with the vendor and send them right back to you, usually within a day or so.
NOTE:  A few people have asked for one of my bonus reports when they bought one of my own products but I haven't been offering these as I don't want to compete with my affiliates who like to offer their own bonuses or who maybe don't have time to make extra bonuses.
For my products only, whether you buy through my link or through an affiliate, whenever you spend $17 or more in one transaction, you can also choose a bonus report from the end of this newsletter. 💖💖💖
By the way, there are a few more new  bonuses in the works. I just have to get them done and out of the works!
Here are the currently available bonuses.
▶️ My plan for making $3K a month from Amazon KDP in 2022
▶️ Aargh! exactly what to do when you feel like quitting
▶️ My millionaire plan (February 2022 update) for how I plan to retire with a lot of fun money
▶️ Simplify! 15 things I do to avoid getting overwhelmed
▶️ Graphics – my process for making PLR unique using graphics
▶️ 339 best selling printable ideas
▶️ 25 ways to get more mileage from the PLR on your hard drive
▶️ 27 best converting lead magnet ideas
▶️ Boost your business by reviving old blog posts
▶️10 Steps to Creating a  Winning Strategy for Your Next Project
▶️ 5 minute miracle start to make every day a success
▶️10 Ways to Make an Extra $1000+ this year
▶️NEW! 10 Places to Sell Printables Other Than Etsy
Enjoy the end of the week and the weekend  and I'll be back soon with more tips, freebies, and some offers but only the ones I personally think are great value and know the quality to be good.
love
Jan

https://simplehappiness.biz
This email may contain affiliate links for products I personally recommend, however the opinions expressed are my own.
I will receive a small commission if you buy through my affiliate links, which helps me keep the lights on, but the product will not cost you more.