Hi
Would you get fired from your business if you had a boss?
I probably would. I don't think I'm employable anymore. 🤣
My brain is all over the place and the work gets done but usually last minute.
I take time off during normal working hours to pat the dog or take him for a walk, to go to the hairdresser or to the store. Lots of things.
I go to work in my pjs and I do a lot of chatting on zooms.
No discipline at all. At least, not much on the surface. Although I'm at my PC for long hours.
So I'm mighty glad that I don't have a boss.
But somehow, despite all the faffing about, I did take enough action this year to find a business model that worked.
And I do well enough that I can say, without question, that I'll never have a boss again.
That's just as well because that dog is not going to walk himself 😊
As for you, what kind of employee are you in your own business?
Would you give yourself a job?
If not, is it because you don't act like a model employee on the surface (like me) or is it because you are not taking enough of the kind of action that will create and grow a successful business?
Important distinction 😊
NEW! EXTRA BONUS: 13 WAYS TO GET MORE MILEAGE FROM YOUR PLR
Today's EXTRA BONUS for any purchase through my links in this newsletter is perfect if you have a heap of commercial rights content sitting on your hard drive whether that is planner, journal, or text content. In most cases, you can use each piece in many ways. You may have some ideas but are you thinking beyond the obvious?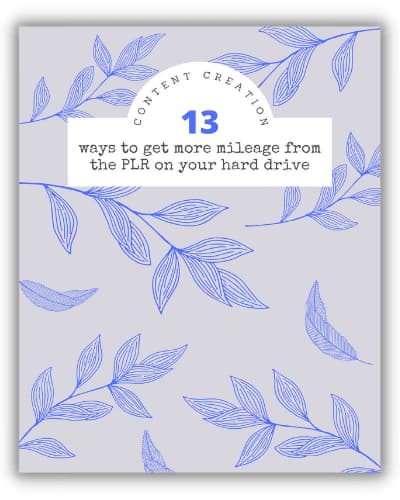 Buy anything through any of my links in this newsletter today then send me your receipt (to jan@simplehappiness.biz) and you'll receive this useful report to use again and again. You'll get this on Tuesday. On top of any other bonuses you see in the newsletter.
WELL THIS IS DIFFERENT…
I love it when when Marian brings out a new product because she always has something a little different to offer and her latest course called MELLO is no exception. This one is a new kind of digital planner based on Trello. I use Trello boards for so much already that I had to snap this one up especially when I saw how well these sell on places like Etsy.
And even better, the competition is light – only around 500 examples there. Marian demonstrates a wedding planner like this. Her system is perfect for an event planner but there are many examples of different uses.
On Etsy I found this. Wow!
Marian's teaching style is easy to follow and listen to and she breaks her videos up into bite sized pieces. There are 50 short videos in this course.
Take a look here to find out all about MELLO.  The course is just $29 until 31st and will be $57 regular price. 
My bonus: Grab Mello through my links while the price is low, send your receipt to me at jan@simplehappiness.biz and get a $15 coupon for my Simple Happiness Biz store (as well as my extra bonus – see above).
FLASH SALE: 50% OFF PUBLISH FOR PROSPERITY
Use Coupon 50PERCENTOFF to save 50% on all PLR packages at Publish for Prosperity this weekend (Ends Monday 24th)
AWESOME $7 SIMPLE TEMPLATES
If you haven't seen Sue's range of $7 printables with commercial rights, you're in for a treat.
Many of them are plain and simple in terms of design, but that's a good thing if you love adding your own touches.
And what's great about this range of products is that they are jam-packed with information that will attract buyers. For example, look at this storage hacks simple template, and there are many similar designs
Take a look at everything here. Grab one of the templates and get my extra bonus too 🙂
BEAT DISTRACTION 
Distraction Action! How to Kick Your Distractions to the Curb & Boost Your Productivity is the latest Coach Glue Script, Workbook and Sales Page combo which is sure to be a hit with your clients and customers (and of course, you can also use it yourself!)
Use the script to create a video, audio training or book and then sell it with the accompanying workbook for a strong product offering, taking your clients from disorganized, unmotivated and distracted to flying through their tasks at lightning speed.
Use coupon code 27 to get it for $27 during the launch (ends Thursday)
COLOR CHANGING STICKERS COURSE
Wait? What? This is something that digital planner customers are going to love!
We created our first digital planner at the end of last year and and I have been using it ever since.
But these stickers will add another dimension.
The Goodnotes Color changing stickers course is just $47 for launch and contains a whole strategy for making and selling these stickers.
Grab it quickly if you want to have fun making stickers for your niche.
YOUR BEST YEAR BUNDLE
Grab Your Best Year bundle for just $27. You'll get my product below and another fifteen truly great products.
Sixteen products for the price of one!
So much for so little. Take a look here.
Bonus: If you buy through my link above, send me your receipt (to jan@simplehappiness.biz) and I'll send you a $17 voucher to spend in my store (as well as the extra bonus above if you buy through my link today) making this a no-brainer deal.
PLAN OUT YOUR SIX FIGURE BUSINESS
There's 50% off every Coach Glue planner right now!
They are perfect for planning out your own business, but they also come with commercial rights so that you have a product to sell too.
That makes them a fantastic deal for your business.
Choose anything on this page including the planners above (there are around 40 fantastic products in all) and use coupon code 50 to get the 50% discount making most of these substantial products a fantastic deal at just $23.50 instead of $47.
AFFINITY LOVERS COLLECTION & BONUS
Affinity is wonderful high functionality low cost software suite by Serif with a "buy it once" price and not a subscription. (Adobe-like functionality without the strain on your wallet!)
If you love Affinity (or you want to use it!) you'll love the Affinity Lovers Collection 2022 a bundle of goodies just for Affinity users with products, training, and assets and even a $30 gift coupon from Catherine (which is more than the cost of the bundle!)
I contributed my latest product with commercial rights made in Affinity Publisher. (I learned the program in a couple of days over the holidays because I'm convinced it's the best (and simplest) program to use for creating low content books for Amazon KDP.)
Along with my contribution to the bundle, you'll get so much more. Take a look at everything in there and then decide.
Bonus: Get the bundle through my link and receive an additional $20 gift coupon for my store as well as my extra bonus. Just send your receipt to jan@simplehappiness.biz and I'll verify it and send you your bonuses.
THIS MADE ME LAUGH
"If the best thing about Valentine's Day is the half price candy on the 15th"  LOL But then the pages are cute too. And a pocket money price.
The Non-Valentine's Day Journal is just $12.50 with code NONVAL until 25th January. With commercial licence, and editable in Canva
Take a look at all the page layouts here.
Enjoy your weekend and I'll be back soon with more tips, freebies, and some offers but only the ones I personally think are great value and know the quality to be good.
love
Jan
https://simplehappiness.biz
P.S. Don't forget you can get 52% off all of April's Daily Deals in January – there are quite a  few to choose from now. April creates great quality done for you PLR, brilliant for boosting the content on your site as well as creating products. She will have three new things on 52% off sale every day in January, but if you missed the ones you want, don't worry because you can see all the deals here. 😊
Use code 2022 to get 52% off everything. Buy just one thing to get my extra bonus!
This email may contain affiliate links for products I personally recommend, however the opinions expressed are my own.
I will receive a small commission if you buy through my affiliate links, which helps me keep the lights on, but the product will not cost you more.