Hi
I just let my inbox build up to over 5000 unread emails. Oops!
And there's no way I'm reading them now.
Did I miss opportunities and interesting information buried among the dross?
Probably.
But by neglecting unimportant emails for a few weeks, I also had two successful launches (and got the dratted accounts done.)
And had time for fun with my family and cockapoo Alfie.
Here's the latest pic of the little terror I took today.
Sometimes, it's hard to know which way to look in the online world with everything coming at you at a hundred miles an hour.
But you have to learn to let the stream of attention seeking stuff go in favor of what you want to get done.
There's no way you (or I)  can do all the things.
Not if we want a life as well
So sometimes we just have to let it go.
And not care if our email piles up.
Yes, let emails remain unread, even mine.
Well, maybe not mine 🤣
Splitting myself in two
There are so many Christmas goodies coming out right now that I decided to separate out details of my brand new Naughty Christmas Elf planner/activity pack and my bonus for friends' Christmas offerings into a separate newsletter. That way if Christmas stuff is not for you, you won't get flooded with it. Just don't open part two (the Christmas email) later if you're not into that. 😊
FREE and a coupon! Don't Miss the Homepreneur Summit 
Make sure you are signed up for Early Bird Registration for the Homepreneur Summit happening next week.
If you sign up early you'll be sure to get in on the summit and freebies from day one and you'll also get a $10 coupon off if you decide to upgrade to the already very low cost summit bundle.
You have nothing to lose by getting in now so do it so you don't forget. (It's oaky. It won't stop you picking your favorite bonus later if you decide to upgrade. I checked 😊)
This is one of the rare events that is actually live, not pre-recorded, so you get the chance to ask the experts questions. I can't wait to hear what they have to say.
Learn Email Marketing from Sue (and me) 
There are as many ways to tackle email marketing as there are people sending out emails. Some of you learned from Kate Doster with her low-cost Email Fairy product and that covers what to put in your emails to keep your list engaged. But this new course from Sue Fleckenstein List Builder's Action Plan goes much further and will help you even if you don't have a clue about email marketing and have no list.
Not only will you get the chance to learn everything you need to know about building a list and making an income with it, but she will also help you get started selling products on your site and making a living selling other people's products. Best of all she will provide a bundle opportunity so you can collect email addresses from the people on her own list! That alone is worth the price of entry.
Get all the details here and see if this is for you especially if you are new to working online and want to sell printables or other digital products.
Coupon: LISTBUILDERS saves $50 off the launch price of $147 until October 24th
My bonus: If you buy Sue's course through my link in this email, you'll receive  a coupon for $20 off any product in my shop AND my report with tips and process for building your list and sending emails, including how I built my list from the zero I had in July 2020, what I've tried over the years, how I decide what to write about, and my future plans for email. Claim by sending your receipt to jan@simplehappiness.biz. Your report and coupon will be sent out the week after Sue's promotion finishes.
One thing you need: an incentive
Gone are the days when people happily added themselves to your list just to see what you have to say. (Scintillating though it may be 😊)
So you will need a freebie or two as an incentive for website visitors to find out what you have to offer.
Don't worry. There's no need to start from scratch with that. Grab some quality PLR material that you can update with your own thoughts, experience, and personality.
Then format it so that it looks gorgeous before offering it on your site.
But how do you format your freebie?
Easy peasy. Just grab these Canva templates with 24 different page layouts and you'll be done in no time!  No need for Canva Pro. You can customize these with a free account. The designer of these game-changing templates, Sneha, is also in my accountability group. That group has been a powerhouse of activity as we worked on building our businesses over the past 18 months!
See everything available here at a tiny $7 launch price
LAST DAY for launch discount
It's the last day to get the launch deal for this Quirky 2022 calendar with PLR commercial rights.
Use coupon code CALDEAL to get it for $9.95 today.
For an extra $10, you can also get a matching daily planner, monthly planner dividers and 12 digital papers so you can make coordinating workbooks, notebooks, stickers and so on. Just choose the bundle deal on the same page and use coupon CALBUNDLE if you would like to take advantage of that. Take a look here.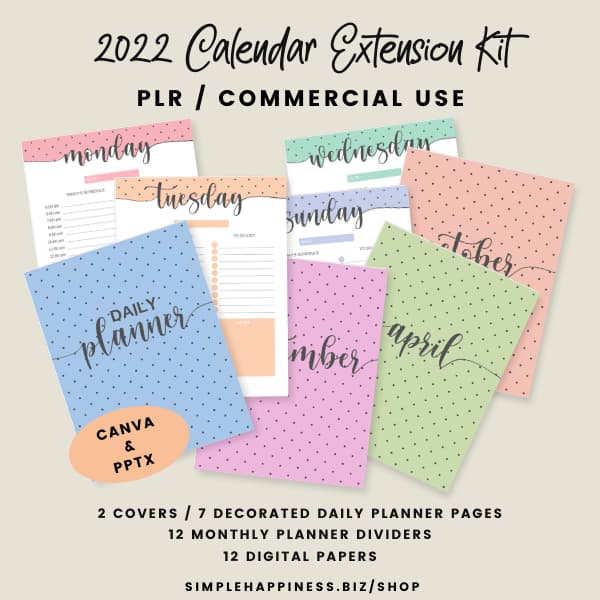 Have a great day, and I'll catch you soon with more tips, freebies, and some offers but only the ones I personally think are great value and know the quality to be good.
love
Jan
https://simplehappiness.biz
P.S. Remember if you feel overwhelmed by email and you have my Freedom from Overwhelm course, check out module 3. (All the modules are now available as soon as you start.) If you don't have the course, here's a coupon to get $80 off. FREEDOMEMAIL
This email may contain affiliate links for products I personally recommend, however the opinions expressed are my own.
I will receive a small commission if you buy through my affiliate links, which helps me keep the lights on, but the product will not cost you more.