Hi
My new baby
No not that kind of baby. That ship sailed a while ago LOL My youngest is 23!
But a launch always feels like a new baby and this one more than most because I love it so much I wanted to keep it all to myself and not sell it as PLR. But then I feel like that with all the products so that would make for an empty PLR shop!
Anyway, here's the latest in the Simple Happiness shop – a Baby's First Year Journal.
Take a look at the flip book here to see everything in detail. There are 38 pages in both A4 and US Letter sizes, in PDF, Canva and Powerpoint.
Just $12.95 with coupon code BABYFIRST.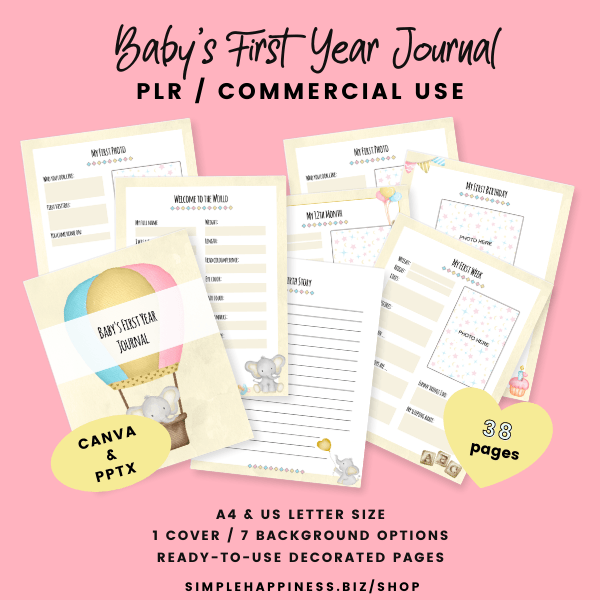 The Five P's
You might have heard me say this before, but you only need three things to build a business
A PRODUCT – something to sell that customers want to buy.
A PLATFORM – somewhere to sell where money changes hands. It could be Etsy,  Amazon, a shopping cart on your own website.
A group of PEOPLE (preferably a lot) who will see what you have to sell and want to buy it.
Products and platforms are the most straightforward elements of the three.
You can buy PLR. Make it your own in some way. Add text. Change the cover. Add your own touches. Sell it on Etsy or Amazon.
But many new businesses come unstuck because they don't have enough people to see their offers.
For PEOPLE, you usually need PROMOTION You can't just put your products on a platform and cross your fingers, hoping that people will find them among all the other products out there.
One great place to promote is PINTEREST.
Pinterest is often mistakenly thought of as social media, but it's not a place where people go to chat and connect. It's where they go to SEARCH for ideas and a sale is often a result when they come across a product they want to buy.
With that in mind, don't forget t take a look at this Coach Glue planner and guide before their launch ends.
Last few hours: PLR Pinterest Planner (71 pages)  
Not only can you use this Pinterest Guide & Planner for your own use but it's PLR so you can also sell it to others. This is much more comprehensive than anything you'll find on Etsy.  Use PROMO CODE: 50 to get it for half price until Thursday June 17th midnight EST, pretty it up and sell it. But don't forget to use the heck out of it too.
Feeling Inadequate: 10 Minute Emails. What? 
I have to say right now that it takes me a couple of hours or more to write an email so the idea of a 10 minute email or list building activity was intriguing. "Ten minute emails" is a new training course from Piggy Makes Bank who sell quality PLR very successfully in a few hours a day so I was all ears.  With five videos, the course explains
Why 10 Minutes Tasks are crucial to your success
The 10 Minute Tasks That Will Help You Create Your Lead Magnet
The 10 Minute Tasks Needed To Set Up Your List
The 10 Minute Tasks They  Personally Use That Will Help You Grow Your List
The 10 Minute Tasks They Recommend So You Know Exactly What To Email Your List
So having looked into it,  I don't think it's going to have me writing emails in 10 minutes (so I don't need to feel inadequate after all) but it should definitely help my business.
At $27 it's a steal and I grabbed it at that price before the launch ends. It has a 30 day guarantee too, but I don't expect anyone will need it, because the Piggy ladies have always delivered the best PLR and there's no reason their courses should be any different.
Have a great weekend ahead and I'll catch you soon with more tips, freebies, and some offers (but only the ones I personally think are great value and know the quality to be good.)
Jan
https://simplehappiness.biz
P.S. Here's the little reward for reading right to the end of my email. Enjoy 50% off any of my planners and journals in the Simple Happiness Shop with coupon code STACK50 just because I'm happy to have a product in BC Stack this year.
This email may contain affiliate links for products I personally recommend, however the opinions expressed are my own.
I will receive a small commission if you buy through my affiliate links, which helps me keep the lights on, but the product will not cost you more.