Hi
For most of us, our most valuable possession after the house is usually a car or something like that, but not mine.
If I had to keep this or the car, sorry car, but you would have to go, little old trusty wreck LOL
The things is I could use this possession to generate another car if I wanted. Even another house, given time.
But it's this, just a blank hardback notebook that I paid £3 for. That's about 4 dollars.
Why is it so valuable to me?
It because I use it to make notes of all my business ideas, large and small, and it's packed full of inspiration and future fun stuff.
It's a goldmine of projects 😊
If you don't have a place to keep all your ideas, start one soon. For some reason, as soon as I look at that book another idea pops up, and the same when I write one down.
It's priceless.
This one is getting pretty full, but I have another one waiting in the wings for when I can't squeeze another idea in. 😊
Something special from Ruthie in the Divas' advent calendar today 

Today's offering on the  DIGITAL DIVAS advent page is a gorgeous product from Ruthie, perfect for adding to all kinds of printable products.
It's only available for one day at a massive $20 discount (making it just $7). So take a look quickly before it disappears.
Every day, you'll find a new freebie or mega discount from one of the Divas' sites, and the deal is only good for that day. Check back on the site (or here in the newsletter) every day so you don't miss out as the gift or deal will change out at around 10am US Eastern each morning.
You'll find today's awesome surprise deal from Ruthie behind door 11.
Jenn has these $10 specials today
A beautiful gardening planner, $10 with coupon code GRDNDC and a set of  pet planner templates $10 with coupon code PETDC
Get them at great prices while you can as these topics are super popular with buyers.
For even lower prices 
Grab the Fresh Start Color Monthly bundle and get 33 products for less than  a dollar a product!
This bundle is particularly good if you are in the coloring niche, but it also has a lot of planner goodies in it.
Selling one or two products will cover the cost!
Tip: If you buy it, schedule the launch date for each product you plan to sell!
My bonus: If you buy the bundle through my link, send me your receipt and I'll verify, and send you a gift card for $25 to spend in my store making it even better value.
TODAY ONLY: Deal of the day from Coach Glue
Grab these 10 Vision Board Done For You Blog Posts for an amazing $17 using PROMO CODE: 2021 and you can fill up your blog, create a product for sale (the posts are perfect for combining with a journal) or create a fantastic lead magnet or report.
And you can also put the ideas to work yourself.
The beauty of Coach Glue is that you can use their products yourself to improve your own business and life, but you can also sell them too.
For even more value from Coach Glue, grab the 12 for 1 offer below and have twelve products to sell and a ready made multi-product business up and running before 2022!
If you purchase this 12 in 1 deal, you will get commercial rights to all these packages for one low price. This will save you so much time and effort creating training courses and workbooks to sell that you would be crazy to start from scratch.
Bonus from me: If you buy this 12 in 1 Coach Glue deal through my link, send your receipt to me at jan@simplehappiness.biz and once I've verified it, I'll send you a gift card for $80 to spend in my shop, making this a no-brainer even if you own one or two of these products already.
Di and Sue's Advent Event: Day Eleven gives you a 50% off deal
Take a look at today's treat and use code ADVENT2021 to get the discount.
Show Off Your Book or Journal & Sell It
It's no good hiding your finished work in a corner of your website once you're done.
Before you can sell your product, potential buyers have to notice it, otherwise you'll get…crickets.
Go for maximum visibility everywhere with great product images and video.
That sounds like a lot of work but luckily there's a product called Mockupshots that gives you an easy and very fast way of drawing attention to a book or journal on your website or on social media.
You load up your cover and in a few seconds, you have a huge number of realistic mockups, GIFS and videos that draw the eye and stop the scroll like nothing on earth.😊
Not only will MockupShots allow you to create hundreds of epic photos of your books, it will give you suggestions for social media posts for each mockup and even allow you to crop, edit and add text right from inside the interface so your graphics are ready to post right away.
I've had this for a while and use it mainly to create 3D images of my products with transparent backgrounds but I just looked again at what it can do and I know I'll be using it a lot more in the future.
The cover reveal videos are amazing!
Best thing is, they've slashed the price for the holidays.
Take a look at the magic here.  So many cool images, GIFs and videos to make from one cover in an instant to show off your work. Use it on as many books as you like. 
SELL MORE STUFF!
Boost your income, increase your visibility, and impact more lives by leveraging what you've already have in new and buzz-worthy ways with SALE EVENT STRATEGIES: HOW TO CASH IN WITH ANNUAL, SEASONAL, AND FLASH SALES.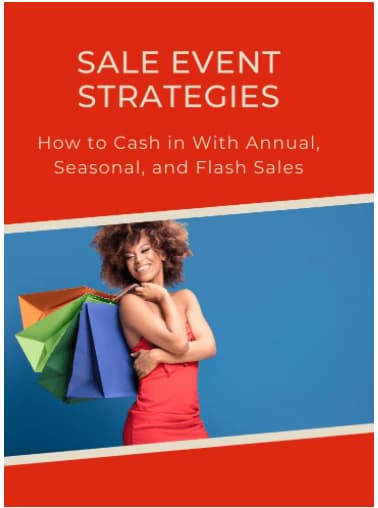 It's the easy way to invite more cash, more customers, and more time freedom to your business!
Use code SALE to save $60 and get it for $37 instead of the regular $97
Grab it today and put it to good use in your business. More details here.
Enjoy your weekend and I'll catch you soon with more tips, freebies, and some offers but only the ones I personally think are great value and know the quality to be good.
love
Jan
https://simplehappiness.biz
P.S. ❤️ ENDING SOON Sell Fillable PDFs -Excellent training to create something better than printables with a lot of demand. Pick up this gem for just $27. I bought this myself as I see lots of opportunity with this for new products.
This email may contain affiliate links for products I personally recommend, however the opinions expressed are my own.
I will receive a small commission if you buy through my affiliate links, which helps me keep the lights on, but the product will not cost you more.