Hi
There are two things which have come up this week and I'm trying to decide if they are shiny squirrels that will just distract me or brilliant opportunities.
What usually happens with these things is that I buy the product or the tool and put it away for when I have time.
And then it never sees the light of day.
But sometimes it's still worth the money, to bite the bullet and buy because it stops me getting distracted by endless deliberation.
I'm not sure my accountant would agree with that idea, but never mind.
I recently created a  "Should I buy it?" checklist, so I ought to get it out and use it!
What do you do to quieten your "should I buy it?" fear of missing out dilemmas?
This Weekend: Treat Yourself to Great Design at 40% off and Get One Free from me
Michelle is one of my favorite designers of gorgeous and very practical journals and planners that all come with PLR commercial rights. Here are some of her designs I love (but she has heaps more to offer in her store!)
I haven't mentioned her work for a while so I twisted her arm to give you a coupon for 40% off any ONE OR MORE of her journals and planners. Use coupon code JANSFAVES for your special treat at Michelle's store USING THIS LINK. This is valid today through Monday midnight (West Coast USA timezone).
If you want to get the discount on more than one item, go to SHOP PLR (in the menu) then VIEW ALL PRODUCTS to order via the shopping cart and add all the items to your basket before applying your coupon.
BONUS: When you use your coupon with the link above, you'll receive a $27 extra coupon from me which I'll send out on Tuesday. (No need to apply for this as I'll get a list from Michelle.) You can use your bonus coupon to get any one of my journals or planners for free, even my latest releases (or you can take $27 off your shopping cart total if you decide you would like a bundle of products or any other products from my store.)
Two New Digital Planners plus training on how to customize them – Just $17!
My friend Mel who does crazy things like deciding to train the world in setting up an online business for free (a.k.a. the Kitchen Sink Mastermind) now has an amazing deal just out on Warrior Plus – two digital planners with Master Resell Rights plus training in how to change them up to make them unique for a tiny $17 price.
You can have such fun with digital designs for an ipad or tablet and I plan to have fun with these!
This is so good that it was yesterday's deal of the day on the whole Warrior Plus site (beating over 600 deals!) 
Jump on board and get them fast before they disappear.
Bonus: As a thank you to Mel for her help and kindness to newbies everywhere, I'm giving a "more than you pay" $20 coupon for my store when you buy through my link. You'll find the coupon in your Warrior Plus account after you purchase.
Get our new Headache log/journal free in this bundle
You can get this in our shop for $27 or get it in the Transforming Lives PLR bundle along with 42 other products for the same price!
Take a look at all the wonderful assets you can pick up for your store and your business at just $27 right here.
Bonus: If you buy the bundle through my link, I'll also gift you a $20 coupon for any product in my store! Find your coupon in your account at A Cup of Zen after you purchase! Get this deal quickly before it disappears for good.
New this week in the Simple happiness Shop
Some designs are more fun than others. And I think this one is great fun.
This Quirky 2022 calendar with PLR commercial rights comes in A4 and US Letter sizes with both Powerpoint and Canva templates, so you can totally transform it if you wish or just sell or give away the finished calendar.
Use coupon code CALDEAL to get it for $9.95 until October 20th.
For an extra $10, you can also get a matching daily planner, monthly planner dividers and 12 digital papers so you can make coordinating workbooks, notebooks, stickers and so on. Just choose the bundle deal on the same page and use coupon CALBUNDLE if you would like to take advantage of that. Take a look here.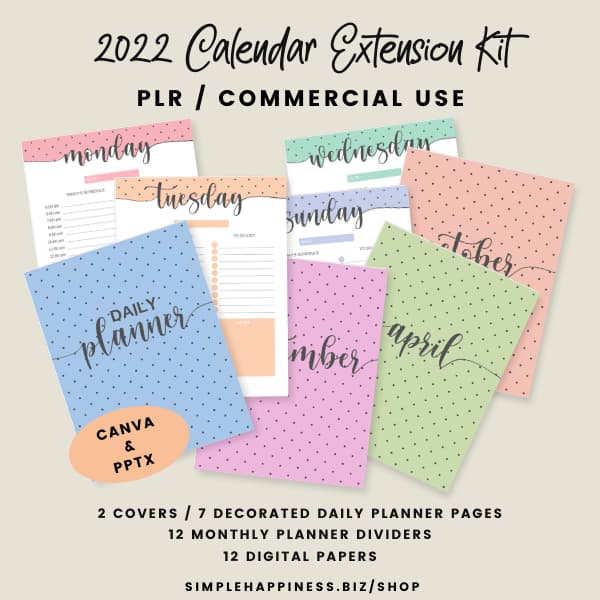 Have a great weekend, and I'll catch you soon with more tips, freebies, and some offers but only the ones I personally think are great value and know the quality to be good.
love
Jan
https://simplehappiness.biz
P.S. In case you're wondering, the two things that I'm thinking of buying are a tool to make limitless apps without code ( I always thought that would be fun) and a super-value bundle of podcasting resources and training (which sounds like a perfect idea until I remember I'm allergic to public speaking lol). I really shouldn't buy them, should I?
This email may contain affiliate links for products I personally recommend, however the opinions expressed are my own.
I will receive a small commission if you buy through my affiliate links, which helps me keep the lights on, but the product will not cost you more.