Hi
If you wait for the outside world to approve plans for your business or decisions (whether major or minor) you'll wait a long time.
Half of them will tell you you're wasting your time online.
The other half will either be green with envy (and not very helpful) or shrug and not care one way or another.
You just have to get used to jumping in with both feet, hoping the puddle is not too deep and the water is warm.
Of course, you'll find people who have waded in before you, but they are not you.
Their circumstances are different. (just look at the amount of time they have, their skills and experience, their likes and dislikes for example and you can see that)
Coaches and mentors can guide you, but they can't decide for you.
But don't worry.
The good thing about working online is that nothing is set in stone.
If one product doesn't hit the mark, create another.
If one niche turns out to be too competitive, pivot.
If you find you hate your website colors, change them!
It's not like buying a shop in the wrong street and sinking six figures into it, only to find there's no footfall.
Take advantage of the flexibility you have when working online, and just dive in.
Find out what it's like in there once you get your shoulders below the surface.
Sometimes, the water really is lovely 💖
JUST OUT: 20 PRODUCT MOCKUPS FROM YADSIA
Get Yadsia's brand new product mockups in her flash launch sale.
I love the clean, bold look of these mockups which are not included in any of her other products or courses.
You can get them for just $10 today.
Grab them quickly before the price doubles to $20 on Thursday.
My bonus: Buy Yadsia's mockups through my link and choose any one of the bonus reports at the end of this newsletter.  💖💖💖
PROFITABLE PRODUCTS PLANNER 
Get PLR Commercial Use rights to this 37 page planner and help your customers (and yourself) create products that make profits.
Use coupon code PROFITNOW20 to snap it up for $17 during launch (regularly $37)
And use it on your very next product.
My bonus: If you buy the Profitable Products Planner through my link, choose any one of the reports from the end of this newsletter as your bonus. See details there on how to claim  💖💖💖
LAST FEW HOURS: A 12 MONTH PERSONAL GROWTH PLAN DONE FOR YOU
I have so much PLR content I'm not buying very much these days, but I AM buying Alice's new self development pack because it's a wealth of content that I know I can use without worrying about it for a whole year.
And I can also supplement it with what I already have to create 100% original products.
If you're in the self development, coaching or low content niches, consider how much time and money this product could save you.
You don't need a big budget to grab it either, because you can subscribe for less than $10 a month (or get the whole lot for $97.)
Take a look at everything included here.
My bonus: If you buy through my link and select the monthly option, you can choose a regular bonus report from the selection at the end of this newsletter.  💖💖💖 For the full pay option, you also get a $20 voucher for my store.
ENDS TODAY: JUMP AHEAD USING COURSES YOU ALREADY OWN!
If you have a lot of courses you've signed up to that you haven't quite gotten around to doing, or you've been through them but you haven't applied what you've learned, take a look at Dvorah's latest workshop and PLR pack
Learn How to Create Your Actionable Learning Library
It's perfect for taking all your learning materials and turning the best strategies from them into an action plan for your business
Registration is now open and an action guide and course tracker, with Commercial Use Rights, is included.
Go here to register. (Use my code JAN10 to get $10 off )
Discover new ways to USE the power of the courses you've invested in!
Bonus from me: If you use my JAN10 code to register and get a discount, send me your receipt (to [email protected])  along with your choice of bonus from the list at the end of the newsletter 💖💖💖
LOW CONTENT INTEL SALE
Don't miss this sale if you're in the low content niche!
Research is a key element in your success as a low content creator of journals, planners, and coloring books.
But it can also be such a  time suck.
Low Content Intel is there to save you time, month after month.
Amy, the creator of this product, was director of marketing for over five years so she knows exactly what information will be most useful to you.
Each monthly report includes circa 50 pages of up to date market research on the top search results on Amazon, rotating through different types of low content books each month.
A great way of keeping on top of the market.
And now Amy is having a sale.
Save $5 per month on the monthly subscription with coupon code MARCHFORTH
Alternatively get $50 off the annual option with coupon code MARCHFORTHYR
My bonus: Choose one of my reports from the end of this newsletter if you choose the monthly option and purchase through my link. If you choose the annual option, through my link,  you'll also receive a  $20 voucher for my store. See the section at the end on how to claim. 💖💖💖
CAREER PLANNER
Lynette's latest release is a career planner which is perfect for those who want to get on in the corporate world.
Take a look at the details here and grab this planner template while it's half price during launch if this is relevant to your customers. (No coupon code required)
Lynette's templates are now available in Powerpoint, Canva, Indesign and Affinity Publisher so you can use the software you prefer to update and brand them.
My bonus: If you buy the Career Planner through my link,  send your receipt (to [email protected]) with your choice of any one bonus from the list at the end of this newsletter 💖💖💖
EASTER GOODIES 
I love all the gorgeous new spring graphics coming out (Is winter over soon? Please tell me it is!)
And the hand painted graphics in this new Spring release from Becky are no exception.
Take a look at her Easter printable and digital planners, with extra cute clip art, stickers, and digital papers here
Use coupon code EGGCELLENT to save $10 off each package until the 11th at midnight CST.
My bonus: If you buy any of the Easter planner options from Becky through my link, send your receipt (to [email protected]) with your choice of any one bonus from the list at the end of this newsletter 💖💖💖
ENDS SOON: SELL PRINTABLES WITHOUT A SHOP
If you would like to sell printables, but you're feeling overwhelmed by the process of getting a shop going, start selling now without a shop.
Faith's easy step by step course will show you how to create beautiful printables and put them up for sale on Sendowl in no time at all.
What's more she will challenge you to do it, and if you meet the challenge, you win back what you paid.
Sounds like a good deal to me!
Don't wait to buy this, as you'll have longer to earn the cost back in the challenge!
Only $27 (with coupon code SELLTHISWEEK for a limited time!)
Take a look at the details here and get your printables selling! 
My bonus: Choose any one of my regular bonus reports (see the end of the newsletter) 💖💖💖 if you buy through my link, making this offer even better value. 😊
ENDS TOMORROW: MAXIMIZE YOUR SALES
Snap up this free blog post while it's available. You can use it as a blog post or repurpose it as video, podcast or infographic content. Anything you like!
The subject?
How to maximize your sales with a full funnel of offers
To create an income stream (funnel!) out of this, grab this Content Sparks product (Supercharged Sales Funnels) and make a sign up offer with a call to action at the end of your post.
My bonus: If you buy Supercharged Sales Funnels through my link, send over your receipt (to [email protected]) with your choice of bonus from the end of this newsletter and you'll also receive a $20 voucher from me for my store.  💖💖💖
KIDS' BOOK BREAKTHROUGH
Most parents would rather see their kids reading a book than playing a video game or watching TV so the children's book market is always buoyant even in hard times.
And these books are much easier to put together than many kinds of books.
With simple text and images that you can get from graphic sites, you could be publishing within a few days.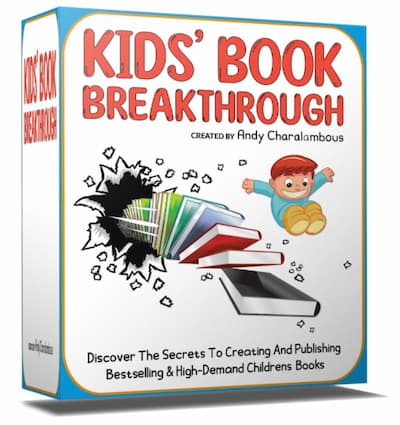 You'll find everything you need to know about creating quality, high-demand books that kids AND parents will love in Kids' Book Breakthrough
Just $17 during launch (regular price $47)
(There are two upsells for related baby book products but you don't need them to create and promote a whole raft of kids' books!)
If you'd like to make an income creating and selling kids' books, find out more about Kids' Book Breakthrough here.
My bonus: Choose any one of my regular bonus reports (see the end of the newsletter) 💖💖💖 if you buy through my link, making this offer even better value. 😊
BONUS  SELECTION (  💖💖💖  ITEMS ONLY)
As I had a lot of requests for various different bonuses, it's now official that you can choose any one of the recent bonuses when you buy through any of my links marked with a 💖💖💖 in my newsletter on top of any other bonuses mentioned.
This works better for those who already own one or more of these or who want to buy a couple of items.
To claim just send your receipt(s) to me and let me know which bonus(es) you would like. I'll verify with the vendor and send them right back to you, usually within a day or so.
Here are the currently available bonuses.
▶️ My plan for making $3K a month from Amazon KDP in 2022
▶️ Aargh! exactly what to do when you feel like quitting
▶️ My millionaire plan (February 2022 update) for how I plan to retire with a lot of fun money
▶️ Simplify! 15 things I do to avoid getting overwhelmed
▶️ Graphics – my process for making PLR unique using graphics
▶️ 339 best selling printable ideas
▶️ 25 ways to get more mileage from the PLR on your hard drive
▶️ 27 best converting lead magnet ideas
▶️ NEW! Boost your business by reviving old blog posts
Enjoy the week ahead and I'll be back soon with more tips, freebies, and some offers but only the ones I personally think are great value and know the quality to be good.
love
Jan
https://simplehappiness.biz
P.S. If you're in the mood to enjoy St. Patrick's Day this month, take a look at my friend Alexis' new product on Etsy. It's a fun little Leprechaun trap for crafters (you'll need one of those cutting machines which I don't have. Boo!) It's just $5.99 for the product but Alexis says if you use code LUCK22 it will take 20% off.  Not an affiliate link. I just thought this was the sweetest thing 💖
This email may contain affiliate links for products I personally recommend, however the opinions expressed are my own.
I will receive a small commission if you buy through my affiliate links, which helps me keep the lights on, but the product will not cost you more.