Hi
This productivity tip came up during Monday's group call with my coach, Naima.
She was talking about being a creator not a consumer.
That's such a good mantra in business.
Business consumers buy products. They buy training and spend all their time learning. They consume blogs and email and social media.
So much that it's a huge time suck.
But as a successful business owner, you can't afford to spend all your time and energy consuming output from others. Your main focus needs to be on creating.
You create products for others to buy. You create sales pages to sell them. And you create social media posts and emails that inform potential buyers about your products.
When you sit down to work tomorrow, ask yourself "What am I going to create right now?" and instead of consuming your email or a million Facebook posts get right to it!
If you do that first every day, you'll be streets ahead by this time next year!
Mel's Brand New Product (TODAY ONLY)
You'll find a band new product from Mel today on the DIGITAL DIVAS advent page and it's only available for one day. So take a look quickly before it disappears. She has never priced this type of product so low so be sure to take a peek! 
This Advent calendar event was brought to you by Ruthie Bowers, Melody Wigdahl, Stephanie Hansen, Helen Ross, and me.
Every day, you'll find a new freebie or mega discount from one of our sites, and the deal is only good for that day. Check back on the site (or here in the newsletter) every day so you don't miss out as the gift or deal will change out at around 10am US Eastern each morning.
You'll find today's surprise deal from Mel behind door 8.
NEW: SELL MORE STUFF!
Boost your income, increase your visibility, and impact more lives by leveraging what you've already have in new and buzz-worthy ways with SALE EVENT STRATEGIES: HOW TO CASH IN WITH ANNUAL, SEASONAL, AND FLASH SALES.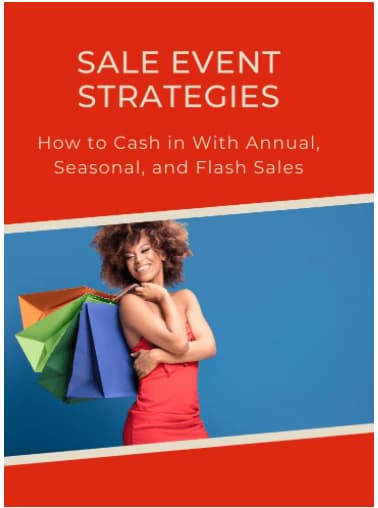 It's the easy way to invite more cash, more customers, and more time freedom to your business!
Use code SALE to save $60 and get it for $37 instead of the regular $97
Grab it today and put it to good use in your business. More details here.
ENDS TOMORROW: Beautiful Planner Dividers from Ruthie
If you want to make your planner special, grab these hand drawn monthly dividers and include them with your work or simply sell them as they are.
You can either leave the dividers as super popular coloring pages, or if you're not in the coloring niche, add beautiful colors with a graphics tool.
4 sizes included. Use coupon code  DIVIDER20 to take 20% off through December 9.  Take a closer look
Di and Sue's Advent Event: Day Eight
Take a look at today's treat  Use code ADVENT2021 to cut the price in half.
Today only.
ENDS TOMORROW: 200+ VALUABLE FREEBIES
No need to get overwhelmed about all the FREE goodies (over 200!!!) at Lizzie's Christmas Party
Get it now and then you have until January 9th to collect the gifts you want.
But if you miss signing up, you will lose out on so much.
You might recognize this Birthday calendar which I contributed as it goes perfectly with our Quirky Calendar so be sure to pick this up especially if you have that product. (If you don't, you'll have the chance to get the original (and the matching planner) at launch price after you pick up the free birthday calendar.)
Think about getting Lizzie's Premium Goody Bag too which I bought at the weekend. Over 80 products with values from $100 to $500
I have to say, it wasn't the crazy number of high-priced products that made me buy. It was the handful of products that fit into my plans that made it extremely good value for me.
Take a look to see if it's the same for you.
Extra bonus: If you also decide to buy the premium goody bag and get it through my link, send your receipt to me at jan@simplehappiness.biz. I'll verify your purchase and send you a $40 gift card to spend in my store.
TODAY ONLY:  Deal of the day from Coach Glue 
Grab this done for you workbook "Simple and Fun Goal Setting Strategies to Create Your Most Spectacular Year Ever!" for $17 using PROMO CODE: 2021 (instead of regular $37 price) and you'll have your own fantastic product ready to sell in no time.
And you can also put it to work yourself to create your own goals for next year with the 17 step process laid out in the workbook.
This is such a great deal because the beauty of Coach Glue is that you can use their products yourself to improve your own business and life, but you can also sell them too.
But if you want even better value than this, grab the 12 for 1 offer below and have twelve products to sell and a ready made multi-product business up and running before 2022!
If you purchase this 12 in 1 deal, you will get commercial rights to all these packages for one low price. This will save you so much time and effort creating training courses and workbooks to sell that you would be crazy to start from scratch.
Bonus from me: If you buy this 12 in 1 Coach Glue deal through my link, send your receipt to me at jan@simplehappiness.biz and once I've verified it, I'll send you a gift card for $80 to spend in my shop, making this a no-brainer even if you own one or two of these products already.
Enjoy the rest of the week and I'll catch you soon with more tips, freebies, and some offers but only the ones I personally think are great value and know the quality to be good.
love
Jan
https://simplehappiness.biz
P.S. ❤️ ENDING SOON Sell Fillable PDFs -Excellent training to create something better than printables with a lot of demand. Pick up this gem for just $27. I bought this myself as I see lots of opportunity with this for new products.
This email may contain affiliate links for products I personally recommend, however the opinions expressed are my own.
I will receive a small commission if you buy through my affiliate links, which helps me keep the lights on, but the product will not cost you more.