Hi
If everything in your business is a feeling very safe, repetitive, and dare I say it….boring, you're probably not trying hard enough to make the most of your skills and opportunities.
As you write another blog post or create another journal or load your hundredth item to Etsy, switch things up.
Experiment.
Just because you've always done things one way, and it works, it doesn't mean that it couldn't be even better. (My English teacher will be after me for that double negative LOL)
I'm learning a lot this year from people who aren't afraid to try something new. It doesn't matter if the experiments fail. Trying keeps them moving forward. And it keeps their offers fresh.
When you're moving out beyond your comfort zone, it's also tempting to follow others and do exactly what they do in the hope of mirroring their success.
But what works for one person might not be the right thing for you and your audience.
And while you can learn and be inspired by others, you'll make the most progress if you create your own path, your own fresh new designs, and your own success.
Be disruptive. In a positive way. 🤣
Two New Digital Planners plus training on how to customize them – Just $17!
Mel is one of those positive disruptors in my world (sorry Mel lol ) But then who else decides to train the world in setting up an online business for free (a.k.a. the Kitchen Sink Mastermind) and then runs a whole host of events for everyone (also free) so we can build our lists?
And now, she has an amazing deal just out on Warrior Plus – two digital planners with Master Resell Rights plus training in how to change them up to make them unique for a tiny $17 price.
You can have such fun with digital designs for an ipad or tablet!
This is so good that it's today's deal of the day on the whole Warrior Plus site (beating over 600 deals!) 
Jump on board and get them fast before they disappear.
Bonus: As a thank you to Mel for her help and kindness to newbies everywhere, I'm giving a "more than you pay" $20 coupon for my store when you buy through my link. You'll find the coupon in your Warrior Plus account after you purchase.
Get our new Headache log/journal free in this bundle
You can get this in our shop for $27 or get it in the Transforming Lives PLR bundle along with 42 other products for the same price!
Take a look at all the wonderful assets you can pick up for your store and your business at just $27 right here.
Bonus: If you buy the bundle through my link, I'll also gift you a $20 coupon for any product in my store! Find your coupon in your account at A Cup of Zen after you purchase! Get this deal quickly before it disappears for good.
New this week in the Simple happiness Shop
Some designs are more fun than others. And I think this one is great fun.
This Quirky 2022 calendar with PLR commercial rights comes in A4 and US Letter sizes with both Powerpoint and Canva templates, so you can totally transform it if you wish or just sell or give away the finished calendar.
Use coupon code CALDEAL to get it for $9.95 until October 20th.
For an extra $10, you can also get a matching daily planner, monthly planner dividers and 12 digital papers so you can make coordinating workbooks, notebooks, stickers and so on. Just choose the bundle deal on the same page and use coupon CALBUNDLE if you would like to take advantage of that. Take a look here.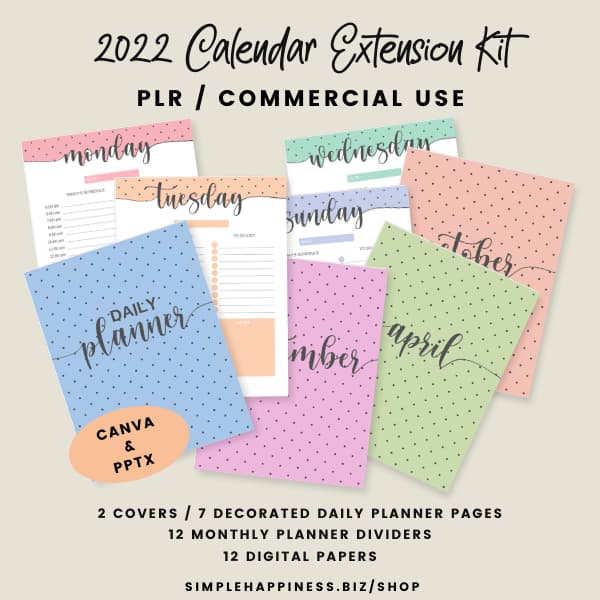 Have a great end to the week, and I'll catch you soon with more tips, freebies, and some offers but only the ones I personally think are great value and know the quality to be good.
love
Jan
https://simplehappiness.biz
This email may contain affiliate links for products I personally recommend, however the opinions expressed are my own.
I will receive a small commission if you buy through my affiliate links, which helps me keep the lights on, but the product will not cost you more.