Hi
I sold a lot of things last year.
I'm very happy about that but I'm not going to lie to you and tell you it was easy.
Because it takes work to sell a lot of stuff.
I'm sure you know that already.
Anyway here's my formula for the work if you want to do it. 😊
1. Create your own place of the web to sell stuff from.
2. Decide who you want to buy your products, preferably people who already buy the type of things you want to make.
3. Make something they will like.
4. Put your product up for sale at a price your customers will say "I see the value in that."
5. Tell your potential customers about it.
There you go. It sounds simple. But if you are not selling or not selling enough, you are going wrong in one of those five steps.
But there's one more piece of advice I have for you.
Don't just do what everyone else is doing and expect amazing results.
The best sales happen at the edge.
You won't sell very much if you produce the same "me too" stuff, if you advertise in exactly the same way, or if you follow a step-by-step guide to whatever business model you have chosen.
Just take things a little bit further than others who are using the same model.
Experiment.
You don't have to start from scratch.
You can follow some of the training you have.
Or take any one of the products like Alessandro's or Julie's below that many people will buy and some will follow.
Put your own spin on the business model they show you.
Zig when everyone else is zagging. Just put a little bit of you into it.
If you do that and nail the five steps, your business will be amazing.
And I can't wait to see the results!
ENDS TOMORROW: All Alessandro's Products from 2021 in a $17 bundle
If you're looking for a new business model or you simply want to add a new revenue stream or two to your business, the perfect bundle of products is now cheap as chips.
I bought Alessandro's 2020 pack last year, the 2019 pack the year before that, and I bought this one too, because they are full of ideas that spark potential revenue streams for my business.
I also bought the $27 upsells for this year and the one I didn't have from previous years.
Alessandro is a master at quick business ideas and the bundle is a great way to see a bunch of ideas that you could do online. With these products, you'll quickly understand the basics of each revenue model and how to get started.
But like I said above: use these products as a launchpad for a new business stream. Go deeper into the model of your choice than other buyers before you start so you can put your own spin on things 😊
Take a look at all 21 products (which originally sold individually for a total over $400) and grab the bundle quickly while it's just $17.
ENDS SUNDAY: Julie's Full Color Planners & Journals Course
Color has been given a new lease of life on Amazon with the introduction of a lower cost option for printing in color. Now self-published journals and planners can compete with low cost printed products from the far east. It's a huge opportunity!
If you want to get your share of this lucrative market, Julie has a new course to help you out even if you're a complete beginner.
I just published my own full color book and I love how it turned out so I'm looking forward to doing more of that.
This course is on sale for just a  few more days as the course begins on Monday 10th January. From that point, you'll be able to follow along with the instructions to create your own set of beautiful colored products, the kind that sell like hot cakes on Amazon.
This course is for sale on WarriorPlus with no upsells. Everything is included in one product.
My bonus: If you buy through my link, get a $40 voucher to use in my store. Just send your receipt to jan@simplehappiness.biz.
NEW: CLUB PIN
If you mean to get started with Pinterest this year or you're already toiling over creating fresh new pins regularly, here's an opportunity to get grandfathered in at a super low price (and I mean just $10) to Club Pin. You'll then get a monthly delivery of original pin templates, fully editable in Canva.
For your $10, you'll also get training every month with step-by-step guidance…..not only in editing and customizing your Canva Pin Templates, but with different aspects of business.
BONUS: In addition to locking in the Founding Member's Launch Price, when you sign up NOW, you'll also receive 40 extra templates as a signing up bonus:
20 Square Product Mockup Images — Perfect for Etsy, Shopify or any store front or online shop!! (2000 x 2000 dpi)
20 1000px by 1500px sized Product MockUp Images – perfect for Pinterest…..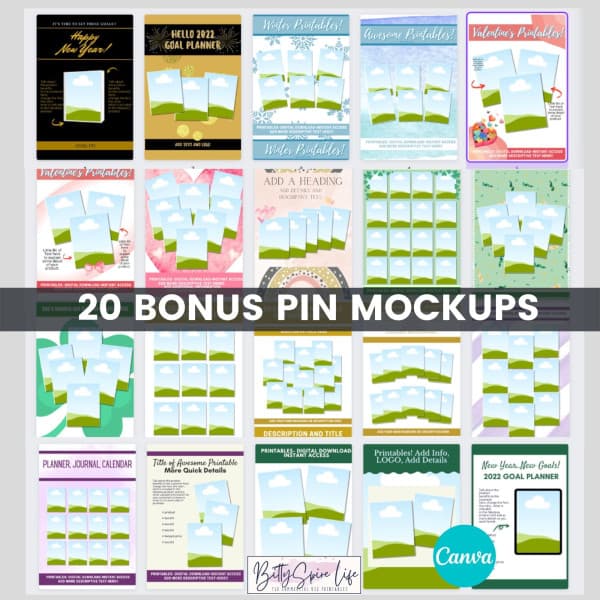 This means you can have 32 PINS posted to your Pinterest Account super quickly– and hook up your online shop with professional looking mockups too!
Get more details on Club Pin membership here and take Pinterest by storm this year!
If you have an online shop, you need traffic and Pinterest is a great way to get it.
NEW: Rayven's $5 Easy Ephemera Sale
Every pack just $5 with coupon code EPH5
There are twenty packs to choose from in both black and white (for coloring pages) and in full color.
You can use the EPH5 coupon as many times as you like but you'll need to check out each time you use it to get the reduction.
If you want them all, put on some good music first LOL
Take a look at everything available here
ENDS TODAY : No Fear Emailing & Selling
Check out the newest Coach Glue product. As usual it's "done for you" so you'll have a product to sell as well as one to learn from.
"Unshakeable: Leaning into Unapologetic Messaging, Creation, and Selling with Confidence and Ease." is the perfect antidote to playing small in your business.
Say what you want to say and allow your words to the impact they deserve rather than staying silent and allowing others to take over your corner of the web..
This is a done for you workbook and video script but there's no need to sell it in video format unless you want to. This is multi-purpose content. It makes great text based products too.
Just look at all you get on the sales page. 
Use coupon code 27 to get this whole set for $27 (regularly $97)  today.

AND THERE'S MORE: 50% OFF EVERY COACH GLUE PLANNER!
You can also get 50% off all Coach Glue planners this month including new ones so you will have even more to offer your customers.
Choose anything on this page and use coupon code 50 to get the 50% discount making most of these substantial products a fantastic deal at just $23.50 instead of $47.
2022 MOSAIC DIGITAL & PRINTABLE PLANNERS
If you loved the design of our November freebie series, you'll love this digital and printable planner set with PLR commercial rights.
You can choose either the digital or printable option or buy both in a value packed bundle.
Find all three options, a video (with a small sample of the pages) and more details on this page.
During our launch sale, the digital planner is just $17 with coupon code MOSAICDIGITAL  (regularly $37)
The printable planner is also $17 with coupon code MOSAICPRINTABLE (regularly $27)
For best value, buy the bundle of both printable and digital planners together for just $27 with coupon code MOSAICBUNDLE (regularly $47)
Beautiful Art Work
If you'd like some special art work for your planners, journals and other digital products, look no further than Gabby's Year End Sale
Gabby is selling all the art work from the past year (25 packs!) for one low price. You cannot pass on the rights to these graphics in PLR products but you could make a fantastic original and not seen everywhere product for Etsy or KDP with this beautiful work.
Take a look at everything here and use COUPON 2021BUNDLE making 25 graphic packs just $37 (a $50 saving!) until the 9th
Enjoy the rest of the week and I'll be back soon with more tips, freebies, and some offers but only the ones I personally think are great value and know the quality to be good
love
Jan
https://simplehappiness.biz
This email may contain affiliate links for products I personally recommend, however the opinions expressed are my own.
I will receive a small commission if you buy through my affiliate links, which helps me keep the lights on, but the product will not cost you more.