Hi
Despite popular opinion, the most difficult part of a big challenge is not getting started (sorry if you thought you would be okay once you got going!)  ☹️
No, the most difficult part is just after the start.
One burst of motivation gets you going, but then you have a period of hard slog before you see any return at all.
Days, weeks or even months of challenging work ahead of you.
You know how it goes.
Everything is new and takes more time; you don't have any standard processes in place.
You need to operate unfamiliar software and it never seems to work the way you think it should (or sometimes even the way it says it does.)
Building subscribers, views, content, and traffic takes time and a whole lot of effort.
Many would-be entrepreneurs give up when they see no immediate returns and look for the next "easy" idea.
They switch midstream (again!) and wonder why they never get anywhere.
If that is you, please stick with your current plan unless there are very good reasons to switch.
A bright shiny new business opportunity is not a reason to change course unless you've truly explored your current idea.
Business models that are shiny on the outside rarely sparkle quite so brilliantly once you unwrap them.
In fact, they become remarkably similar to what you're going through now by needing a lot of hard work!
Don't worry; once you're through the difficult stage of whatever you're doing, you'll reap the benefits.
Just keep going!  💖
NEW: SUE'S 60% OFF BIRTHDAY SALE 
Get 60% off everything (products, courses, and first month of memberships) at createfuljournals.com until noon EST on 7th April.
It's the best discount Sue has ever offered and it's a great chance to stock up!
Use Coupon Code: APRIL60 to get the discount. The coupon can be used multiple times.
Take a look at everything available 
My bonus: Spend at least $20 after the discount  through my link and choose any one of my bonus reports from the end of this newsletter . Spend at least $50 and get two. 💖💖💖
NEW: LIST BUILDING WITH BUNDLES
Cindy Bidar just launched a brand new course called List Building with Bundles: How to Quickly Add Hundreds of Quality Subscribers to Your Email List.
This is a subject close to my heart as I built my list almost entirely using bundles with the result that I now make a full time living online after starting with zero subscribers in the summer of 2020
In the course, you'll learn all this and so much more…
How to stand out from the crowd so you can get invited to more and better events.
How to find and get invited to events even if you're brand new and don't have a big list yet.
How to get organized so participation doesn't become a time suck.
How to make the most of the new subscribers you attract.
How to identify good events and avoid the not-so-great.
List Building With Bundles is perfect to give you list a boost (or a start) this year.
Use promo code LBB for a huge reduction during launch (until Sunday, April 10, 2022 at 11:59 PM)
My bonus: Buy List Building with Bundles through my link and choose any one of the bonus reports from the end of this newsletter. Just send your receipt and choice to me ([email protected]) 💖💖💖
NEW: MAKE MONEY WITH FREEBIES 
So many good products today! Karon from Marketing Words has just put her popular Make Money with Freebies on sale.
It's 40% off until the 10th of April.
No coupon required.
If you don't have your copy yet, take a look at this product and snap it up.
You may think you can't make money with freebies, but you absolutely can. A whole lot of it. And it works whether you're an affiliate OR  a product creator.
My bonus: Buy Make money with freebies through my link and choose one bonus report from the end of the newsletter.  💖💖💖
RUTHIE'S LOW CONTENT BUNDLE & MY BONUS
This is a product that you can be sure is 100% worth buying.
Ruthies 4th Annual Low Content Bundle is chock full of products that you can use and/or sell in your business.
You will hear a lot about it today and over the next week or so from the 40 or so contributors and others (I contributed the 28-page journal below.)
Instead of me telling you about all the awesomeness in the bundle here in the newsletter where the space can't do it justice, be sure to take a look at all the many products included for one low investment of just $37 – that's less than a dollar a product!
My bonuses: If you're not sure how to make money with a bundle like Ruthie's, or you'd like to make more from the PLR you already own, take a look at my bonus, exclusive to those who buy Ruthie's bundle through my link. This is my guide to how you can 100 x your investment in the bundle. Simply send your receipt to me ([email protected]) to claim. You can also choose any one of the bonus reports from the end of this newsletter, making this deal so much value in one!  💖💖💖
FREE LOW CONTENT TRAINING
In any case, whether you decide to buy the bundle or not, sign up for the free live round table workshops being held Tuesday to Thursday this week at 2pm EST.
I just took part on today's panel and was trying to write notes and speak at the same time because there were so many good ideas from the speakers.
I definitely don't want to miss out tomorrow or Thursday either.
You can grab your free ticket for the remaining low content round table workshops here
LAST FEW HOURS FOR LIFETIME MEMBERSHIP  
Yadsia has decided to start a membership program which will include her fantastic and comprehensive suite of training programs – the Digital Business Startup.
Those who already own her training (me! yay!) will be lifetime members of her membership program which will have both accountability and community and access to Yadsia herself, a lady who does what she teaches and makes a great living from it!
But if you want a chance to get in on that sweet lifetime deal, you only have a short window to act.
Get Digital Business Startup with lifetime membership before the chance evaporates tomorrow at whatever time Yadsia goes to her bed!
My bonus: If you buy Digital Business Startup through my link, choose any three of my bonus reports from the end of this newsletter and receive a $20 coupon for my shop.  💖💖💖
ENDS TOMORROW
The official end of the Yellow Mimosa Planner launch was 1st April.
But given that five days were lost (thanks to Paypal), I've reset the coupons so that the deal is still available for a few extra days.
Snap up this brand new dated planner, a fresh yellow mimosa design for just $17 (instead of the regular $27 price) with coupon code 23PLANNERDEAL during launch (now ends April 6th)
You can sell super-value products in your shop to take people right through to the end of next year with this.
And it's also great for dated academic planners which usually run for 18 months.
If you would also like to add to your planner collection, you can buy our whole collection of four 2022 – 23 planners instead (including the Mimosa design) for an extra $10 making the bundle $27 (instead of $67) with coupon code 23PLANNERBUNDLE during launch.
You could be well ahead of the dated planner market with these products which heats up in July/August.
LAST FEW HOURS – SMALL BUSINESS PROJECT MANAGEMENT PLR 
Small Business Project Management PLR is a super useful pack of commercial use content from Piggy Makes Bank. It comes with 30 articles, 30 emails, 30 social media posts, an eBook compilation, and Piggy's "How to Run an Email Challenge" Guide, an eBook and Workbook.
This content will make a perfect addition to your site or product offerings if you work in the business niche, and you'll also have your email and social media posts covered.
Take a  look here for more details 
$40 off during launch (until 5th April). No coupon required.
My bonus:  If you get this product through my link, choose one of my bonus reports. See the end of this newsletter for details. 💖💖💖

LAST FEW HOURS:  FREE PLR – GO WITH THE FLOW 
Grab Go with the Flow, an awesome, comprehensive free done-for-you-content pack (30 items on accepting life's challenges!)
Perfect for you if you're in the coaching or personal development niche.
Edit and rebrand the content and publish as your own, keeping all the profit.
My bonus: No bonus (sorry!) as this is a free package (but if you happen to pick up a paid product directly through my links at the site while you're there, let me know which bonus you would like 😊 )
GET IT BEFORE THE LOW PRICE DISAPPEARS! HARDCOVER CASH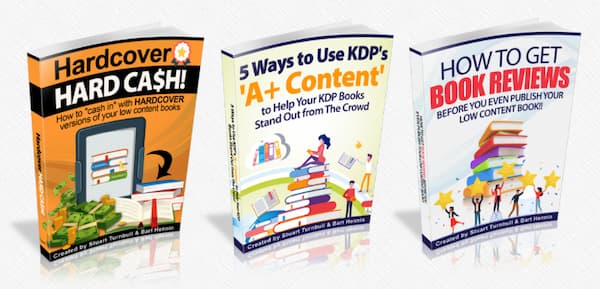 I love Stuart and Bart's new product Hardcover Cash as it allows for making extra dollars from Amazon KDP books with very little extra work.
By producing hardcover versions of books that we are selling anyway you'll attract different customers.
I got this product this afternoon.
What also tempted me were the bonuses which come with the product which are sooooo helpful for working on KDP. You get all three ebooks for just $27 during launch!
Take a look at the product here
There's one very low cost (we're talking $9) upsell which is useful but not essential.
My Bonus. Get Hardcover Cash through my link and choose any one of my bonus reports from the end of this newsletter. If you don't have my "make $3k a month on Amazon plan", that would go perfectly with this but you're not limited to that report (or that figure!) 💖💖💖
HOW TO USE PLR
Jenn and Lori have a new course out to help you make the most of the PLR you buy.
In the course, you'll learn how to asses, edit, and publish all that private label content that's just sitting on your computer gathering dust.
The course is just $27 for launch (ends on April 8th)  (regularly $47) so it won't cost an arm and a leg to get started.  USE COUPON RELAUNCH
Take a look at all the details here.
My bonus: If you get this PLR course through my link, choose one of my bonus reports. See the end of this newsletter for details. 💖💖💖
LAST FEW HOURS: LYNETTE'S 30 DAY COUPLES JOURNAL
This 30 day couples journal has 30 questions for couples to answer together over 30 days. Each question touches a different aspect of love so that couples can better understand themselves and each other, and become more intimate resulting in a deeper bond, understanding, and long-term happiness. The act of writing gives us time to think things through and really connect with the heart.
The journal comes with commercial use license. So you can rebrand this to sell or use with your clients with no design work or content writing – unless you want to. It's all done for you. All you need to do is download, rebrand, and change if you choose.
The Early Bird price is just $23 (regular price $47)
The offer ends on April 5th 11:59 pm Eastern
My bonus: Buy this awesome couples journal through my link and choose one of my bonus reports. See the end of this newsletter for details.   💖💖💖
BONUS  SELECTION (  💖💖💖  ITEMS ONLY)
As I had a lot of requests for various different bonuses, it's now official that you can choose any one of the recent bonuses when you buy through any of my links marked with a 💖💖💖 in my newsletter on top of any other bonuses mentioned.
This works better for those who already own one or more of these or who want to buy a couple of items.
To claim just send your receipt(s) to me ([email protected]) and let me know which bonus(es) you would like. I'll verify with the vendor and send them right back to you, usually within a day or so.
Here are the currently available bonuses.
▶️ My plan for making $3K a month from Amazon KDP in 2022
▶️ Aargh! exactly what to do when you feel like quitting
▶️ My millionaire plan (February 2022 update) for how I plan to retire with a lot of fun money
▶️ Simplify! 15 things I do to avoid getting overwhelmed
▶️ Graphics – my process for making PLR unique using graphics
▶️ 339 best selling printable ideas
▶️ 25 ways to get more mileage from the PLR on your hard drive
▶️ 27 best converting lead magnet ideas
▶️ Boost your business by reviving old blog posts
▶️10 Steps to Creating a  Winning Strategy for Your Next Project
▶️ NEW! 5 minute miracle start to make every day a success
▶️ NEW! 10 Ways to Make an Extra $1000+ this year 
Enjoy a productive week and I'll be back soon with more tips, freebies, and some offers but only the ones I personally think are great value and know the quality to be good.
love
Jan
https://simplehappiness.biz
This email may contain affiliate links for products I personally recommend, however the opinions expressed are my own.
I will receive a small commission if you buy through my affiliate links, which helps me keep the lights on, but the product will not cost you more.