Hi
Today's freebie (see below) is a daily planner page in the gorgeous soft colors we are using for our free series this month.
Be sure to use it yourself as well as sell it.
Every day, print a fresh copy, and block off the times you will work, adding the tasks that you 100% intend to do.
You need to get real, here.
There's a limit to how much you can get done in a day.
Hide your 297 item to do list and pick three achievable tasks (not whole projects like "build my list" and "create a website") to put on your schedule.
Enjoy getting those three tasks done. Let the other 294 wait for another slot on another day.
Daily Planner Freebie with commercial rights
As a thank you for reading there'll be a new freebie printable in my newsletter every day for the rest of November.
All are in a coordinating design created specially for this series so they form a set. You will be able to mix and match the individual printables to create a fantastic product.
They also come with Powerpoint and Canva templates so you can use your own designs if you wish.
And you'll get PLR commercial rights to sell or give the printables away.
Each one will disappear at midnight Pacific (or more likely when I get around to it the next day!)
Here's today's freebie (or click on the image below)
New! Start Up Workbook
This comprehensive start up workbook has all you need to plan at the start of your business (and frankly many things you should have in your plans, but probably don't) even if you already started.) This is one I'm going to grab for myself! Get it during launch (ends November 9th) for 50% off with coupon code STARTUP
New: Marian's Gunpowder Plot Sale
Did you know that the 5th November is celebrated in the UK with bonfires and fireworks?
It's when we commemorate the foiled attempt to blow up the Houses of Parliament in 1605 by Guy Fawkes.
We'll be inside covering Alfie dog's ears as he's not a fan of fireworks 😱
Anyway, Marian is having a sale on all the courses on her site to mark the occasion.
Use coupon GUY1605 to save 20% on everything until November 9th.
I love Marian's courses because she always has info to share you don't find anywhere else and she gives her courses in short 5 minute bites. Even if you only have a tiny chunks of time you can learn a lot.
New! Ekit Leadership pack
Alice has another great pack with a huge amount of quality content, perfect for coaches and those in the business and self development niches.
Grab this latest ekit to take the work out of creating content, giveaways, and products for your shop for some time to come. See everything on offer for just $14.95 here. Amazing!

New! Winter Bucket List
Cold weather is about to hit the northern hemisphere so it's time to make the most of the season no matter what the weather brings with this cute Winter Bucket list!
This versatile set of designs with PLR commercial rights has been created to give you and your customers a heap of ideas to last the whole winter.
You can mix and match the designs and backgrounds or use the blank templates provided in Canva and Powerpoint to create your own designs and add your own ideas.
These printables make a great lead magnet for bloggers, and you can use them yourself to have the best winter ever too.
Just $9.95 with coupon code WINTER21
Karon is having a flash sale
Karon of Marketing Words has put her most popular training courses and tools on sale with 50% off for the next few days (ends November 7th)
I've been affiliate marketing for most of the years I've been working for myself but I still learned something from Karon about cookies just yesterday!
Here's just some of what you'll find in her sale. Take a look at what's on offer and fill in the gaps in your  education at half price.
Ruthie's New Zentangle Coloring Pages
I've never gotten into the craze for adult coloring, but these are the kind of pages I'll go for if I ever do – gorgeous zentangle-style hand-drawn designs and enough intricacy to make a beautiful final result.
These 12 ZenStyle Flower Coloring Pages with commercial rights are on sale until November 9th. Use coupon code FLOWERS10 to save $10 on the already low price.
Get your site content done fast
If a website is on your list, but you're stuck creating the pages because you don't know what to write, look no further than Andrea's new product. Her "Fill in the Blank" templates will help you get all the important pages of your website written in a flash. And those lucrative product review and resource posts that you can stack with yummy affiliate links!
Simply fill in the blanks (just like it says on the tin lol!) and you'll be done in no time!  This product is just $12 with special launch discount code TAKEACTION
Andrea specializes in time saving products for those of us who have too little time but want to get a lot done. I can't believe how much she's achieved with two little ones and a new born and no help! Looking around Andrea's store, I wanted to grab so much, so take a look and see what she has to help (but if you're tempted by the get "unstuck" writing bundle, hang on, because you can snag it for just $7 when you get the Fill in the blank template pack.)
Last day: Sheila's launch deal!
You know what's going to happen in January, don't you? It's the season for shedding festive goodies from your hips. And planners like these are going to fly off the digital shelves.
Do you have one in your store?
If you don't, grab this one from Sheila at Pretty Printables while it comes with a launch discount and get your business prepared well ahead of the New Year!
Use coupon KETOME to get $10 off the regular $27 price until Thursday 4th.
Giveaway including this $47 product from me
David Perdew who was the keynote speaker at the Kitchensink summit in March has put together a  bundle of 29 products worth over $2k with FREE access including this product from me. 
Take a look and grab it all here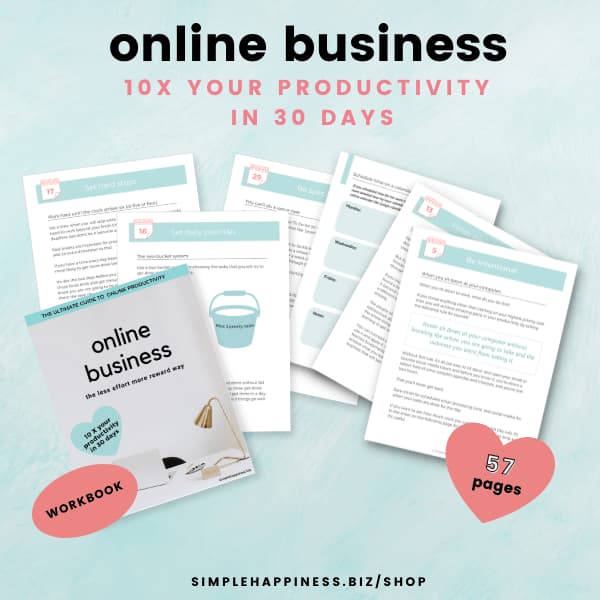 Have a great end to the week, and I'll catch you soon with more tips, freebies, and some offers but only the ones I personally think are great value and know the quality to be good.
love
Jan
https://simplehappiness.biz
This email may contain affiliate links for products I personally recommend, however the opinions expressed are my own.
I will receive a small commission if you buy through my affiliate links, which helps me keep the lights on, but the product will not cost you more.