Hi
I love this quote about happiness which I unearthed on Canva today because there is so much truth in it.
If your business (or life) are not in sync in one of these areas, what can you do to change that?
Think about it then do that from this moment on… 💖
LAST DAY: LEGALLY COPY PROFITABLE EMAILS
Grab this massive collection of 5,603 profit producing proven emails you can adapt for your own email broadcasts and follow up sequences.
The email swipe file from email expert Matt Bacak has a tiny price of less than $12 now.
But the price rises with every sale and is going up to $97 tomorrow.
Get all the details here  You don't want to miss this if you struggle with writing emails.
My bonus: Buy the Instant Swipe File through my link and choose any one of my bonus reports from the list at the end of this email. 💖💖💖
NEW: SIMPLE TEMPLATE FROM SUE (ELDERLY CARE)
I love this idea from Sue to create simple templates that you can easily tailor to create a new product.
This elderly care one is a perfect example of that.
And just $7. No coupon required.
My bonus: Buy two or more of Sue's Simple Templates from this link (or the elderly care link above) and choose any one of my bonus reports from the list at the end of this email. 💖💖💖
ANOTHER CHANCE
The official end of the Yellow Mimosa Planner launch was yesterday.
But given that five days were lost (thanks to Paypal), I've reset the coupons so that the deal is still available for a few extra days.
Snap up this brand new dated planner, a fresh yellow mimosa design for just $17 (instead of the regular $27 price) with coupon code 23PLANNERDEAL during launch (now ends April 6th)
You can sell super-value products in your shop to take people right through to the end of next year with this.
And it's also great for dated academic planners which usually run for 18 months.
If you would also like to add to your planner collection, you can buy our whole collection of four 2022 – 23 planners instead (including the Mimosa design) for an extra $10 making the bundle $27 (instead of $67) with coupon code 23PLANNERBUNDLE during launch.
You could be well ahead of the dated planner market with these products which heats up in July/August.
NEW BONUSES!
If you buy products marked with  💖💖💖 through my links, you can choose any one of my bonus reports.
You can see all the current reports and how to claim at the end of this newsletter.
But here are today's two new additions:
The first is a short seven page report on the way I start my day especially when I don't feel like working. It takes me from feeling "meh" about my business to making sure I move forward.
The second new addition is a report on ten ways I have made at least $1000 in my business in less than a year (usually a lot more than $1000)
If you're not sure what business model to adopt, or you want some ideas for extra income streams, I can personally recommend these as working income streams!
Not that I liked them all (I'll tell you which ones I dropped and why) but you might enjoy any or all of them.
SMALL BUSINESS PROJECT MANAGEMENT PLR 
Small Business Project Management PLR is a super useful pack of commercial use content from Piggy Makes Bank. It comes with 30 articles, 30 emails, 30 social media posts, an eBook compilation, and Piggy's "How to Run an Email Challenge" Guide, an eBook and Workbook.
This content will make a perfect addition to your site or product offerings if you work in the business niche, and you'll also have your email and social media posts covered.
Take a  look here for more details 
$40 off during launch (until 5th April). No coupon required.
My bonus:  If you get this product through my link, choose one of my bonus reports. See the end of this newsletter for details. 💖💖💖

FREE PLR: GO WITH THE FLOW 
Grab Go with the Flow, an awesome, comprehensive free done-for-you-content pack (30 items on accepting life's challenges!)
Perfect for you if you're in the coaching or personal development niche.
Edit and rebrand the content and publish as your own, keeping all the profit.
My bonus: No bonus (sorry!) as this is a free package (but if you happen to pick up a paid product directly through my links at the site while you're there, let me know which bonus you would like 😊 )
HARDCOVER CASH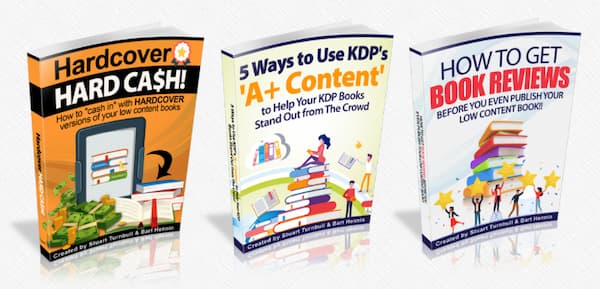 I love Stuart and Bart's new product Hardcover Cash as it allows for making extra dollars from Amazon KDP books with very little extra work.
By producing hardcover versions of books that we are selling anyway you'll attract different customers.
I got this product this afternoon.
What also tempted me were the bonuses which come with the product which are sooooo helpful for working on KDP. You get all three ebooks for just $27 during launch!
Take a look at the product here
There's one very low cost (we're talking $9) upsell which is useful but not essential.
My Bonus. Get Hardcover Cash through my link and choose any one of my bonus reports from the end of this newsletter. If you don't have my "make $3k a month on Amazon plan", that would go perfectly with this but you're not limited to that report (or that figure!) 💖💖💖
HOW TO USE PLR
Jenn and Lori have a new course out to help you make the most of the PLR you buy.
In the course, you'll learn how to asses, edit, and publish all that private label content that's just sitting on your computer gathering dust.
The course is just $27 for launch (regularly $47) so it won't cost an arm and a leg to get started.  USE COUPON RELAUNCH (Sorry I forgot that part yesterday!)
Take a look at all the details here.
My bonus: If you get this PLR course through my link, choose one of my bonus reports. See the end of this newsletter for details. 💖💖💖
LYNETTE'S 30 DAY COUPLES JOURNAL
This 30 day couples journal has 30 questions for couples to answer together over 30 days. Each question touches a different aspect of love so that couples can better understand themselves and each other, and become more intimate resulting in a deeper bond, understanding, and long-term happiness. The act of writing gives us time to think things through and really connect with the heart.
The journal comes with commercial use license. So you can rebrand this to sell or use with your clients with no design work or content writing – unless you want to. It's all done for you. All you need to do is download, rebrand, and change if you choose.
The Early Bird price is just $23 (regular price $47)
The offer ends on April 5th 11:59 pm Eastern
My bonus: Buy this awesome couples journal through my link and choose one of my bonus reports. See the end of this newsletter for details.   💖💖💖
BONUS  SELECTION (  💖💖💖  ITEMS ONLY)
As I had a lot of requests for various different bonuses, it's now official that you can choose any one of the recent bonuses when you buy through any of my links marked with a 💖💖💖 in my newsletter on top of any other bonuses mentioned.
This works better for those who already own one or more of these or who want to buy a couple of items.
To claim just send your receipt(s) to me ([email protected]) and let me know which bonus(es) you would like. I'll verify with the vendor and send them right back to you, usually within a day or so.
Here are the currently available bonuses.
▶️ My plan for making $3K a month from Amazon KDP in 2022
▶️ Aargh! exactly what to do when you feel like quitting
▶️ My millionaire plan (February 2022 update) for how I plan to retire with a lot of fun money
▶️ Simplify! 15 things I do to avoid getting overwhelmed
▶️ Graphics – my process for making PLR unique using graphics
▶️ 339 best selling printable ideas
▶️ 25 ways to get more mileage from the PLR on your hard drive
▶️ 27 best converting lead magnet ideas
▶️ Boost your business by reviving old blog posts
▶️10 Steps to Creating a  Winning Strategy for Your Next Project
▶️ NEW! 5 minute miracle start to make every day a success
▶️ NEW! 10 Ways to Make an Extra $1000+ this year 
Enjoy the rest of the weekend and I'll be back soon with more tips, freebies, and some offers but only the ones I personally think are great value and know the quality to be good.
love
Jan
https://simplehappiness.biz
This email may contain affiliate links for products I personally recommend, however the opinions expressed are my own.
I will receive a small commission if you buy through my affiliate links, which helps me keep the lights on, but the product will not cost you more.