Hi
How do you choose a course to buy? And who you learn from?
Big companies have training budgets and strategies for spending them.
They make a plan. They look at what employees need to learn.
And they don't go over budget.
But solopreneurs, who have less money floating around, often make purchases without thinking them through.
It doesn't make sense when you think about it.
But I'm no angel in all this. I like the bright & shiny as much as the next person.😊
There's always more to learn in business, right?
And more courses to buy.
I've even bought quite a few that are still waiting for my attention. More than a few, actually.
They sit patiently on my hard drive getting out of date.
Yadsia's courses always get my attention, though.
Why?
Because I know Yadsia makes a great living doing what she teaches, creating and selling the kind of things I make.
And she tells it like it is.
So she's a great person to learn from.
But I'm not rushing off to get Yadsia's new digital planners course.
If you ONLY want to know about digital planners, I'd say go for it.
It's half price today after all.
But I'm not buying it.
That's because I already invested in her training.😊
I bought the whole suite of programs called the Digital Business Start Up which includes this new course and all her other training.
As Yadsia says of Digital Business Start Up "It's an entire program, not 'just a course'. DBS is the entire system in which I've built a multi six figure business in the past 14 months."
So I would ask, why buy a single strategy when you can get the whole picture from such a successful lady, who also happens to be super nice and helpful in all her business dealings?
The price of DBS was due to be raised at the end of May as it came out of Beta, but Yadsia hasn't raised it yet.
She may have been waiting until she launched the Digital Planners course.
I don't know, but if you ever mean to jump into her Digital Business Start Up program, I'd do it now.
You can even do it on a payment plan.
I think the whole system that someone uses to sell and build their multi six figure business is priceless.
Apart from anything else, it saves so much time faffing around working out what works.
And Yadsia's training is a fraction of the amount that a lot of gurus charge for far less valuable knowledge.
Think about it seriously, though. Is this a good way to invest your training budget?
I say yes,without a doubt, if you mean to make your business selling printables, Canva templates, or digital planners.
If not, pass right on by 😍
Treat for you: If you buy the whole DBS system through my link, there's a $100 coupon waiting for you to spend at the Simple Happiness Shop to make the investment in your future even more cost effective. Only want the Digital Planners course? It's okay I won't judge, if that's your main focus. 😊 Get $50 back in coupons  when you buy through my link.
No need to claim. The coupons will be automatically delivered via Yadsia's system.
What I like about DBS: You get an end to end business system to model, full training in product creation, and a whole set of templates to start you off. I made this printable yesterday in less than 15 minutes with one of Yadsia's many templates included in DBS.
What I like about the Digital Planners Course: I don't know because I haven't jumped into that one yet! But I'm excited to go through it, knowing the style of Yadsia's training and having seen the video about all it covers If you decide to go ahead and buy after viewing it remember to use the link here to get your $50 coupon! It makes the course price such a steal while the sales is on. Just a day or two left.  
LAST DAY for Baby Launch
Our baby's first year journal has 38 unique pages and you get commercial rights to edit, sell and give away all this cuteness.
You'll find 3 formats included – Canva & Powerpoint templates for easy customization and a ready-to-go PDF. All in two sizes A4 and US Letter.
The launch price is just $12.95 with coupon code BABYFIRST
Take a look. 😍 before the day goes whooshing by and the launch price disappears (at midnight PST)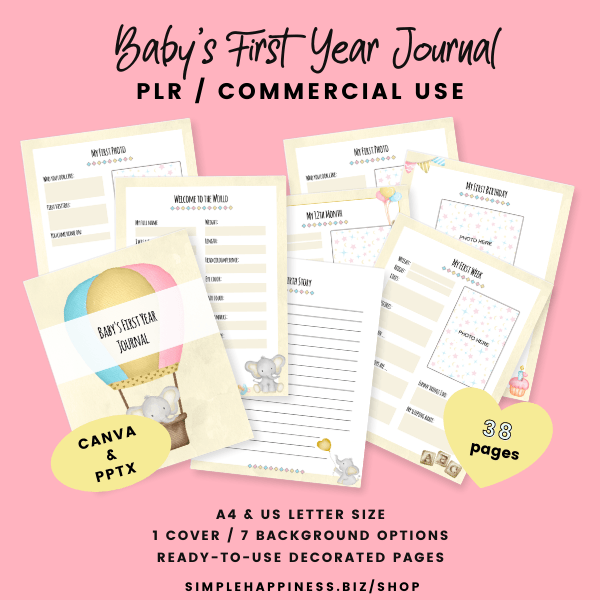 If you bought the journal and want the extension with 22 more pages and extra pink & blue backgrounds you can still pick that up today at launch price too – just $9.95. You'll find that offer on the download page for your baby journal and if you missed it, you can also see it here until midnight PST. Coupon code BABYEXTRA
NEW! Patriotic Planner 
Great timing as we come up to 4th July and the crazy Q3 and Q4 planner season, Michelle has released this gorgeous Patriotic Planner.  
Her 2021-2022 Patriotic Planner template comes with 31 unique pages.
You get two sizes, 8.5 x 11″ & 8 x 10", PowerPoint Files, PDF File, Font Files, and 6 Different Covers and 2 Backgrounds to choose from also with Commercial Use Rights.
Get 50% off until 10th July with coupon code FREEDOM 
What I like about this: Gorgeous design with commercial use rights. American themed planners are super popular all year around. You could have this up and selling in no time or give a beautiful 4th July gift to your subscribers without taking hours of your time to create it or paying hundreds of dollars to have one made. This one – just $17.50 today with coupon code FREEDOM
Have a great week ahead and I'll catch you soon with more tips, freebies, and some offers (but only the ones I personally think are great value and know the quality to be good.)
love
Jan
" />
https://simplehappiness.biz
This email may contain affiliate links for products I personally recommend, however the opinions expressed are my own. 
I will receive a small commission if you buy through my affiliate links, which helps me keep the lights on, but the product will not cost you more.
s.