Hi
Just a thought for today if you keep taking all the courses but you're not doing all the things:
What trees do you need to cut down?
Not literally obviously because of the poor planet. 🤣
I mean, what do you need to learn by doing?
Think about it this weekend and then start chopping! 💖
Glad I asked…
Yesterday, I sent out a request (with a $20 bribe attached) to ask your opinion.
I only had one question.
And boy, did you tell me. 💖
There's a lot for me to process in your answers already and plenty of food for thought (and actions to take), but if you still want to add your 2c, you're welcome.
I'll probably shut the form down some time over memorial weekend, but if it's still there and you respond, you'll get your $20 gift card with my thanks.
Tell me what you think in this Google form and when you submit your answer, you'll receive a $20 gift card from me within minutes.
A few words or a few sentences is enough. I'm not expecting War & Peace. But you're also welcome to write as much as you want (good and bad).  🤣
***********************************
NEW: TWO GORGEOUS DIGITAL PLANNER DESIGNS
Melody has released two brand new perpetual digital planner templates with full commercial rights to brand and sell.
Fully linked pages for ease of  use.
And a fun, flipping effect.
600+ pages in each template.
Just $27 for the two templates for a limited time.
Get all the details here (including pics of the other design you'll receive)
My bonus: Buy the templates through my link and choose one of my bonus reports from the end of this newsletter. 💖💖💖
***********************************
SECOND CHANCE: ALL $10 OFFERS OPEN FOR A FEW DAYS
If you missed any of the ten deals over the last ten days, you have another chance to snap up any you missed.
Ten products for ten dollars each including my brand new products: Florida vacation planner and 10,000 steps challenge. .
Amazing value for $10 each.
Check out all the products here, available until 31st May. 😊
LAST DAY: YOUTUBE SEARCH & MASTERY SOFTWARE
Everyone is talking about Dave Guindon's new Tube Atlas software (with good reason!)
Video has become a vital channel in online marketing and this software has everything to help you research, not only for video itself, but also for everything you sell anywhere.
Think keywords. Think subniches. Think endless possibilities. It does all this and more!
If you want to know what your potential audience is thinking or which audience to target, you need this tool.
Another winner by Dave Guindon.
See everything it does here and get 50% offduring the five day launch. Just $37.
My bonus: If you get Tube Atlas through my link, choose any two bonus reports from the end of this newsletter 💖💖💖
LAST DAY: FRAN'S RETIREMENT SALE
Fran of the Happy Journals Club is having a retirement sale on 7 of her huge and popular planner bundles. They are
Travel Journal PLR Pack
Take A Breath PLR Bundle
The Decluttering Journal PLR Pack
Beauty of Life Journal PLR Bundle
Mood Journal PLR Pack
Bright New You PLR Bundle
Extra Bright New You PLR Bundle
You can get them for 82% off – the whole lot for just $47! (instead of $279)
After the 27th these products will be gone completely
Take a look here at all you get
My bonus: If you buy Fran's Retirement Pack through my link, you can choose a bonus report from the end of this newsletter 💖💖💖
LAST DAY: BABY SHOWER PLANNER WITH COMMERCIAL RIGHTS
Cute baby shower planner with 33 pages to keep all of your information, inspiration and contact details in the one place. It's also great as a pregnancy gift!
Price: Regularly $27 but get this PLR Template for just $17 until May 27th, 2022
Use coupon code SHOWER
My bonus: Buy the planner through my link and choose any one bonus report from the end of this newsletter. 💖💖💖
OPT-IN FUNNEL QUICK START GUIDE
Cindy has created a series of trainings to help make complex technical business processes much easier for us all.
Her first one is the Opt-In Funnel Quick Start Guide: A Frustration-Free Process for Building Lead Funnels
And you can get it for just $9.50 with coupon code FUNNELQS (which may be automagically applied) through Sunday, May 29, 2022
REINVENTING YOURSELF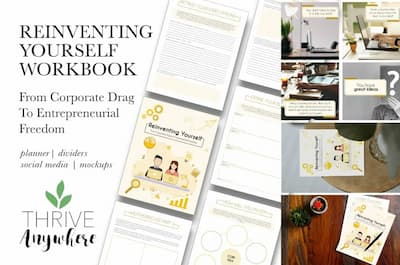 Lynette's new workbook with PLR commercial rights is perfect for those who want to leave the corporate world to become entrepreneurs.
You'll find pages to help people prepare their mindset, set expectations and plan for a smooth transition from being an employee into an entrepreneur.
Take a look at everything included in this kit and get it for 50% during launch until Tuesday 31st May.
No coupon required.
My bonus: Buy the workbook through my link and choose any one bonus report from the end of this newsletter. 💖💖💖
(NEW & IMPROVED) CLUB PIN  (so much for $10 a month) 
Melanie of Bitty Spire Life has added more content than ever to her Monthly Club Pin membership.
Now you get a brand new printable product with PLR every month plus 8 Pinterest templates and 8 square product mockups
You also get access to her library of Canva customization and tech tutorial videos.
My bonus: Join Club Pin with my link and choose any one bonus report from the end of this newsletter 💖💖💖
FIRST BIRTHDAY FOR STEPHANIES'S SHOP
Congratulations to Stephanie and her shop Wildflower Digitals!
Stephanie is celebrating the first birthday of her shop with a special 30% off sale on her beautiful brand new stationery styles kits.
Use coupon code STATIONERY as many times as you like until May 31st to get the discount for anything on this page.
If you haven't visited this store for a while, take a look!
My bonus: Spend $20 on anything in Stephanie's store through my link (not limited to the new kits) and choose any one of my bonus reports from the end of this newsletter 💖💖💖
BEEKEEPING PLANNER
Michelle always creates such great unique planners and this Beekeepers Planner (with commercial use PLR rights) is no exception.
Put together with care (and insider knowledge) it's perfect for the sizeable bee-keeping niche.
So many are trying to start a few beehives to help the bees.
Use coupon code BEE50 to get it for half price during launch (ends 31st May)
My bonus: Buy the planner through my link and choose any one bonus report from the end of this newsletter. 💖💖💖
ENDS SUNDAY: CREATE SMARTPHONE WALLPAPER TO SELL (JUST $8.50)
Add another string to your bow (and fun source of income for yourself) by creating simple wallpaper files for smartphones.
This Create Smartphone Wallpaper to Sell video training is just $8.50 during launch (coupon will be auto applied to cut the normal $17 price in half.)
ONLINE BUSINESS PLAYGROUND
Lizzie is about to do a live round of her super popular Online Business Playground, the course designed to make you fall in love with your business all over again and perfect if you're feeling, jaded, bored, overwhelmed or just plain fed up with what you're doing.
Even better, it's less than half price right now until 31st May
Take a look here to see if it's for you. (And get two of the 30 lessons for FREE!)
My bonus: If you get the course through my link, scoop up two of my bonus reports from the end of this newsletter.  💖💖💖
SIX WEEKS TO YOUR OWN PLR BUSINESS
Piggy Makes Bank, one of the best and most successful providers of PLR content, have created a brand new course Six Weeks to Your Own PLR Business.
The course starts June 1st and then over six weeks with them, you'll learn all you need to know about setting up your business infrastructure, creating your products, and selling them.
As a bonus they will also kick off your business by helping you promote your product to their own list (subject to quality review of course) and their list is substantial because they earn around $300k per month from their PLR business.  😃
Take a look at all the details here and grab this while it's available
My bonus: If you get the Six Weeks to Your Own PLR Business course through my link, you can choose any two reports from the end of this newsletter 💖💖💖
DIGITAL PLANNER INTENSIVE
Learn how to create digital planners from the ground up in a series of hands on interactive workshops over six weeks with lifetime access to the recordings.
No one else teaches this level of creating digital planners (it really is, as the name says intensive) yet this invaluable series will be just $47 until the end of the month.
Use Coupon Code: INTENSE50
My bonus: If you buy the course through my link, you can choose two of my bonus reports from the end of this newsletter 💖💖💖
BLOG POST SHORTCUTS ON SALE 
Karon's unique Blog Post Shortcuts are perfect for you if you struggle to write blog posts but you don't want to use complete done-for-you PLR content.
They take all the heavy lifting out of generating ideas and formulating your posts in any niche, which means you can use them over and over again.
And they are on sale until the end of May with coupon code BPS9 saving you $9 on each pack.
Each blog post shortcut has
A type of blog post and how to make it work for you
Quick research resources
Guidance and inspiration on crafting titles
Blog post title suggestions
Opening paragraph tips
How to write the body of the post
Call-to-action ideas
Monetization ideas
Search optimization recommendations
Get all the details here and remember to use code BPS9 to save.
My bonus: For each pack of blog post shortcuts you purchase through my link, you can claim one of my bonus reports from the end of this newsletter 💖💖💖
GET ALL THE CANVA  TEMPLATES YOU NEED TO SELL A TON OF PRINTABLES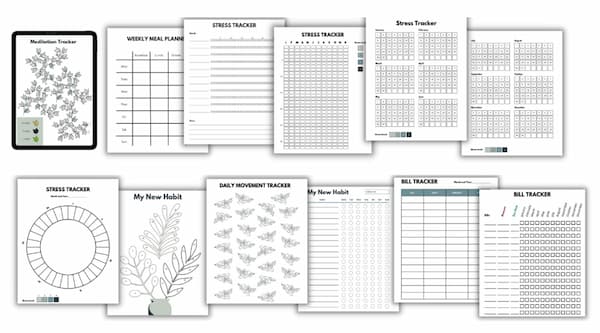 April Lemarr has released a huge set of Canva templates that you can get for $27 with PLR rights or an amazing $47 with master resell rights (allowing you sell  your own version of them as PLR).
That's amazing for 123 templates in 10 categories and so much DFY content that you can use to build your business. The pic above shows just a tiny selection of the huge package.
See everything included right here and be prepared to be amazed.
My bonus: If you purchase the templates through my link, you can choose any one of my reports from the end of this newsletter . 💖💖💖
BONUS  SELECTION (  💖💖💖  ITEMS ONLY) 
When you buy 💖💖💖 marked products through my links you can choose any of the items in the list below.
To claim just send your receipt(s) to me ([email protected]) and let me know which bonus(es) you would like. I'll verify with the vendor and send them right back to you, usually within a day or so.
NOTE:  A few people have asked for one of my bonus reports when they bought one of my own products but I haven't been offering these as I don't want to compete with my affiliates who like to offer their own bonuses or who maybe don't have time to make extra bonuses.
For my products only, whether you buy through my link or through an affiliate, whenever you spend $17 or more in one transaction, you can also choose a bonus report from the end of this newsletter. 💖💖💖
By the way, there are a few more new  bonuses in the works. I just have to get them done and out of the works!
Here are the currently available bonuses.
▶️ My plan for making $3K a month from Amazon KDP in 2022
▶️ Aargh! exactly what to do when you feel like quitting
▶️ My millionaire plan (February 2022 update) for how I plan to retire with a lot of fun money
▶️ Simplify! 15 things I do to avoid getting overwhelmed
▶️ Graphics – my process for making PLR unique using graphics
▶️ 339 best selling printable ideas
▶️ 25 ways to get more mileage from the PLR on your hard drive
▶️ 27 best converting lead magnet ideas
▶️ Boost your business by reviving old blog posts
▶️10 Steps to Creating a  Winning Strategy for Your Next Project
▶️ 5 minute miracle start to make every day a success
▶️10 Ways to Make an Extra $1000+ this year
▶️10 Places to Sell Printables Other Than Etsy
▶️NEW! 10 Reasons it took me ten years to make a living online (Find out how not to be me!)
▶️NEW! Unstuck! How I take decisions in my business and move forward without fear
Enjoy the weekend and I'll be back soon with more tips, freebies, and some offers but only the ones I personally think are great value and know the quality to be good.
love
Jan

https://simplehappiness.biz
This email may contain affiliate links for products I personally recommend, however the opinions expressed are my own.
I will receive a small commission if you buy through my affiliate links, which helps me keep the lights on, but the product will not cost you more.