Hi
Yesterday's newsletter about change seemed to spark a lot of thought.
The thing is, none of us likes making changes.
We can easily get too comfortable.
It's like we are wrapped up in soft blankets made from the finest cashmere while it's a harsh world out there with sub-zero temperatures and scratchy woollen sweaters.
But if you're plodding along at one level, you could be stuck there for years if you don't change something.
So I want to to give you a little encouragement to keep changing and growing.
I've been thinking of the push I need to take next too because my business has been at the same great income level since October when I made the last big change.
So it's time for a new strategy.
We really can't get complacent, right?
Because there are no guarantee that things will continue to work the same way they have in the past as we go forward.
It's dangerous to plod along, assuming your widgets will still be popular in five years even though technology and what's popular moves every five minutes.
With that in mind, I've been spending this weekend thinking about what to do next, in between walking the dog (17k steps today!), cooking the dinner, washing up, doing the grocery shopping, going to the movies (we saw "The Duke" – uplifting British movie) ,  a few zillion batches of laundry, having the family around for dinner, writing newsletters, sending out bonuses. You know, all the usual stuff we all do.
Because life doesn't stop while we think about change, but we still need to keep it at the front and center of our minds.
Anyway, I came up with a few ideas this weekend, so watch this space for what happens next. 💖
IN CASE YOU MISSED IT: 
LIVE COURSE STARTS SOON: MARKETING WITHOUT SOCIAL MEDIA
Leonie Dawson is one of the most colorful characters in the KDP low content space (and one of the most successful.)
But she doesn't use social media.
She shares her reasons in a unique way on her sales page and she shares her strategies in her course: Marketing without Social Media.
But she also includes a strategy for creating maximum impact with minimum social media effort if you don't want to give up on it entirely.
If you've never seen Leonie's sales pages, take a look even if you love social media 
I find the whole social media thing a time suck so I jumped on this the last time she released it, but I missed doing the course live so I'm glad to see current students will have an opportunity to do that.
I hear her language is as colorful as her personality.
That will mean keeping my headphones on in case Alfie pup is listening. He's at a very impressionable age in doggy years 
This round of the live course starts in a couple of days and there's now a payment plan if you need it.
My Bonus: If you buy marketing without social media through my link, I'll share the strategies I'm going to implement from the MWSM course for my low content books following the live run of the course and you'll also receive one of my bonus reports  (see below)  
 Just send your receipt to me (jan@simplehappiness.biz)
LAST DAY: 15 MONEY MAKING COURSE IDEAS (50% OFF)
If you've ever wished for an easy way to create your first or next course fast, Melissa's "15 Money-Making Course Ideas" workbook is just what you need: a giant swipe file of ideas.
With this in hand, you'll have an entire outline for your first or next course with every little detail nailed down – from a hot name to a killer course curriculum to a magnetic launch promotion plan in no time.
And you can use this handy workbook over and over to create as many courses as you like. In it, you'll find…
➡️ Done-for-you course lesson ideas that you can pick & choose from to create a course that's unique to your audience's needs and is exciting to you, too.
➡️ Done-for-you course names and lesson title ideas – no more struggling to come up with something clever & engaging on your own.
➡️ Done-for-you launch content ideas (with hot titles!) that you can swipe & use to promote your course.
➡️ PLUS! A practical, step-by-step worksheet to help you map out every detail of your course – including your entire course curriculum and what to teach inside each individual lesson.
Get 50% off this weekend only with promo code 50
My bonus: If you buy 15 Money Making Course Ideas (personal version) through my link, choose one bonus report of your choice. If you get the upgraded version with resale PLR rights, choose two. 💖💖💖
COACH GLUE VIP SALE 
There's nothing like a Coach Glue VIP deal and you can only get it for one week.
With this VIP package, you get all the content you need to create product after product and promote it for years to come.
With one payment (no recurring fees!)
So many products from the Coach Glue vault!
➡️ 24 (twenty-four!) done for you courses valued at $297 each
➡️ 27 video scripts (that can be used as written content too) and workbook packages valued at $127 each
➡️ 44 done for you planners on all kinds of business topics valued at $47 each
and so much more, including done for you journals, blog posts, coaching forms, and emails
That's huge!
I bought the VIP deal a couple of years ago and got so much value and content with one payment that I'm still using it two years later!
Take a look at everything included
My bonus: Buy Coach Glue VIP through my link and get $100 voucher for my store and any three of my bonus reports (see below) making this deal even better value. 💖💖💖
MAKE MORE PER SALE WITH PRINTABLES AND OTHER LOW COST PRODUCTS
Alice's new package Make More Per Sale With Printables and Print on Demand Products will help you grow a loyal and engaged audience who loves buying your products over and over again.
Her quick action guide gets to the point quickly, so you can get to doing FAST.
With the guide, you'll learn to position yourself in your market, so you can earn more for each sale…even if you're selling low cost products like printables, print-on-demand products, ebooks and other digital products.
You'll also get fill-in-the-blanks templates and checklists to make it easy to implement what you learn and FAST.
There are two options to get this package: Pay the one time $29.95 price or join Alice's membership at $19.95 a month and get it free along with $259 in bonus templates.
My bonus: Enjoy any of my bonuses from the list at the end of this newsletter if you buy either of the packages through my link. 💖💖💖
ENDS TOMORROW: DONE FOR YOU TRAINING COURSE TO USE YOURSELF AND SELL 
Sharyn from Content Sparks has a Weekend Special until Monday 28th with a 50% off discount on a very popular topic.
Create Your Group Coaching Program
This package has everything you need to create your own group coaching program  as well as your own course on the topic (as it includes commercial PLR rights.)
See everything included here but grab this one quickly because this is such a steal for the quality of the material and the opportunity to make your own course and sell it.
Lots of promotional materials included too.
Bonus this weekend only: Ready-to-Go 5 Day Challenge Kit
Plus my bonus: Choose any one of the bonuses from the list at the end of this email if you buy any level "Create Your Group Coaching Program" through my link 💖💖💖 plus an extra $20 coupon if you buy the Blaze package.
DECLUTTER YOUR WORK & PERSONAL FILES
Our latest product is all about organizing your digital life online.
No more wasting time looking for files, fonts, or graphics you know you have.
Or getting overwhelmed by the mess, missing deadlines, and forgetting the content you could be selling.
Organize Your Digital Life is a done-for-you workbook that you can both use yourself and sell.
Individual groups of pages or even the whole product would also make a fantastic lead magnet.
There are two designs, the pretty floral one you see here, and a simpler blue style you'll see on the sales page, but Organize Your Digital Life also comes with plain templates in Canva and Powerpoint so you can add your own design and make it unique.
There are 78 pages in the business version of the workbook, covering documents, emails, graphics, fonts, PLR content, backups, maintenance and so much more (fifteen categories in all!) with checklists, information and challenges.
Just $19.95 with coupon code DORGDEAL until the 2nd March (regular price $37)
For a few dollars more, grab the extension (another 36 pages) so that you can create products for those who just want to get their personal files more organized.
The bundle with 114 pages is just $27 (regularly $47) with coupon code DORGBUNDLE.
Take a look at everything (all on one page, no upsells) here
(You can watch a video flip through of the pages in each option to see everything included)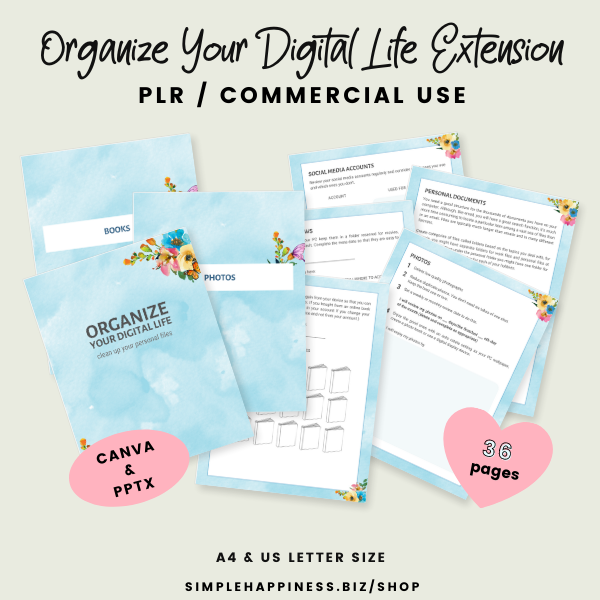 LAST FEW HOURS: STORY SELLING MADE EASY
If you think your emails, blog posts, and sales pages are boring or you're worried you sound like you had a personality bypass, you're probably being overly harsh in the way you judge your words.
But it never hurts to make your copy more fun to read, and one solution is to weave simple stories and anecdotes into everything you write.
We all love stories. It's an inbuilt human trait. And you don't need to write a lot. All it takes is a few sentences to put more life into your words.
Learn exactly how to do that with Karon's new course: Storytelling that Sells
Get it with $60 off during launch (until the 27th) with COUPON CODE: STORYTELLING
Six modules to cover everything you need to master this technique with lots of examples and…stories!
My bonus: If you buy Storytelling that sells through my affiliate link above, send your receipt to me (jan@simplehappiness.biz) and choose any one of my bonus reports. 💖💖💖  See the list below at the end of the newsletter.
SIMPLE TEMPLATES – UTILITY TRACKER
These simple, low-cost (yet powerful!) templates are a brilliant idea from Sue. Grab the latest – a Utility tracker set of pages to track Utility bills and usage for just $7.
See all the simple templates available here 
My bonus: If you buy any two of these simple template packs through my affiliate link above, send your receipts and choose any one of my bonus reports. 💖💖💖 See the list below at the end of the newsletter.
ENDS TOMORROW: WHAT TO WEAR PLANNER
I love, love, love Michelle's latest planner What to Wear which is all about planning a great wardrobe. 
This is right up my street!
You may not know but my best ever selling book on KDP was in the fashion niche. I've since completely updated it and turned it into a course. (If you're interested in a coupon for that see the PS below)
Anyway, Michelle's planner is perfect for planning your wardrobe and outfits for each season and is massive at 42 pages in two sizes.
As you get commercial rights to this, you can also brand and edit it as you wish.
Grab this gorgeous planner at 40% off during launch (ends 28th) for just $16.20 with coupon code WEAR40
Bonus: If you buy this one through my link, choose any one of my bonus reports as your extra treat (see below) 💖💖💖 (and I'll also send you a coupon for an extra $10 off my course (over and above the one in the PS!))
POSTPONED ☹️
This second Stock Your Shop workshop  was to have taken place yesterday but unfortunately, Ruthie was not feeling great so it will be next Tuesday instead.
This workshop will be perfect for helping you create all kinds of printables from a small number of sources.
Multiply what you have!
Those of us who attended the first Stock your Shop workshop were bowled over by Ruthie's creativity so I expect this session to be just as awesome!
The cost to attend live is $27.
Ruthie will use items from Amy's Positivity product to demo her ideas, but even if you don't have that and don't want to get it (it's still available here) you should learn a lot from Stock Your Shop #2.
Bonus: If you buy Ruthie's workshop through my link, you can choose any of my bonus reports (see below) 💖💖💖
BONUS  SELECTION (  💖💖💖  ITEMS ONLY)
As I had a lot of requests for various different bonuses, it's now official that you can choose any one of the recent bonuses when you buy through any of my links marked with a 💖💖💖 in my newsletter on top of any other bonuses mentioned.
This works better for those who already own one or more of these or who want to buy a couple of items.
To claim just send your receipt(s) to me and let me know which bonus(es) you would like. I'll verify with the vendor and send them right back to you, usually within a day or so.
Here are the currently available bonuses.
▶️ My plan for making $3K a month from Amazon KDP in 2022
▶️ Aargh! exactly what to do when you feel like quitting
▶️ My millionaire plan (February 2022 update) for how I plan to retire with a lot of fun money
▶️ Simplify! 15 things I do to avoid getting overwhelmed
▶️ Graphics – my process for making PLR unique using graphics
▶️ 339 best selling printable ideas
▶️ 13 ways to get more mileage from the PLR on your hard drive
▶️ 27 best converting lead magnet ideas
Enjoy what's left of your weekend and I'll be back soon with more tips, freebies, and some offers but only the ones I personally think are great value and know the quality to be good.
love
Jan
https://simplehappiness.biz
P.S. If you like the What to Wear planner from Michelle, you might like this too. You'll find my fashion and beauty course "Ten Years Younger in a Weekend" here. Get $17 off with coupon code 17OFF (original eh?)
This email may contain affiliate links for products I personally recommend, however the opinions expressed are my own.
I will receive a small commission if you buy through my affiliate links, which helps me keep the lights on, but the product will not cost you more.