Hi
It's the first day of the Homepreneur Summit Part 2
If you haven't registered yet, do it now while it's still free, and don't miss it. There are three LIVE sessions today with the first at 11am New York time.
Plus there is a fantastic swag bag of 4 freebies to download, that you need to get today because it will be replaced by another tomorrow!
Don't miss it or any of the sessions (Replays will be available for just 48 hours.)
Such a treat to hear Dan from BC Stack and Debbie from Flooringirl.com. The round table of successful bloggers should be an eye-opener too
I'll see you there!
While you're waiting, take a look at all the content in the premium bundle and prepare to be impressed.
You could set up in business with this one bundle. Over $3k in value and only $37! 

BONUS! If you buy the premium bundle through my affiliate link in this email, you'll get two $20 coupons from me to spend in my shop that more than cover more than the cost! Just send me (jan@simplehappiness.biz) your details to claim.
One more day for this 
Here's your treat  from my shop. Spend it today! 😊
Are you or your customers SAD? 
Sheila has a great PLR planner out to help those who suffer from SAD during the winter months. I'm giving a shout out to her as this is a topic that is rarely touched on in the planner market.
Take a look and get it for just $10 during launch then sell it in your Etsy store so that those who need it will benefit.
Use Coupon Code HAPPINESS to get the NEW S.A.D. Feeling Blue Guide, Journal, & Planner Commercial PLR Template for only $10 [That's $17 OFF] through October 28th, 2021 (ending at midnight EDT)
Michelle's much needed PLR
With so many Christmas planners around just now, including mine, it's refreshing to see a new topic from Michelle. Her planners are always gorgeous but practical too. And this one is no exception. I was just asking hubby the other night if he'd know what to do if I keeled over, but he hasn't a clue!  So this is something I'll use personally.
The Final Wishes Estate Planner is just $12.95 for the next few days with coupon code ESTATE
Ruthie's New Product
Ruthie has a gorgeous new reflections planner out with a beautiful soft color and mandala design. Get the planner for just $14.95 with coupon MANDALA10 until the end of the month and you can use the same coupon on the add-ons to save $10 on each one or on the bundle.
Take a look here at everything available and flip through the pages.
Christmas additions with bonuses
New additions to my Christmas page
Both of them also qualify for the bonus I am giving with all of my fellow PLR provider's Christmas planners on that page. Take a look at the bonus (six covers and six matching Christmas backgrounds you can use on any planner!) But the two Christmas planner links in this newsletter work for the bonus too. Just send your receipt to jan@simplehappiness.biz to claim
First of all from Erin, you'll find an Intentional Holiday Planner with PLR. It's a Canva template for easy customization. I love this one because it's all about approaching the holidays in the right spirit to have a fantastic time! Take a look to have a more thoughtful festive period and use coupon code Launch17 to reduce the price by $10 until November 2nd. 
From Alice, there's also a great value pack of Christmas goodies (over 535 pieces of done for you content). See all you get for just $14.95 (limited time) here. And with my bonus it's a crazy amount of value! This pack will give you so much scope to make any Christmas planner unique. Grab it quickly!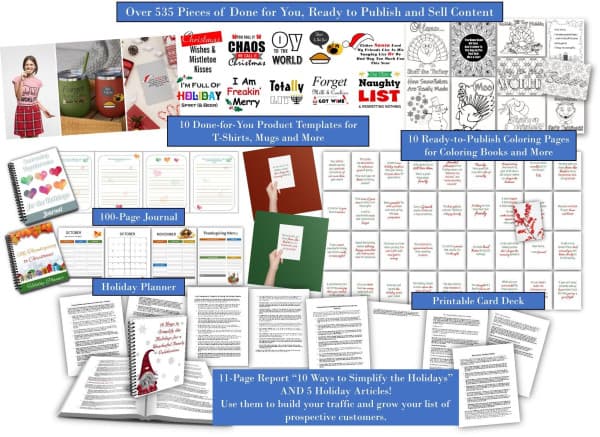 Have a great week, see you at the summit, and I'll catch you soon with more tips, freebies, and some offers but only the ones I personally think are great value and know the quality to be good.
love
Jan
https://simplehappiness.biz
This email may contain affiliate links for products I personally recommend, however the opinions expressed are my own.
I will receive a small commission if you buy through my affiliate links, which helps me keep the lights on, but the product will not cost you more.