Hi
Have you ever tried to get the time back that you spent on something that didn't work out so well?
You can't, can you?
I was reminded of this by my friend at the weekend who just had a messy breakup.
She said she'd never get that year of her life back that she wasted on a nightmare of a guy.
But you really can't look at time like that.
You have to choose how you spend it in advance and do your best to use it in a way that you won't regret it.
There are no guarantees.
It's worth giving the guy a chance in the beginning because you don't know if it will work out or not.  Last time I spoke to my friend, she was having a great time with her boyfriend.
She hadn't seen his true colors then. And none of her friends knew his real character either.
It's the same with business.
You can look at an idea from the outside and it seems very attractive but it's only once you really get to know it that you can tell if it's going to work out and whether it's for you.
You have to invest the time to find out.
Don't hang around trying to work it out in theory, planning how you'll spend the profit.
Think about your idea, look into it, but don't spend forever deciding.
A few days is long enough for that kind of research.
Not a few weeks and definitely not a few years!
Try the business model or income stream out for yourself. Delve into it. Give it a good go. Then you'll know.
If it doesn't work out you can quickly move onto the next idea. (At least in this case, you won't have to deal with heartbreak too!)
You usually have to kiss a lot of frogs in business to find your prince.
Don't see that as a waste of time but as a necessary part of the process.
Try new things. Reject them quickly if they are not for you.
That way you'll find "the one"  before a whole lot of time has passed. 💖
NEW: TROPICAL SELF CARE PLANNER
This Tropical Self Care Planner helps you choose your wellness goals, offering daily and weekly reminders, inspiration, reflection and tracking so you can create a self-care routine and stick to it.
The Powerpoint template is editable and has PLR commercial use rights.
It has 31 beautiful pages and is just $18.99 during launch until April 29th, 2022
My bonus: Buy the self care planner through my link and receive any one of my bonus reports from the list at the end of this newsletter 💖💖💖
NEW: HANDLING REJECTION $10 PLR PACKAGE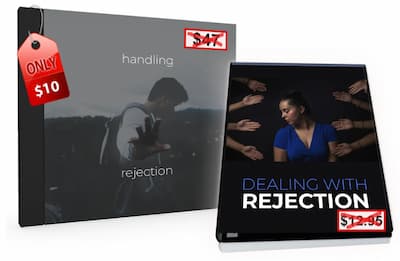 There's one thing you learn very quickly as an author and that's dealing with criticism and rejection.
Self publishing helps avoid rejection letters but people can be vicious online.
The anonymity of the internet has a lot to answer for. ☹️
And of course you always pay more attention to "this really sucks" than you do to "this makes my heart happy" LOL
I used to pretend it wasn't me on the receiving end by using pen names 🤣
But the funny thing is, if you search for the great works of literature on Amazon.com, you'll find many one star reviews saying how terrible they are, so it's all a matter of taste!
Anyway, it's always handy to be able to brush off rejection and not let it ruin your day or your life.
And Justin at Tools for Motivation has brought out the perfect package for that.
Just $10 for this Handling Rejection bundle (no coupon required) until Friday April 29th.
This package includes articles, audio files, mini reports, slide decks, tip posters, and more.
Grab it quickly before the deal is over.
CONTENT CREATION MADE EASY 
The Content Creation Collection Toolbox contains over sixty products worth $2115.99 to tailor and sell in your shop for one low, low $27 price. Get it while you remember!
At that price, you can afford to be selective about the products you use, but the products are so good, you'll be spoiled for choice. 😊
My bonus: If you get the Content Creation toolbox through my link, choose one of my reports from the end of this newsletter including my new one below. 💖💖💖
30% OFF FLASH SALE 
Jayme from Cupcakes and Haystacks has all her training at 30% off so it's a great time to grab any of her fantastic courses.
The sale is only on for a few days and will disappear without trace on 30th.
Take a look here while you remember to see what's available.
My bonus: If you purchase one of Jayme's courses or template sets through my link, choose one of my bonus reports from the end of this newsletter.  💖💖💖
ENDS TODAY: RECOGNIZING AND HEALING FROM TRAUMA
Healing from Trauma is such an important topic, please don't skip over this low cost package if you work in a personal development niche.
Offering this done-for you 4 week course could make such a difference to many of your customers.
And if you have experienced trauma yourself, it could help you too 💕
Take a look at all the details and everything included here
My bonus: Buy Healing from Trauma through my link and choose any one of my bonus reports from section at the bottom of this newsletter 💖💖💖
ENDS TOMORROW: BECKY'S SPRING SALE
Add even more to your shop with Becky's special $5 sale
Ten products from her and her students are included in the sale, some with private label rights, some for personal use.
Use coupon code SPRINGY for each one to get the reduction until 27th April..
Get all the details on the sale here.
COACH GLUE $10 DEALS 
Even more for just $10! It's a great weekend for a bargain 💖
From now until the end of the month, you can get any of the above Coach Glue products for just $10.
A brilliant and low cost way to add products to your portfolio, content on your site, or stock to your shop.
Take a look at everything available here, and grab what you can use.
My bonus: Buy two or more Coach Glue products through my link and choose a bonus report from the end of this newsletter 💖💖💖
THURSDAY! THE LIVE KITCHEN SINK VENDOR SHOWCASE
This is a new type of FREE summit (no upsells and free replays) to help us as business owners see the tools we might wish to use to make our lives easier.
Totally live and sales pitch free, we get to ask the vendors questions so that we can see how to make best use of the tools without the hard sell that often obscures the facts.
The first three sessions will take place on 28th April and will cover Bublup, Warrior Plus, and Convertkit.
Find out more and register here
ENDS TOMORROW: PRINTABLES BLOG ACADEMY
If you would like to create an income stream which is not dependent on one of the big platforms like Etsy and Amazon, create a shop of your own!
You can instantly upload all the PLR you have rights to and get it selling. Or create as many printables as you like and upload them without listing fees.
But then there's a fly in the ointment:  getting traffic to your own store.
To help you prevent that problem, Becky has a new course out today Printables Blog Academy (four months in the making) to show you how to drive high converting traffic to your store from a printables blog, the exact system she uses for her own highly successful high traffic printables business.
Watch how she does this step by step in 34 videos right from planning and setting up your blog through promoting your printables.
The course is just $47 for launch week ($50 off with coupon code PBA50OFF until the 27th) and it includes a $30 coupon for Becky's PLR store .
My bonus: Buy Becky's course through my link and receive a $20 to my store as well and also choose a bonus report from the list at the end of this newsletter 💖💖💖
FAITH'S FREE 30-DAY BUSINESS PLAN SUMMIT

This is a free event to help bloggers and online sellers develop a STRATEGIC plan to break through $1K months by selling low content digital products. (If you read my intro above, choose only those strategies that fit your current plan or if you're a beginner, use the summit to choose one thing!)
Enjoy the talks from the speakers from 2nd to 6th May when you register.
Optional: If you'd like to access later, you'll have the opportunity to buy an all access pass to the event.
My Bonus: If you buy the all access pass through my link, you can choose a bonus report from the list at the end of the newsletter. If you upgrade to also include the bundle of training products, you can choose two reports.  💖💖💖
BONUS  SELECTION (  💖💖💖  ITEMS ONLY) 
This bonus is the latest report available when you buy 💖💖💖 marked products through my links but you can choose any of the items in the list below.
To claim just send your receipt(s) to me ([email protected]) and let me know which bonus(es) you would like. I'll verify with the vendor and send them right back to you, usually within a day or so.
NOTE:  A few people have asked for one of my bonus reports when they bought one of my own products but I haven't been offering these as I don't want to compete with my affiliates who like to offer their own bonuses or who maybe don't have time to make extra bonuses.
For my products only, whether you buy through my link or through an affiliate, whenever you spend $17 or more in one transaction, you can also choose a bonus report from the end of this newsletter. 💖💖💖
By the way, there are a few more new  bonuses in the works. I just have to get them done and out of the works!
Here are the currently available bonuses.
▶️ My plan for making $3K a month from Amazon KDP in 2022
▶️ Aargh! exactly what to do when you feel like quitting
▶️ My millionaire plan (February 2022 update) for how I plan to retire with a lot of fun money
▶️ Simplify! 15 things I do to avoid getting overwhelmed
▶️ Graphics – my process for making PLR unique using graphics
▶️ 339 best selling printable ideas
▶️ 25 ways to get more mileage from the PLR on your hard drive
▶️ 27 best converting lead magnet ideas
▶️ Boost your business by reviving old blog posts
▶️10 Steps to Creating a  Winning Strategy for Your Next Project
▶️ 5 minute miracle start to make every day a success
▶️10 Ways to Make an Extra $1000+ this year
▶️NEW! 10 Places to Sell Printables Other Than Etsy
Enjoy the week ahead and I'll be back soon with more tips, freebies, and some offers but only the ones I personally think are great value and know the quality to be good.
love
Jan

https://simplehappiness.biz
This email may contain affiliate links for products I personally recommend, however the opinions expressed are my own.
I will receive a small commission if you buy through my affiliate links, which helps me keep the lights on, but the product will not cost you more.