Hi
I've been AWOL for a few days, getting my head down and getting things done 😊
But while I've been doing all the things that I'm putting together for my membership group and the course I'm running that begins in July, my new baby, the journal I launched into the world on Thursday, hasn't had much help from me. A case of "do as I say not as I do" when you launch a product!
So I'll just give it a little mention before I tell you about my life changing moment…
Baby's First Year Journal 
This cute baby's first year journal has 38 unique pages and you get commercial rights to edit, sell and give away the little poppet.
You'll find 3 formats included – Canva & Powerpoint templates  for easy customization and a ready-to-go PDF. All in two sizes A4 and US Letter.
And it's a baby launch price too. Just $12.95 with coupon code BABYFIRST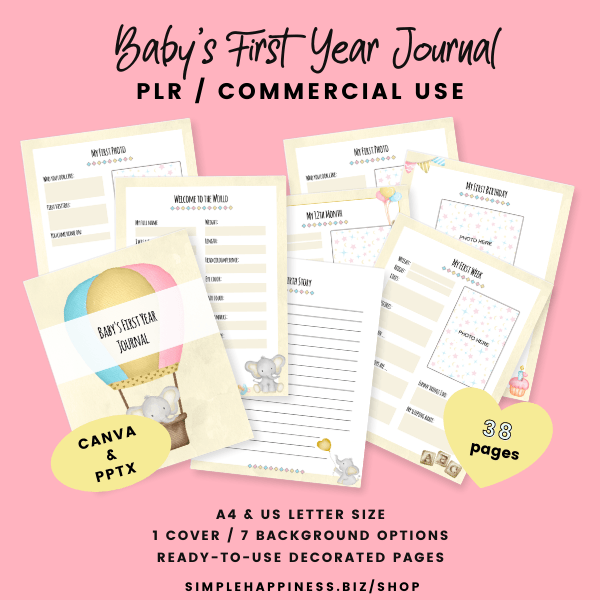 Take a look at all that cuteness. 😍
"I Wish There Were Two of Me"
Do you ever wish you had another 40 hours in the week to get stuff done?
I've always worked hard at things, but last year I had a life changing moment when I realized that I wanted to grow my business faster than I could ever manage alone.
That's when I took a course by Front Row CEO "Find Your Perfect VA." I followed the six week program and employed Kareen in October. And she really is the perfect VA. The course was super expensive (like well over a thousand dollars expensive) but I have no regrets about that.
I probably should have looked around for other less expensive courses, though.
What can I say? I'm impulsive and when I get something in my head I want to do it, Now. Not next week.
But since October I've been getting emails from John Jonas, the American guy who runs the recruitment site where I found Kareen and where all the people on the expensive course are taught to go to find their perfect VAs.
I religiously open his emails and read every word he says about employing overseas VAs as he knows recruiting in the Philippines inside out.
Now I see he has a course which covers all the things I learned in my expensive course about recruiting the right VA…for $49.
Oh well. Never mind. Taking the other course was probably one of those Gwyneth Paltrow "Sliding Doors" moments when making a decision changed the trajectory of my business if not my life.
But if you want another 40 hours a week to get stuff done, or even ten (because you don't have to recruit a full time VA) take a look at the $49 course and get your own Kareen. Or get John's book for free and start thinking about how you could move your own business forward much faster.
This hit a nerve
I told you last week about signing up to take Leonie's course "Marketing without social media" in July. I'm so looking forward to finding out how she makes all the millions without it. Otherwise, I think I'll need another VA soon with all the pinning, gramming (is that a thing?) and facebooking I want to do!
It looks like I'll be in good company as a good few of you are planning to take it with me! As it doesn't start until July, you still have time to get on board. Leonie is a bit of a character and I've never taken one of her courses before but from her sales page it looks like it will be a breath of fresh air. If you are going to do it, let me know and we can compare strategies. 😍
Have a great week and I'll catch you soon with more tips, freebies, and some offers (but only the ones I personally think are great value and know the quality to be good.)
Jan
https://simplehappiness.biz
This email may contain affiliate links for products I personally recommend, however the opinions expressed are my own.
I will receive a small commission if you buy through my affiliate links, which helps me keep the lights on, but the product will not cost you more.