Hi
Thought for the weekend.  🤔
There are two ways to deal with soaring inflation and a recession.
One way is to tighten your belt, stop spending money on all the good, fun stuff, and dig in your heels until it's all over, gritting your teeth all the way.
The other is to carry on buying the stuff that makes life (and business) good, and vow to earn more money in ways that you enjoy.
Guess which one I'm doing 🤣
That's right.
It's the second option for me.
After all the shenanigans over the past few years, I have no stomach for years of austerity when we can work our way through muddy waters and out of them.
Which way will you choose?
Time to get all your ducks in line and go for it! 💖
***********************************

If you need more help with earning extra, choose my "10 ways to earn $1k" bonus report next time you buy something through my links that qualifies for a bonus.
***********************************
MAY MADNESS DEAL: ONE DAY OFFER
Get my brand new product for $10, until 10am EST tomorrow (Sunday) only, before it's back to $27.
This one should be a hot seller right now and all year around!
This deal is part of the May Madness Event. The Digital Divas have been at it again with ten brand new surprises for you over ten days from 17th to 26th May.
Just $10 each.
Check out today's surprise here, (my product!) available for just one day, and then check back for something new every day until the 26th.
The daily deal will swap out around 10am EST so make sure that you don't miss out.  😊
NEW: 7 DAY OFFER COURSE & TEMPLATES 75% OFF 
Melissa Ingold (one half of Coach Glue) is offering her 7 Day Offer Course, Template and Checklist kit for a crazy 75% off until tomorrow.
Build and launch a fantastic offer in just one week!
See everything included in this (so much for so little!)
My bonus: Buy the 7 day Offer kit through my link and choose one of my bonus reports from the end of this newsletter 💖💖💖
MEGA 120 PAGE CANVA TEMPLATE PACK FROM JENNIFER 
Jennifer has released a set of ten Canva journals (120 pages in total) which you could easily rebrand and mix and match to create something fantastic for yourself and your customers.
Each journal contains twelves pages in different designs but the pages also have different layouts, giving you a lot of variety.
You can get this 120 page set for $9.95 for just a few days.
My bonus: Spend $20 or more on Jennifer's site through my link and choose any one bonus report from the end of this newsletter. 💖💖💖
MICHELLE'S WHOLE STORE 50% OFF FLASH SALE
Choose any of Michelle's gorgeous products and get 50% off, this weekend only.
Use coupon code MAY50
Click here to see what's available
My bonus: Spend $20 or more on Michelle's site through my link and choose any one bonus report from the end of this newsletter. 💖💖💖
CREATE TWO FUN PRINTABLES THAT SELL LIKE CRAZY
Amber is running a workshop all about two types of fun printables with low competition and high demand on both Etsy and KDP (Amazon)
But she's not telling what the niches are until the workshop.
Can you guess from her description? I have no idea!
But I'm tempted to listen in as the workshop has such a low price tag.
Curiosity + low price gets me every time 🤣
Get all (well, nearly all ) of the details
My bonus: Buy the workshop through my link and choose any one bonus report from the end of this newsletter. 💖💖💖
SIX WEEKS TO YOUR OWN PLR BUSINESS
Piggy Makes Bank, one of the best and most successful providers of PLR content, have created a brand new course Six Weeks to Your Own PLR Business.
The course starts June 1st and then over six weeks with them, you'll learn all you need to know about setting up your business infrastructure, creating your products, and selling them.
As a bonus they will also kick off your business by helping you promote your product to their own list (subject to quality review of course) and their list is substantial because they earn around $300k per month from their PLR business.  😃
Take a look at all the details here and grab this while it's available
My bonus: If you get the Six Weeks to Your Own PLR Business course through my link, you can choose any two reports from the end of this newsletter 💖💖💖
FRAN'S RETIREMENT SALE
Fran of the Happy Journals Club is having a retirement sale on 7 of her huge and popular planner bundles.  They are
Travel Journal PLR Pack
Take A Breath PLR Bundle
The Decluttering Journal PLR Pack
Beauty of Life Journal PLR Bundle
Mood Journal PLR Pack
Bright New You PLR Bundle
Extra Bright New You PLR Bundle
You can get them for 82% off – the whole lot for just $47! (instead of $279)
Take a look here at all you get
My bonus: If you buy Fran's Retirement Pack through my link, you can choose a bonus report from the end of this newsletter 💖💖💖
LOW TICKET OFFERS LAB
Sharyn of Contents Sparks has a new done-for-you training course Low Ticket Offers Lab which is perfect for these uncertain times.
You may struggle to sell high ticket items right now, but good, value for money low cost products will always sell even when times are tough.
And with this course you can learn the system for selling low cost offers yourself and then make a course to sell too.
Can you say win win?
My bonus: Grab Low Ticket Offers through my link, and choose any two bonus reports from the end of this newsletter. 💖💖💖
QUIRKY FINANCIAL PLANNER 
Our Quirky product series has always been popular and now there's a new kid of the block which you can use alone or mix and match with all the others.
This is our Quirky Financial Planner with all the pages you need to create a fantastic product in the niche.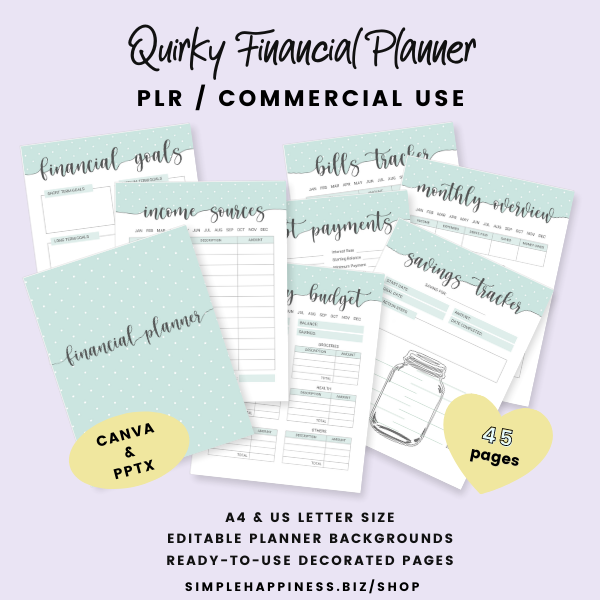 You can grab the Quirky Financial Planner during launch for just $19.95 (regular price $37)
Have fun switching out the background or keep it just as it is to create your own quirky planner to offer to your customers.
The templates have Canva and Powerpoint versions and come in A4 and US Letter sizes.
Use coupon code QUIRKYMONEY to get the discount price until Wednesday May 25th.
See the video of all 45 pages and more details here.
Also, if you don't have the other Quirky Products you can get them on special during launch for just $27 ($40 off) using discount code QUIRKYBUNDLE.
You'll see this offer on the thank you / download page for the Financial Planner or you can get it directly here.
DIGITAL PLANNER INTENSIVE
Learn how to create digital planners from the ground up in a series of hands on interactive workshops over six weeks with lifetime access to the recordings.
No one else teaches this level of creating digital planners (it really is, as the name says intensive) yet this invaluable series will be just $47 until the end of the month.
Use Coupon Code: INTENSE50
My bonus: If you buy the course through my link, you can choose two of my bonus reports from the end of this newsletter 💖💖💖
BLOG POST SHORTCUTS ON SALE 
Karon's unique Blog Post Shortcuts are perfect for you if you struggle to write blog posts but you don't want to use complete done-for-you PLR content.
They take all the heavy lifting out of generating ideas and formulating your posts in any niche, which means you can use them over and over again.
And they are on sale until the end of May with coupon code BPS9 saving you $9 on each pack.
Each blog post shortcut has
A type of blog post and how to make it work for you
Quick research resources
Guidance and inspiration on crafting titles
Blog post title suggestions
Opening paragraph tips
How to write the body of the post
Call-to-action ideas
Monetization ideas
Search optimization recommendations
Get all the details here and remember to use code BPS9 to save.
My bonus: For each pack of blog post shortcuts you purchase through my link, you can claim one of my bonus reports from the end of this newsletter 💖💖💖
GET ALL THE CANVA  TEMPLATES YOU NEED TO SELL A TON OF PRINTABLES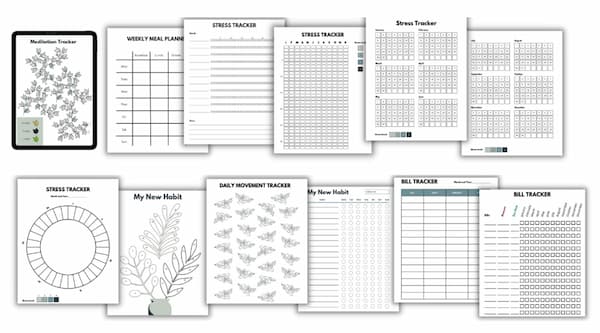 April Lemarr has released a huge set of Canva templates that you can get for $27 with PLR rights or an amazing $47 with master resell rights (allowing you sell  your own version of them as PLR).
That's amazing for 123 templates in 10 categories and so much DFY content that you can use to build your business. The pic above shows just a tiny selection of the huge package.
See everything included right here and be prepared to be amazed.
My bonus: If you purchase the templates through my link, you can choose any one of my reports from the end of this newsletter . 💖💖💖
BONUS  SELECTION (  💖💖💖  ITEMS ONLY) 
When you buy 💖💖💖 marked products through my links you can choose any of the items in the list below.
To claim just send your receipt(s) to me ([email protected]) and let me know which bonus(es) you would like. I'll verify with the vendor and send them right back to you, usually within a day or so.
NOTE:  A few people have asked for one of my bonus reports when they bought one of my own products but I haven't been offering these as I don't want to compete with my affiliates who like to offer their own bonuses or who maybe don't have time to make extra bonuses.
For my products only, whether you buy through my link or through an affiliate, whenever you spend $17 or more in one transaction, you can also choose a bonus report from the end of this newsletter. 💖💖💖
By the way, there are a few more new  bonuses in the works. I just have to get them done and out of the works!
Here are the currently available bonuses.
▶️ My plan for making $3K a month from Amazon KDP in 2022
▶️ Aargh! exactly what to do when you feel like quitting
▶️ My millionaire plan (February 2022 update) for how I plan to retire with a lot of fun money
▶️ Simplify! 15 things I do to avoid getting overwhelmed
▶️ Graphics – my process for making PLR unique using graphics
▶️ 339 best selling printable ideas
▶️ 25 ways to get more mileage from the PLR on your hard drive
▶️ 27 best converting lead magnet ideas
▶️ Boost your business by reviving old blog posts
▶️10 Steps to Creating a  Winning Strategy for Your Next Project
▶️ 5 minute miracle start to make every day a success
▶️10 Ways to Make an Extra $1000+ this year
▶️10 Places to Sell Printables Other Than Etsy
▶️NEW! 10 Reasons it took me ten years to make a living online (Find out how not to be me!)
▶️NEW! Unstuck! How I take decisions in my business and move forward without fear
Enjoy the weekend and I'll be back soon with more tips, freebies, and some offers but only the ones I personally think are great value and know the quality to be good.
love
Jan

https://simplehappiness.biz
This email may contain affiliate links for products I personally recommend, however the opinions expressed are my own.
I will receive a small commission if you buy through my affiliate links, which helps me keep the lights on, but the product will not cost you more.