Hi
There are always ups and downs in business.
This past week was definitely one of those down moments.
If you read my last newsletter you'll know that Paypal limited my account on Sunday so I couldn't pay for anything or receive any money either.
That is definitely no joke when you're in business.
Paypal just wanted paperwork to prove I was who I say I was.
Seeing as I am who I say I am, I didn't have a problem supplying it, just a problem trying to get them to look at my paperwork! ☹️
And I was stuck on the Island of Arran on vacation, a beautiful place with beaches, mountains and basking seals off the west coast of Scotland, but sporadic phone coverage and not much of a chance to get onto my PC either.
Anyway, I  returned home last night, my business frozen since Sunday, and got onto the phone with Paypal again this morning.
I got passed from one person to another, but they are definitely human at Paypal UK and sympathetic to my situation, trying to be helpful too, so don't be afraid to speak to Paypal if this happens to you.
I finally spoke to a lovely rep who could do something about the problem. Within a few minutes, my account was unfrozen.
And a few payments that were hanging for a few days began arriving like magic.
I also paid my affiliates the money they should have received on Sunday!
I could still be mad at the business that was lost.
But I'm not.
There's no point in getting angry.
Stuff happens in business. Just look at all the businesses affected by the pandemic or the war in Ukraine for that.
This little episode was a valuable lesson on not taking anything for granted.
Sunday was also my last newsletter in a streak of 148 days in a row.
I lost the will to write for a few days, but to be honest, it's a bit of a relief not to have that streak hanging over me.
I took a real break when I was away instead of trying to get work done and had a good time with friends.
When things get difficult, friends are so important.
I appreciate everyone who wrote to offer a sympathetic word, and for those who wrote to say it is happening to you right now, I hope you find a solution too.
I answered individually if the emails got through but you never know with email whether it arrives or not so I wanted to express my thanks and sympathy here too.  💖
A NOTE ON BONUSES
If you buy products marked with  💖💖💖 through my links, you can choose any one of my bonus reports. You can see the current reports at the end of this newsletter.
I just wanted to let you know that the next two reports are on their way in a few days so if you have all the ones you want from the current list, hang onto your receipts and send them to me in a few days so you'll have more to choose from. 💕
NEW: HARDCOVER CASH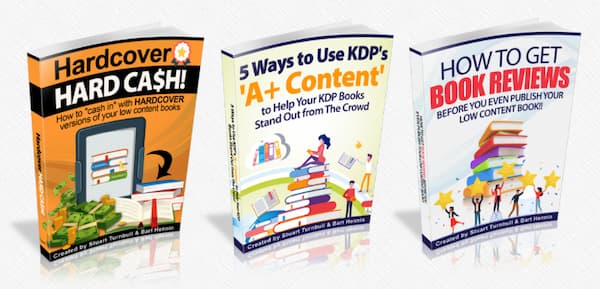 I love Stuart and Bart's new product Hardcover Cash as it allows for making extra dollars from Amazon KDP books with very little extra work.
By producing hardcover versions of books that we are selling anyway you'll attract different customers.
I got this product this afternoon.
What also tempted me were the bonuses which come with the product which are sooooo helpful for working on KDP. You get all three ebooks for just $27 during launch!
Take a look at the product here
There's one very low cost (we're talking $9) upsell which is useful but not essential.
My Bonus. Get Hardcover Cash through my link and choose any one of my bonus reports from the end of this newsletter. If you don't have my "make $3k a month on Amazon plan", that would go perfectly with this but you're not limited to that report (or that figure!) 💖💖💖
NEW: HOW TO USE PLR
Jenn and Lori have a new course out to help you make the most of the PLR you buy.
In the course, you'll learn how to asses, edit, and publish all that private label content that's just sitting on your computer gathering dust.
The course is just $27 for launch (regularly $47) so it won't cost an arm and a leg to get started.
Take a look at all the details here.
My bonus: If you get this PLR course through my link and choose one of my bonus reports. See the end of this newsletter for details. 💖💖💖
NEW: LYNETTE'S 30 DAY COUPLES JOURNAL
This 30 day couples journal has 30 questions for couples to answer together over 30 days. Each question touches a different aspect of love so that couples can better understand themselves and each other, and become more intimate resulting in a deeper bond, understanding, and long-term happiness. The act of writing gives us time to think things through and really connect with the heart.
The journal comes with commercial use license. So you can rebrand this to sell or use with your clients with no design work or content writing – unless you want to. It's all done for you. All you need to do is download, rebrand, and change if you choose.
The Early Bird price is just $23 (regular price $47)
The offer ends on April 5th 11:59 pm Eastern
My bonus: Buy this awesome couples journal through my link and choose one of my bonus reports. See the end of this newsletter for details.   💖💖💖
BONUS  SELECTION (  💖💖💖  ITEMS ONLY)
As I had a lot of requests for various different bonuses, it's now official that you can choose any one of the recent bonuses when you buy through any of my links marked with a 💖💖💖 in my newsletter on top of any other bonuses mentioned.
This works better for those who already own one or more of these or who want to buy a couple of items.
To claim just send your receipt(s) to me ([email protected]) and let me know which bonus(es) you would like. I'll verify with the vendor and send them right back to you, usually within a day or so.
Here are the currently available bonuses.
▶️ My plan for making $3K a month from Amazon KDP in 2022
▶️ Aargh! exactly what to do when you feel like quitting
▶️ My millionaire plan (February 2022 update) for how I plan to retire with a lot of fun money
▶️ Simplify! 15 things I do to avoid getting overwhelmed
▶️ Graphics – my process for making PLR unique using graphics
▶️ 339 best selling printable ideas
▶️ 25 ways to get more mileage from the PLR on your hard drive
▶️ 27 best converting lead magnet ideas
▶️ Boost your business by reviving old blog posts
▶️10 Steps to Creating a  Winning Strategy for Your Next Project
Enjoy the weekend and I'll be back soon with more tips, freebies, and some offers but only the ones I personally think are great value and know the quality to be good.
love
Jan (smiling again!))
https://simplehappiness.biz
This email may contain affiliate links for products I personally recommend, however the opinions expressed are my own.
I will receive a small commission if you buy through my affiliate links, which helps me keep the lights on, but the product will not cost you more.