Hi
So it behoves you (ooooo always wanted to put behoves into a sentence 🤣) to pay attention to all the important stuff
➡️ your health
➡️ your relationships
➡️ your business
➡️ your <whatever matters to you>
And if you're not giving those things your attention, what ARE you focusing on?
Are those things worth your time and energy?
If not, switch your attention to what matters and go after your goals.  💖
***********************************
NEW: QUIRKY FINANCIAL PLANNER 
Our Quirky product series has always been popular and now there's a new kid of the block which you can use alone or mix and match with all the others.
This is our Quirky Financial Planner with all the pages you need to create a fantastic product in the niche.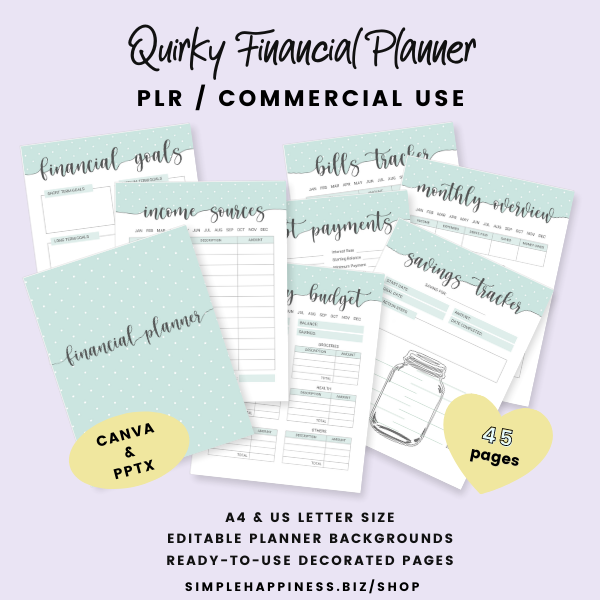 You can grab the Quirky Financial Planner during launch for just $19.95 (regular price $37)
Have fun switching out the background or keep it just as it is to create your own quirky planner to offer to your customers.
The templates have Canva and Powerpoint versions and come in A4 and US Letter sizes.
Use coupon code QUIRKYMONEY to get the discount price until Wednesday May 25th.
See the video of all 45 pages and more details here.
Also, if you don't have the other Quirky Products you can get them on special during launch for just $27 ($40 off) using discount code QUIRKYBUNDLE.
You'll see this offer on the thank you / download page for the Financial Planner or you can get it directly here.
NEW BONUSES
These new reports are available, along with all the others at the bottom of the newsletter when you buy products which attract a bonus through my links.
Not all products have one.
But all the products which have a bonus are marked 💖💖💖.
You'll get details on how to apply at the end of the newsletter but basically you just need to send me ( [email protected]) your receipt with enough info for me to check you bought through my link along with your choice of report.
You probably can't see what the titles of the new bonuses are from the graphic above but they are:
➡️ 10 Reasons it took me ten years to make a living online (Find out how not to be me!)
➡️ Unstuck! How I take decisions in my business and move forward without fear
See these and the other 12 choices below.
MAY MADNESS 
The Digital Divas have been at it again with ten brand new surprises for you over ten days from 17th to 26th May.
Just $10 each.
Check out today's surprise here, (a great product from Helen today) available for just one day, and then check back for something new every day until the 26th.
The daily deal will swap out around 10am EST so make sure that you don't miss out.  😊
DIGITAL PLANNER INTENSIVE
Learn how to create digital planners from the ground up in a series of hands on interactive workshops over six weeks with lifetime access to the recordings.
No one else teaches this level of creating digital planners (it really is, as the name says intensive) yet this invaluable series will be just $47 until the end of the month.
Use Coupon Code: INTENSE50
My bonus: If you buy the course through my link, you can choose two of my bonus reports from the end of this newsletter 💖💖💖
CASH FROM AMANDA
Learn how to run a flash sale on autopilot with Amanda's new Flash Cash product.
It contains everything you need including email templates, headlines that convert, and social media images.
My bonus: If you get this product through my link, you can choose any one bonus report from the end of this newsletter 💖💖💖
LAST FEW HOURS TO SAVE: SALES STAR MASTERCLASS
If there's one thing that will help you in your small business, it's the ability to sell.
You have to be able to do it yourself or pay a copywriter (usually big money) to do it for you.
No matter how good a product is, it's unlikely to sell itself.
Sorry about that.
That's why I'm jumping right into the next live run of Leonie's Sales Star Masterclass.
She knows a thing or two about selling (blissfully without any of the sleazy sales tactics you find in so many parts of the internet.).
Her sales are in the millions.
Every year.
And I'm a fan girl of her sales pages.
If this resonates with you, jump right in now because her flagship course is $100 off for just the next day or so, making it just $197.
Copy writing courses are usually five times as much.
Starts June 1st
Join me there?
My bonus: If you buy Leonie's course through my link, get a $50 coupon to spend on my site, and collect two of my bonus reports from the end of this newsletter 💖💖💖
LAST FEW HOURS: 70% OFF ANNIVERSARY SALE 
Sheila from Pretty Printables is celebrating the first anniversary of her shop with a whopping 70% off sale.
It's a great opportunity to grab anything that you missed when it launched for better than launch prices.
Take a look at everything available in the sale here (that's everything in the store!) and use coupon code FLASH70 in your shopping cart to save 70% until Wednesday.
My bonus: If you spend over $20 with Sheila through my link, choose a bonus report from the end of this newsletter. Spend over $50 and choose two! 💖💖💖
BLOG POST SHORTCUTS ON SALE 
Karon's unique Blog Post Shortcuts are perfect for you if you struggle to write blog posts but you don't want to use complete done-for-you PLR content.
They take all the heavy lifting out of generating ideas and formulating your posts in any niche, which means you can use them over and over again.
And they are on sale until the end of May with coupon code BPS9 saving you $9 on each pack.
Each blog post shortcut has
A type of blog post and how to make it work for you
Quick research resources
Guidance and inspiration on crafting titles
Blog post title suggestions
Opening paragraph tips
How to write the body of the post
Call-to-action ideas
Monetization ideas
Search optimization recommendations
Get all the details here and remember to use code BPS9 to save.
My bonus: For each pack of blog post shortcuts you purchase through my link, you can claim one of my bonus reports from the end of this newsletter 💖💖💖
30 DAY ETSY IMPROVEMENT PLAN
Follow this 30 day plan by Sasha who has made over 10,000 sales in her Etsy shop.
Take one action a day and watch your traffic skyrocket!
Just $9 for a limited period.
GET ALL THE CANVA  TEMPLATES YOU NEED TO SELL A TON OF PRINTABLES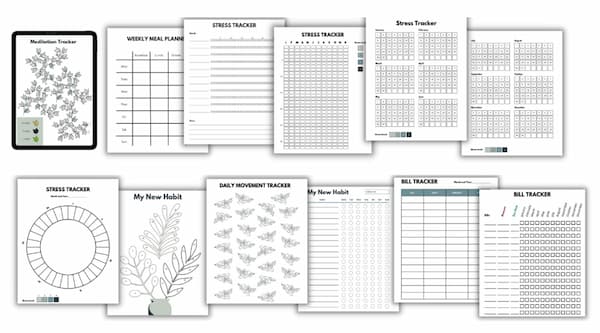 April Lemarr has released a huge set of Canva templates that you can get for $27 with PLR rights or an amazing $47 with master resell rights (allowing you sell  your own version of them as PLR).
That's amazing for 123 templates in 10 categories and so much DFY content that you can use to build your business. The pic above shows just a tiny selection of the huge package.
See everything included right here and be prepared to be amazed.
My bonus: If you purchase the templates through my link, you can choose any one of my reports from the end of this newsletter . 💖💖💖
BONUS  SELECTION (  💖💖💖  ITEMS ONLY) 
When you buy 💖💖💖 marked products through my links you can choose any of the items in the list below.
To claim just send your receipt(s) to me ([email protected]) and let me know which bonus(es) you would like. I'll verify with the vendor and send them right back to you, usually within a day or so.
NOTE:  A few people have asked for one of my bonus reports when they bought one of my own products but I haven't been offering these as I don't want to compete with my affiliates who like to offer their own bonuses or who maybe don't have time to make extra bonuses.
For my products only, whether you buy through my link or through an affiliate, whenever you spend $17 or more in one transaction, you can also choose a bonus report from the end of this newsletter. 💖💖💖
By the way, there are a few more new  bonuses in the works. I just have to get them done and out of the works!
Here are the currently available bonuses.
▶️ My plan for making $3K a month from Amazon KDP in 2022
▶️ Aargh! exactly what to do when you feel like quitting
▶️ My millionaire plan (February 2022 update) for how I plan to retire with a lot of fun money
▶️ Simplify! 15 things I do to avoid getting overwhelmed
▶️ Graphics – my process for making PLR unique using graphics
▶️ 339 best selling printable ideas
▶️ 25 ways to get more mileage from the PLR on your hard drive
▶️ 27 best converting lead magnet ideas
▶️ Boost your business by reviving old blog posts
▶️10 Steps to Creating a  Winning Strategy for Your Next Project
▶️ 5 minute miracle start to make every day a success
▶️10 Ways to Make an Extra $1000+ this year
▶️10 Places to Sell Printables Other Than Etsy
▶️NEW! 10 Reasons it took me ten years to make a living online (Find out how not to be me!)
▶️NEW! Unstuck! How I take decisions in my business and move forward without fear
Have a great week and I'll be back soon with more tips, freebies, and some offers but only the ones I personally think are great value and know the quality to be good.
love
Jan

https://simplehappiness.biz
This email may contain affiliate links for products I personally recommend, however the opinions expressed are my own.
I will receive a small commission if you buy through my affiliate links, which helps me keep the lights on, but the product will not cost you more.