Hi
Tools come and go in business. So do strategies. And software. But it feels like some things will be around forever.
One of those forever tools is WordPress.
I can remember a time when it didn't exist. But then I remember when the Internet wasn't in public use either.
I know.
Dinosaur here.
Anyway, Wordpress is used by over half the web sites online, so it's safe to assume the software will still be around as long as your site is.
The software I built my first site on isn't!
When you're first starting out, building a site on WordPress can seem intimidating, but it's worth persevering with the tech so that you have control of your own site, even if you decide to outsource some of that work later. But if you don't want to wade through techy manuals or courses to try to figure it out on your own, don't worry, there's Yolandé to help you out.
She's the one we all turn to in our accountability group when we have tech issues, because Yolandé just knows. And if there's a problem, you can rely on her to find out what's going on and create a solution for it.
And now, if you and WordPress are not best buddies (yet), you're in luck, because she's holding another series of workshops starting 26th October so you can build your site with her help in just two weeks.
This will be perfect for you if
✅ you're struggling to build your WordPress site and you know you need help
✅ you know you need a site but you just can't make yourself get going with creating one
✅ you want to get your site live quickly (and have something you're proud to show off!)
✅ you want a step by step process to follow
✅ you want someone you can turn to if you have questions (or something unexpected happens in the ever-changing tech world)
If you want help building your site, take a look here, and grab this quickly before places sell out.
Another Essential: Building your list
Friends don't let friends run a business without building an email list.
But gone are the days when people happily added themselves to your list just to see what you have to say. (Scintillating though it may be 😊)
So you will need a freebie or two as an incentive for website visitors to find out what you have to offer.
Don't worry. There's no need to start from scratch with that. Grab some quality PLR material that you can update with your own thoughts, experience, and personality.
Then format it so that it looks gorgeous before offering it on your site.
But how do you format your freebie?
Easy peasy. Just grab these Canva templates with 24 different page layouts and you'll be done in no time!  No need for Canva Pro. You can customize these with a free account. The designer of these game-changing templates, Sneha, is also in my accountability group. That group has been a powerhouse of activity as we worked on building our businesses over the past 18 months!
See everything available here at a tiny $7 launch price (and also what Yolandé made from Sneha's designs!)
Beautiful 55 Hand Drawn Christmas Illustrations with MRR Rights just $9.95
Alexis is a talented illustrator and the third and last one I'm featuring today from my accountability group. (There are only nine of us not two hundred, you'll be glad to know, but these ladies work! LOL)
Look at this wonderful set of 55 hand drawn Christmas illustrations Alexis has created. I'm excited to let you know about them as they come with the kind of rights you never get from the graphic sites – at least not without paying an arm and a leg.  Take a closer look here.
You can use these for all your commercial projects including PLR without having to change them at all. You know how we usually have to mash designs together to make something new?
Not with these!
You can make
stickers
planners
journals
bookmarks
Christmas decorations
print on demand t-shirts, mugs and tote bags
greetings cards
Anything! Just don't sell the illustrations on their own as illustrations or pass on the full master resale rights as that wouldn't be cool 😣
They are all large full page sized png files with transparent background, 300dpi so you can make whatever you like without loss of quality.
Alexis has also included a color palette and matching papers so you can design away to your heart's content.
And for a few dollars extra, you can get a matching Christmas planner template for Canva. See everything on the page here. 
And then it's my turn LOL
It's the last weekend of the launch sale for this Quirky 2022 calendar with PLR commercial rights. It comes in A4 and US Letter sizes with both Powerpoint and Canva templates, so you can totally transform it if you wish or just sell or give away the finished calendar.
Use coupon code CALDEAL to get it for $9.95 until October 20th.
For an extra $10, you can also get a matching daily planner, monthly planner dividers and 12 digital papers so you can make coordinating workbooks, notebooks, stickers and so on. Just choose the bundle deal on the same page and use coupon CALBUNDLE if you would like to take advantage of that. Take a look here.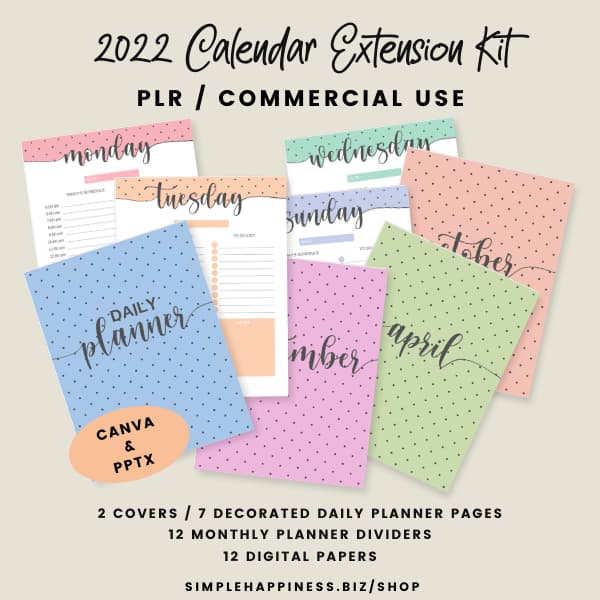 Have a great weekend, and I'll catch you soon with more tips, freebies, and some offers but only the ones I personally think are great value and know the quality to be good.
love
Jan
https://simplehappiness.biz
P.S. Are you in an accountability or coaching group? How does that work for you?
This email may contain affiliate links for products I personally recommend, however the opinions expressed are my own.
I will receive a small commission if you buy through my affiliate links, which helps me keep the lights on, but the product will not cost you more.