Hi
You may not have noticed but I've been living under a cloud for the past few weeks.
A cloud in the shape of an email reminder from my accountant that my account details should have been with him by now.
But ugh! I hate that annual very painful scramble to get invoices and receipts together.
What is it with companies that don't send receipts automatically?
And then don't send them when you ask?
Anyway, by Tuesday I'd had enough and I left paperwork strewn everywhere to go to the latest Bond movie "No Time To Die" with hubby. It was bang in the middle of the afternoon when the cinema had no more than ten people in it. I call that freedom 😊
Sheer entertainment and no accounts for the win!
If you need an escape, go see it!
But there was a jarring moment during the movie that made me laugh.
At one point, Bond gets out his Nokia phone. Obviously product placement, but seriously? The man has a watch that causes explosions in sophisticated electrical circuits, a bullet-proof gadget-loaded car that just about defies gravity, and sensors that can detect anything with pinpoint accuracy, and Q couldn't rake up something to replace a Nokia phone??
It reminded me of the useless "a few dollars here, a few dollars there" tools and training courses I've bought in the past, and some even in the past year. (It's all too evident at accounts time.)
My current thinking is that we may as well bite the bullet (see what I did there?) and buy the pricier courses and tools that are going to make a difference rather than a lot of so-so stuff.
I just need Bond's 20-20 (or even x-ray) vision to see which of the pricier ones are actually worth the cost in advance. Shame I don't have that.
So about those accounts…
They are now done. I just sent them off to my accountant so yay! I'm free…so watch this space now my attention is on the future and not on past invoices.
But when it comes to tools for growing your business, where do you stand? Are you doing the equivalent of trying to save the planet with a Nokia phone?
Use shortcuts – last day
Bond doesn't make all the gadgets himself. He's too busy or that. And so are we!
If it's already done for you, no need to start from scratch!
Especially not when you can buy ready made products and content for your sites for a few pennies on the dollar. I think my accountant would approve of Alice's latest offer anyway.
Click here or on the image below and take a look at everything you can choose from and then fill the gaps in your Alice collection.  Coupon code: 50FLASH can be used as many times as you like.  If you want to buy a few, it will be easier to get them from the shopping cart once you've made your choices so you only have to check out once.
LAST DAY TO SAVE! Two New Digital Planners plus training on how to customize them – Just $17!
My friend Mel who does crazy things like deciding to train the world in setting up an online business for free (a.k.a. the Kitchen Sink Mastermind) now has an amazing deal just out on Warrior Plus – two digital planners with Master Resell Rights plus training in how to change them up to make them unique for a tiny $17 price.
You can have such fun with digital designs for an ipad or tablet and I plan to have fun with these!
This is so good that it made deal of the day on the whole Warrior Plus site (beating over 600 deals!) 
Jump on board and get them fast before they disappear. And look out for the set of four workshops in one of the one time offers. They could be really business changing!
Bonus: As a thank you to Mel for her help and kindness to newbies everywhere, I'm giving a "more than you pay" $20 coupon for my store when you buy through my link. You'll find the coupon in your Warrior Plus account after you purchase. (You'll be able to use it on anything in my store here)
Beautiful 55 Hand Drawn Christmas Illustrations with MRR Rights just $9.95
Alexis is a talented illustrator and one of my zoom accountability friends. We've been meeting in a group of nine every single week since the start of the pandemic.
Now, she's created this wonderful set of 55 hand drawn Christmas illustrations and I'm excited to let you know about them as they come with the kind of rights you never get from the graphic sites – at least not without paying an arm and a leg.  Take a closer look here.
You can use these for all your commercial projects including PLR without having to change them at all. You know how we usually have to mash designs together to make something new?
Not with these!
You can make
stickers
planners
journals
bookmarks
Christmas decorations
print on demand t-shirts, mugs and tote bags
greetings cards
Anything! Just don't sell the illustrations on their own as illustrations or pass on the full master resale rights as that wouldn't be cool 😣
They are all large full page sized png files with transparent background, 300dpi so you can make whatever you like without loss of quality.
Alexis has also included a color palette and matching papers so you can design away to your heart's content.
And for a few dollars extra, you can get a matching Christmas planner template for Canva. See everything on the page here. 
Last weekend to save: From the Simple Happiness Shop
This Quirky 2022 calendar with PLR commercial rights comes in A4 and US Letter sizes with both Powerpoint and Canva templates, so you can totally transform it if you wish or just sell or give away the finished calendar.
Use coupon code CALDEAL to get it for $9.95 until October 20th.
For an extra $10, you can also get a matching daily planner, monthly planner dividers and 12 digital papers so you can make coordinating workbooks, notebooks, stickers and so on. Just choose the bundle deal on the same page and use coupon CALBUNDLE if you would like to take advantage of that. Take a look here.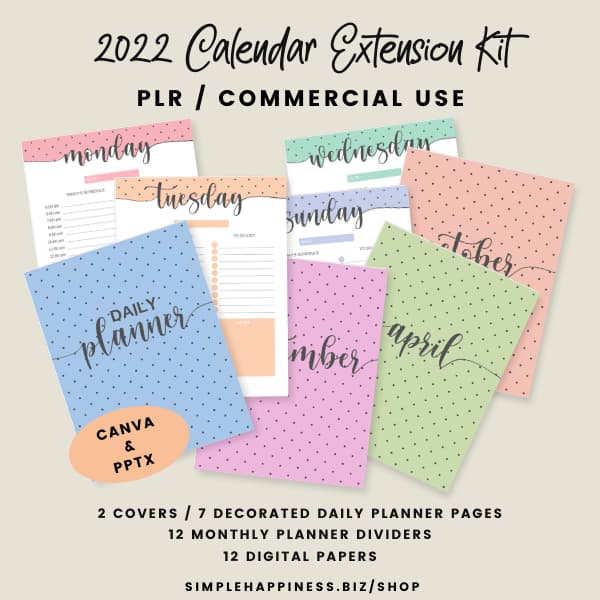 Have a great weekend, and I'll catch you soon with more tips, freebies, and some offers but only the ones I personally think are great value and know the quality to be good.
love
Jan
https://simplehappiness.biz
P.S. If you've seen the latest Bond movie already, what did you think?
This email may contain affiliate links for products I personally recommend, however the opinions expressed are my own.
I will receive a small commission if you buy through my affiliate links, which helps me keep the lights on, but the product will not cost you more.