Hi
You can tell I'm on a diet. The other day it was oranges and now there are sausages on my mind. 🤣
But this email is not really about sausages; it's about that thing it seems we can never have enough of: money.
There's a lot written about money not being important.
That it's just currency. Time is more important.  And love. Yada yada yada.
Unfortunately, the supermarket cashier isn't playing ball when I try to pay for my lettuce and tomatoes with hugs or five minutes of my time.
It may seem like money isn't important until you don't have enough to pay the bills, or even spare cash to pay for the fun stuff that makes life a joy.
But given we all have bills and want a great life, then it makes sense to make as much as we can while staying mindful of spending time on other things that matter.
What would making a success of your business mean to you?
Complete the following sentence as many times as you like:
Money can't buy happiness, but it can buy "sausages" substituting sausages over and over for the things that having extra money would mean to you.
And then, let those phrases run through your head when you're deciding whether to work on your product, put your listing on Etsy, or send that email with an offer in it.
A little bit of hard work now means a lot of sausages in the future.
And given time and effort, your own sausage factory! 💖
NEW: EXPERIENCE THE MAGIC…
If you're a regular reader, you'll know I go on about my coach Naima a lot.
She offers a mixture of accountability, practical wisdom, and technological know-how that's hard to beat.
And let's just say my sausage factory wouldn't have gotten half as far without her guidance, encouragement, and insight, all delivered in fun and friendly, yet challenging, group sessions week after week.
If you'd like to get her input on your business and product idea, she's offering her Magic 1-pager workshop next week for just $37 including bonus training worth $871 (you'll get one of my favorite courses of hers, Products that Pop, that will change how you go about creating products forever as well as so much more.)
Be prepared to be blown away!
My bonus: Sign up for the Magic 1-pager workshop through my link above and get any of my bonus reports from the list below. 💖💖💖Just send your receipt to me (jan@simplehappiness.biz)

NEW: MAKE EMAIL PROFITABLE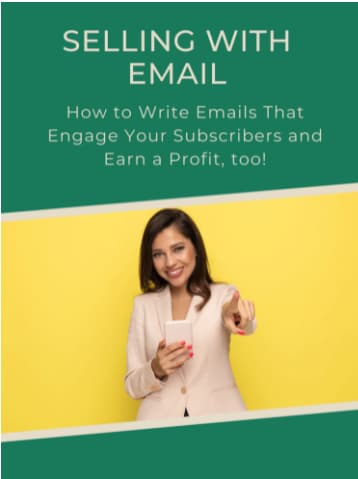 If you're uncomfortable selling via email or you have trouble making email profitable at all, then Cindy's latest course is perfect for you.
At just $37 during launch with promo code EMAILPROFITS, it could change the course of your business and put you on the path to success with email marketing.
Take a look at all the details, but don't delay. Once the launch is over on Sunday, this course will be $97 regular price
My bonus: Sign up for Cindy's Email course through my link above and get any of my bonus reports from the list below. 💖💖💖Just send your receipt to me (jan@simplehappiness.biz)
NEW: THE CANVA TEMPLATE SHOP SUCCESS KIT
If you love Canva and you like making templates, don't miss your chance to get this fantastic new training Canva Template Shop Success Kit for a steal.
I grabbed it as soon as I saw it, because Julia who created the course has sold over 5,000 digital products in her Etsy shop and her Template Shop Business made over $100K in 2021.
A handy extra chunk of change!
The course is only available at the special pre-launch price (60% off) until it goes live in a few days.
Right now, it's just $57 – which is amazing for a  course like this.
It will be launched and ready on 20th February. This is the link to the course page on her site, but you'll need to click the GET MORE DETAILS button to see the sales page for a full description.
My Bonus: If you buy through my link in this email, I'll give you a $20 voucher for my site and you'll also receive my limited time bonus report or an alternative (see below) 💖💖💖Just send your receipt to me (jan@simplehappiness.biz)
ENDS TODAY: ALL THIS FOR ONE CRAZY LOW PRICE FROM ALICE
Take a look here at everything included (just $9.95)  (ends today!)
FREE: WEBINAR ON AFFILIATE MARKETING
Affiliate marketing is one of the easiest ways (if not the easiest) to create a side hustle when you don't have a ton of time and money to do it.
If you'd like to make more revenue ( or start making some soon! ) catch this free webinar "How to Grow Your Side Hustle Income with Affiliate Marketing" It will help you avoid all the mistakes that so many make.
It's part of the promotion for an upcoming Ultimate Bundles event, but I don't expect it to be a pitch fest unlike many similar webinars as the bundle is not yet on sale. 😊
Register for the free webinar here
LIMITED TIME BONUS ( 💖💖💖 ITEMS ONLY)
Today's EXTRA BONUS for any purchase through my links marked with 💖💖💖 in this newsletter is my plan for making $3k a month on KDP in 2022. It's a pretty achievable goal but not without organized and systematic effort from you😊
Buy anything marked 💖💖💖 through any of my links in this newsletter today then send me your receipt (to jan@simplehappiness.biz) and I'll share my thoughts and plans with you. On top of any other bonuses you see in the newsletter. ( If you already have this, KDP is not your jam, or you're buying more than one item you can also choose from these alternative bonus reports. Be sure to let me know which one(s) when you claim. I'll verify your receipts and send them back to you.)
▶️ Aargh! exactly what to do when you feel like quitting
▶️ My millionaire plan (February 2022 update) for how I plan to retire with a lot of fun money
▶️ Simplify! 15 things I do to avoid getting overwhelmed
▶️ Graphics – my process for making PLR unique using graphics
▶️ 339 best selling printable ideas
▶️ 13 ways to get more mileage from the PLR on your hard drive
OFFER ENDS THURSDAY: QUIRKY PAGES
Our Quirky 2022 calendar and matching planner proved so popular last year that we've added a new product Quirky Pages with many more options so that you can create a whole series of original products to sell in your shop.
I love the original cute dotted pattern in ice cream colors that comes with the product, but the beauty of it is that it is so easy to replace with your own design (or any digital paper) to get an entirely new look that's all yours and your alone.
You can do it in Canva or Powerpoint just by changing the background.
Here are the Quirky pages. Get them for just $14.95 with coupon code QUIRKYDEAL (regularly $27) until Thursday 17th.
If you missed out on all the quirky goodness in the past, you can get the bundle of four Quirky products (on the same page) for one low price instead.
Just $27 with coupon code QUIRKYBUNDLE (regularly $67). (We set the price low enough to be worth it even if you have one or two of the other products.)
This special price ends on Thursday 17th as well.
24 papers included with either option.
Change background easily and swap out the template section too to anything you want.
Enjoy the week ahead and I'll be back soon with more tips, freebies, and some offers but only the ones I personally think are great value and know the quality to be good.
love
Jan
https://simplehappiness.biz
This email may contain affiliate links for products I personally recommend, however the opinions expressed are my own.
I will receive a small commission if you buy through my affiliate links, which helps me keep the lights on, but the product will not cost you more.