Hi
I went out to lunch with two good friends that I've known for over 30 years today.
When I met them, there was no internet or cellphone in general use. We worked for a mobile phone billing company, but back then, cellphones had to be fitted into your car and were the size (and weight) of a brick.
Technology changes a lot over time!
People and how they limit their dreams, not so much!
The things is, kids hear the word "No" constantly.
"Don't do that."
"You shouldn't try that."
"You can't have that."
We have limit after limit instilled in us from a very young age.
But as adults when it comes to our dreams and goals, we have no limits.
We only have choices.
Choice after choice.
We tend to forget that.
What limits have you put on yourself that are hindering your success?
What could you choose to do instead once you accept that there are no limits?   💖
***********************************
NEW: 30 DAY ETSY IMPROVEMENT PLAN
Follow this 30 day plan by Sasha who has made over 10,000 sales in her Etsy shop.
Take one action a day and watch your traffic skyrocket!
Just $9 for a limited period.
NEW: HOW TO WRITE A BOOK WHEN YOU HAVE NO TIME TO WRITE
This done-for-you "How to Write a Book When You Have No Time to Write" planner from Coach Glue is brandable and ready for you to use for yourself or your clients.
It's for anyone who would love to be a published author but just can't find the time.
Get all the details here and grab it during launch at 50% off with coupon code 50 
Ends tomorrow Sunday 15th
My Bonus: Get this product through my link and choose any one of my bonus reports from the end of this newsletter 💖💖💖
NEW: FLASH SALE ON DIGITAL STICKER COURSE
Learn how to create your own digital planner stickers in Power Point with Lori.
Her course Create Digital Planner Stickers in Power Point has easy to follow step-by-step video instructions.
You will learn how to  to create word based stickers and different shapes and forms, how to add add fancy hole punches and how to save the images to sell to the end user.
In addition to learning to create digital planner stickers – you will also get the PLR rights to the sticker set created during the video training, as well as the templates to easily create your next sticker pack.
During the flash sale, save 50% with the coupon code: STICKERSALE
Ends Monday May 16th.
My bonus: Buy Lori's course through my link and choose any one of my bonus reports from the end of this newsletter 💖💖💖
NEW: NEXT LEVEL WEBSITE CONTENT
Most people who have a website tend to have the same pages as everyone else – home, about, contact, blog, etc.
But that isn't enough to really stand out in the crowded internet or pull in the traffic that can make an impact on your business.
You need to take it to the next level by using some more creative (and proven!) types of content on their site.
You can learn about that in this done for you course Next Level Website Content which comes with commercial rights.
That means you can use it yourself to take your own website to the next level and/or and sell it to others without having to create a course from scratch.
Even better it's on 50% off sale this weekend.
Take a look at this package here and profit!
My bonus: If you buy Next Level Website Content through my link, choose any two of my bonus reports from the end of this newsletter. 💖💖💖
DONE-FOR-YOU PERSONAL DEVELOPMENT CARD DECKS FOR EVERY BUDGET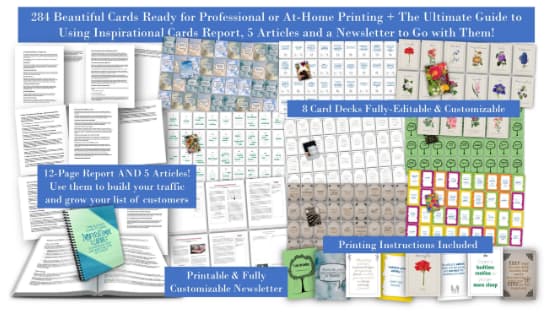 Card decks are BOOMING so they are a great way to get content to grow your audience, build your list AND have INSTANT products for sale.
Alice has created a done-for-you pack with a report, articles, a newsletter, and 8 printable card decks.
Everything comes with complete private label commercial-use rights, making it easy to grow your personal development niche business.
Take a look at the Ultimate Card Deck Platinum Pack right here
My bonus: If you buy the Gold or Platinum pack through my link ($17 or $27 option) , you can choose a bonus report from the end of this newsletter. 💖💖💖
MINDFUL POSITIVITY WORKBOOK
Lynette has just released her Mindful Positivity workbook which helps you work through different situations you face in life and learn techniques to look at them through a positive lens.
The workbook comes with a commercial use license so you can rebrand it to sell or use with your clients with no design work or content writing. It's all done for you. All you need to do is download, rebrand, and change the content if you choose.
Get all the details and layouts plus extras here and snap it up for half price during launch week.
My bonus: If you buy the Positivity workbook through my links, you can choose one of my bonus reports from the end of this newsletter. 💖💖💖
($5 for 25) COLORING PATTERNS MONTHLY
If you would like to be spared the effort of creating coloring pages from scratch every month, take a look at Ruthie's new pocket money membership Coloring Patterns Monthly and get a fresh supply for just $7 a month.
Use coupon LAUNCH5 to get $2 a month off and lock in the lowest price!
CUT & PASTE KIDS BOOKS
I'm seeing more and more successful books over on KDP in niches for kids especially activity books.
What I like about them is that they are so consumable.
Once your kid has done the activities in one book, they are ready for another.
And let's not forget the long summer break is just about to begin.  Parents are going to turning to Amazon for help!
Cut & Paste Kids Books is a course teaching you how to make one particular type of activity book that earns good money.
Here are some examples.
Find out how to create and sell your own book in the genre so you can get ready for the long summer break too.
Get all the details here. Just $19 during launch. 30 pages of detailed instructions and 4 videos included.
My bonus: If you buy Cut & Paste Kids through my link, you can choose any one of my bonus reports from the end of this newsletter. 💖💖💖

ENDS TOMORROW: FLASH SALE ON QUICK & EASY COURSE CREATION 
Cindy is running a flash sale on one of her most popular courses. I'm so glad I have this!
Quick & Easy Course Creation will help you create your course without missing a beat.
If you think you'd like to make a  course, don't miss out while the price is so low.
Use coupon code EASY to get your mega discount (but this should be automatically applied at checkout)
My bonus: If you buy Cindy's course through my link, you can choose any two of my bonus reports from the end of this newsletter. 💖💖💖
SPRING INTO ACTION LOW CONTENT CHALLENGE
This is a fun (and highly useful) challenge to help you get everything done if you are trying to make a business in the low content publishing space.
Julie's Spring Into Action Low Content Challenge starts on the 16th May and over two weeks you will be taken step by step through everything you need to know to kickstart your low content business.
In a secret hot niche with low competition that Julie has found.
Simply look over her shoulder and follow the point and click techniques she shows you!
Take a look at everything included.
My bonus: If you get the challenge through my link, you can choose any two of my bonus reports from the end of this newsletter. 💖💖💖
A NICHE IN DEMAND
There is a lot of demand for printables in mental health niches these days, which is sad in one way, but it's good in that printables can be so helpful to those who are suffering from all kinds of conditions or to those who want to prevent mental illness and keep feeling good.
Useful printables in the niche, like the ones below, sell well which makes them a win-win for buyer and seller alike.
If you would like to learn how to produce the best and most helpful printables for this niche take a look at this Mental Health Printables training
This low-cost course could be the start of a great new income stream for you while you help others feel better.
My bonus: If you buy the course through my link, you can choose any one bonus report from the end of this newsletter 💖💖💖
BLOG MARKETING PLAYBOOK
Blog Marketing Playbook is the latest super-value training from Charles Harper which gives you not only the training itself but also the right to sell it!
Twenty videos plus transcripts and so much more!
For around $8!
Take look at everything included in this incredible deal. (Limited time offer)
PREGNANCY PLANNER & JOURNAL
Just launched today, our pregnancy planner and journal, perfect for parents to be.
67 unique pages and with PLR commercial rights to edit and sell.
You will receive Powerpoint and Canva versions in both A4 and US Letter sizes.
PLR Commercial Rights and plain templates for easy customization are included.
You can get the planner during launch week for just $19.95 (regular price $37) with coupon code BLOOMING
The Pregnancy Planner has been designed to match our Baby's First Year Bundle and Extension kit so if you don't have these be sure to  add them to your order for an extra ten dollars with coupon code BABYBUNDLE (See the bundle offer for all three products on the same page as the Pregnancy Planner.)
GET ALL THE CANVA  TEMPLATES YOU NEED TO SELL A TON OF PRINTABLES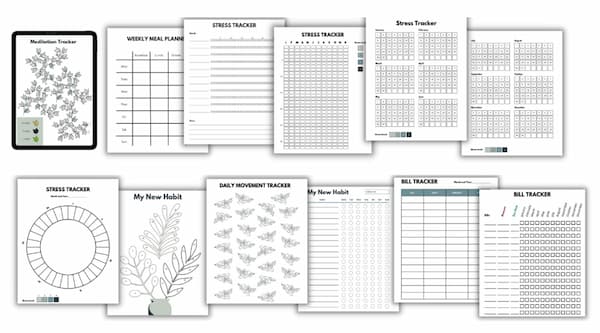 April Lemarr has released a huge set of Canva templates that you can get for $27 with PLR rights or an amazing $47 with master resell rights (allowing you sell  your own version of them as PLR).
That's amazing for 123 templates in 10 categories and so much DFY content that you can use to build your business. The pic above shows just a tiny selection of the huge package.
See everything included right here and be prepared to be amazed.
My bonus: If you purchase the templates through my link, you can choose any one of my reports from the end of this newsletter . 💖💖💖
BONUS  SELECTION (  💖💖💖  ITEMS ONLY) 
When you buy 💖💖💖 marked products through my links but you can choose any of the items in the list below.
To claim just send your receipt(s) to me ([email protected]) and let me know which bonus(es) you would like. I'll verify with the vendor and send them right back to you, usually within a day or so.
NOTE:  A few people have asked for one of my bonus reports when they bought one of my own products but I haven't been offering these as I don't want to compete with my affiliates who like to offer their own bonuses or who maybe don't have time to make extra bonuses.
For my products only, whether you buy through my link or through an affiliate, whenever you spend $17 or more in one transaction, you can also choose a bonus report from the end of this newsletter. 💖💖💖
By the way, there are a few more new  bonuses in the works. I just have to get them done and out of the works!
Here are the currently available bonuses.
▶️ My plan for making $3K a month from Amazon KDP in 2022
▶️ Aargh! exactly what to do when you feel like quitting
▶️ My millionaire plan (February 2022 update) for how I plan to retire with a lot of fun money
▶️ Simplify! 15 things I do to avoid getting overwhelmed
▶️ Graphics – my process for making PLR unique using graphics
▶️ 339 best selling printable ideas
▶️ 25 ways to get more mileage from the PLR on your hard drive
▶️ 27 best converting lead magnet ideas
▶️ Boost your business by reviving old blog posts
▶️10 Steps to Creating a  Winning Strategy for Your Next Project
▶️ 5 minute miracle start to make every day a success
▶️10 Ways to Make an Extra $1000+ this year
▶️NEW! 10 Places to Sell Printables Other Than Etsy
Enjoy the weekend and I'll be back soon with more tips, freebies, and some offers but only the ones I personally think are great value and know the quality to be good.
love
Jan

https://simplehappiness.biz
This email may contain affiliate links for products I personally recommend, however the opinions expressed are my own.
I will receive a small commission if you buy through my affiliate links, which helps me keep the lights on, but the product will not cost you more.