Hi
If you do the hearts and flowers thing, Happy Valentine's Day! 💖
If you don't, this is just a heartfelt message to find a business you love, so that ALMOST every day is a celebration.
I say ALMOST, because there are always those days with deadlines, taxes, technological problems, and crazy demands in any business 🤣
Actually, on second thoughts, finding a day without those things might be difficult LOL
But doing the stuff you love to do and making a living from it, a good living, more than makes up for all that.
So, ask yourself what it is you'd love to do that you are not doing now.
And start doing that thing.
Because you only have one life.
Fill it with all the good things.
And love yourself and your life a little bit more. 💖
I GRABBED THIS ONE FAST
If you love Canva and you like making templates, don't miss your chance to get this fantastic new training Canva Template Shop Success Kit for a steal.
I grabbed it as soon as I saw it, because Julia who created the course has sold over 5,000 digital products in her Etsy shop and her Template Shop Business made over $100K in 2021.
A handy extra chunk of change!
The course is only available at the special pre-launch price (60% off) until it goes live in a few days.
Right now, it's just $57 – which is amazing for a  course like this.
It will be launched and ready on 20th February. This is the link to the course page on her site, but you'll need to click the GET MORE DETAILS button to see the sales page for a full description.
My Bonus: If you buy through my link in this email, I'll give you a $20 voucher for my site and you'll also receive my limited time bonus report or an alternative (see below) 💖💖💖Just send your receipt to me (jan@simplehappiness.biz)
FLASH SALE: ALL THIS FOR ONE CRAZY LOW PRICE FROM ALICE
Take a look here at everything included (just $9.95)  (ends tomorrow)
ENDS 7PM EST: KDP MEGA PACK SALE
There are lots of offers around at the moment but this is one of the best, for sure. Luke has a sale on his KDP Mega Pack until 7pm EST. (Don't hang about if you want it!) This is a huge number of templates (95) and Powerpoint tools for around $19. So much value. 🎉⭐
Take a look here at all you get and then snap this up if KDP is in your sights.  
Note as Luke's Gumroad account is in pounds, there will be some variation due to currency exchange/taxes but don't let that put you off. It's all good. (But if your competitors are put off, more fool them, and so much the better for us 🤣)
My Bonus: If you get this through my link, send your receipt to me (jan@simplehappiness.biz) to receive my limited time bonus report or alternative. See bonus details below. 💖💖💖
LAST FEW HOURS: BRANDING COLORS TRAINING & WORKSHOP
When you're building a website or creating any product, you're faced with a decision that many people get stuck on: choosing a set of colors that work.
There's more to it than meets the eye (literally).
And you can't publish or launch until you've made that decision.
If you're stuck at that point, or would like to make those color decisions more easily from now on, grab this Color Your Brand training and workshop so you can ask all the questions you have on color choice.
So much value for an amazing introductory price of just $17! (save 65%) 
Get all the details of the training and workshop here.
My bonus: Purchase this already super value training through my link to get my limited time bonus 💖💖💖 Just send your receipt to me (jan@simplehappiness.biz)
LAST FEW HOURS: POSITIVITY PRINTABLES 
Amy has a brand new training course out today Positivity Printables Made Easy about creating and selling positivity printables which are so popular today.
The kind that make everyone feel better about their lives.
And which work well in many niches.
This training will show you both how to create AND sell these lucrative printables.
It has to feel good to spread joy and make a profit while you do it!
Take a look at this very comprehensive yet low-cost training here.
My bonus: Buy through my link and get a $15 voucher for my store as well as my new bonus report or alternative. 💖💖💖Just send your receipt to me (jan@simplehappiness.biz)
ENDS TODAY: HABITS AND ROUTINES FOR A HAPPY LIFE
This private label rights pack from Jennifer at Heath and Wellness PLR would go well with Amy's Positivity Printables course below.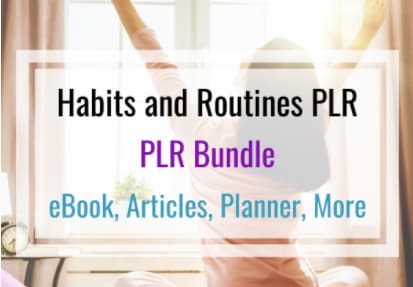 Habits and Routines for a Happy Life is a toolkit of written content and printables and you can get the whole pack for just $17 this weekend!
A huge number of goodies in this kit. Don't miss out. Take a look.
My Bonus: If you get this through my link, send your receipt to me (jan@simplehappiness.biz) to receive my limited time bonus report or alternative. See bonus details below. 💖💖💖
ENDS TODAY: TEST YOUR BIG IDEA
If you don't know whether your business idea will pan out, you can waste a ton of time, money, and energy, and get only disappointment for your efforts, so it pays to test before you begin, but how?
Sharyn from Content Sparks has her Testing Your Big Idea training course on 50% off special this weekend when you can pick it up for just $23.50. This gives you not only the high quality training itself but the right to sell it!.
An amazing deal.
The training is just one of six items on special 50% off Entrepreneurs sale this weekend. Take a look at all of the courses available and pick out what you need from this page. (But don't get sticker shock at the price of the whole bundle: you can buy each course individually when you scroll down!)
My bonus: Get a $10 coupon and any of my bonus reports from recent newsletters (see details below) for each of the six items in the sale that you buy through my link. 💖💖💖
ENDS TODAY: YOU MIGHT THINK  FB ADS ARE A BAD IDEA BUT…
FB ads are only a bad idea if you don't use them in the right way.
But if you know how to make them work, they can be the best (and most cost effective) boost to your business.
And you can test with very little money until you find your feet with them.
There's little else that can turn on a flood of traffic overnight.
Send instant traffic to test your offers.
Let low budget ads show you what's not working and what is, before you spend precious time promoting your offers in other ways.
Once you have something that sells, amplify all your efforts with ads for maximum ROI.
If you want to know how to do this, Yadsia is the queen of making FB Ads work especially for digital products and low content planners and journals.
And her Facebook and Instagram Ads for Digital Products masterclass is finally ready to dive into.
I can't wait!
This will be part of my growth plans this year for my store and I'll use Yadsia's course to guide me all the way, because she is someone who does what she teaches and makes bank using ads selling low cost products via FB ads.
Get all the details here (sales page) or take a tour of the course to help you decide.
The course is just $147 during launch ($197 after, and way cheaper than many courses which teach this. And they are usually less helpful for small digital product sellers.)
My bonus: Buy through my link and get a $45 voucher for my store as well as my new report (see below). 💖💖💖Just send your receipt to me (jan@simplehappiness.biz)
LIMITED TIME BONUS ( 💖💖💖 ITEMS ONLY)
Today's EXTRA BONUS for any purchase through my links marked with 💖💖💖 in this newsletter is my plan for making $3k a month on KDP in 2022. It's a pretty achievable goal but not without organized and systematic effort from you😊
Buy anything marked 💖💖💖 through any of my links in this newsletter today then send me your receipt (to jan@simplehappiness.biz) and I'll share my thoughts and plans with you. On top of any other bonuses you see in the newsletter. ( If you already have this, KDP is not your jam, or you're buying more than one item you can also choose from these alternative bonus reports. Be sure to let me know which one(s) when you claim. I'll verify your receipts and send them back to you.)
▶️ Aargh! exactly what to do when you feel like quitting
▶️ My millionaire plan (February 2022 update) for how I plan to retire with a lot of fun money
▶️ Simplify! 15 things I do to avoid getting overwhelmed
▶️ Graphics – my process for making PLR unique using graphics
▶️ 339 best selling printable ideas
▶️ 13 ways to get more mileage from the PLR on your hard drive
QUIRKY PAGES
Our Quirky 2022 calendar and matching planner proved so popular last year that we've added a new product Quirky Pages with many more options so that you can create a whole series of original products to sell in your shop.
I love the original cute dotted pattern in ice cream colors that comes with the product, but the beauty of it is that it is so easy to replace with your own design (or any digital paper) to get an entirely new look that's all yours and your alone.
You can do it in Canva or Powerpoint just by changing the background.
Here are the Quirky pages. Get them for just $14.95 with coupon code QUIRKYDEAL (regularly $27) until Thursday 17th.
If you missed out on all the quirky goodness in the past, you can get the bundle of four Quirky products (on the same page) for one low price instead.
Just $27 with coupon code QUIRKYBUNDLE (regularly $67). (We set the price low enough to be worth it even if you have one or two of the other products.)
This special price ends on Thursday 17th as well.
24 papers included with either option.
Change background easily and swap out the template section too to anything you want.
Enjoy the week ahead and I'll be back soon with more tips, freebies, and some offers but only the ones I personally think are great value and know the quality to be good.
love
Jan
https://simplehappiness.biz
This email may contain affiliate links for products I personally recommend, however the opinions expressed are my own.
I will receive a small commission if you buy through my affiliate links, which helps me keep the lights on, but the product will not cost you more.