Hi
I love stickers. I cannot lie.
I'm like a kid in a candy store with stickers, planners, and journals.
So I love these three products on sale right now.
Designer Sticker Templates
Catherine has some great sticker templates for Affinity Designer on launch sale ending tomorrow. I picked up her first set of templates and I'll get these too. If you're not sure how to work with Designer, you'll find free videos on how to work with these templates along with details of the product here. Get Digital Sticker Templates Volume 2 for just $15 today. Amazing value
587 Pre-made Stickers – Last day to save $20
So many great designs in this Ultimate PLR Sticker Bundle from Tanya. It will keep you sticker happy for quite a while. And it's just $17 for launch ($37 tomorrow).
With a $10 upgrade you can change the designs in Canva, too, and make them unique.
If you want to SELL stickers
You can put your stickers up in your Etsy shop as craft supplies (if you don't make them original) or as handmade goods (if you do) but make sure in either case that you have a marketing plan as well as a plan to put them up in your store.
If you want stickers to be a lucrative side hustle, you'll need to promote them in some way or use them to promote other items you have listed. (For example, you can produce stickers in every color to match your other items, as people love matching sets, and the matching items help promote each other.)
One of the best courses for actually SELLING your stickers (as opposed to looking at your stash and enjoying it!) is the digital sticker course by Wild & Solo.
This is a huge course on digital sticker making and selling, including how to make illustration stickers even if you can't draw, how to stay organized with all your files, how to package stickers into books to sell, and, get this, see the different ways you can package up all your products into one big bundle and make more money (plus create happy customers). Michelle says: "I'll show you how I've created my Everything bundle (including both the beautiful way and the easy way)."
This course has everything you need for your new side business. Incorporate Catherine's templates and Tanya's and you'll have an advantage over the people in the course who only have those from Wild & Solo.
The course is jumping in price soon, so get it while it's huge value for all you get. Every module is so detailed you really can't go wrong.
THINGS YOU MAY HAVE MISSED 
Last Day
LAST DAY to grab the Building a Biz Bundle 2021 for $29 which has a whole lot of products and training in one. Given there's a voucher for $27 from Faith in there and if you buy through my link here, there'll be another $25 voucher waiting for you from me, it doesn't make sense to pass it up.
Take a look at all that's inside
EXTRA BONUS: if you buy right now you'll get access to the course "How to create low content books" along with everything else.
A weekend gift from Jennifer
Jennifer is offering you a pack of 101 new Affirmations in Word and text format, usually $12 but free this weekend only. No coupon required. You can use these to make journals or create cards or social media posts. So many uses. Don't miss them while they are free. You can even couple these with your free digital papers to create complete and colorful journals.
Plan Out Your Printables Empire
If you're going to make printables, you need a plan, otherwise it will be like throwing spaghetti at the wall (very messy!) 
You do need to try different things, but the more organized you are when you go about it, the more successful you'll be.
Karon of Marketing Words has created a 24 page Profitable Printables planner so that you don't have to create a plan from scratch. She is one of the most organized people I know! Usual price $24.99 but you can get it for the launch price of just $12.50 this weekend only. No coupon needed. Grab this one quickly and get planning.
Send an email!
Don't forget to get help from the fairy for your emails while it's still $36 (instead of $97)
So many business owners, authors, and bloggers collect subscribers and then don't send them anything much. Don't be that business owner!
Free Confidence card pack 
Alice is offering ten free graphics on self confidence to use in your business. Perfect if you work in the personal development niche.
A Gift from me
Use coupon code BIRTHDAYGIFT to make my new product free—60 digital papers with commercial rights that you can use in any of your projects even if you sell PLR.
My second birthday treat if you have had your eye on any of my products is a coupon BIRTHDAY60 for 60% off your whole cart. See what's in my shop here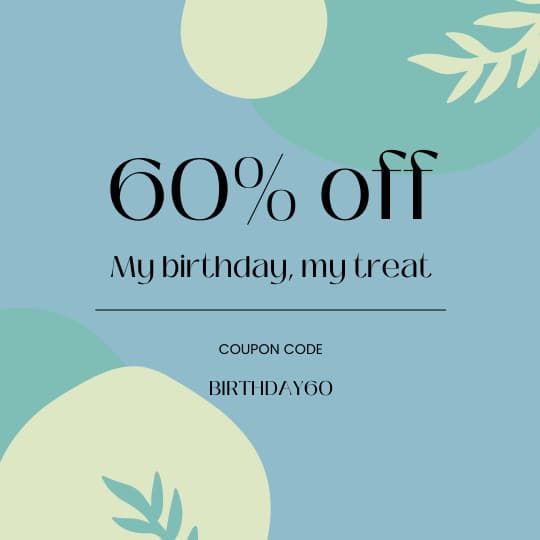 [NOTE: Use the BIRTHDAYGIFT coupon first get your papers free if you want them. Then go in again to buy other stuff as you can't use two coupons at once.]
You can use coupon BIRTHDAY60 up to five times until Sunday so you can shop more than once if you wish.
New Product Line?
I don't know if you know but birthday cards and matching envelopes are great sellers on Etsy.
That's why I finally noticed Teresa's new product, though typical of me, I was late to the party!
The great thing about this product is that it includes both the cards in two sizes and the matching envelope templates.
You could sell them in a print-your-own cards and envelopes format.
Or you could offer them as finished cards and envelopes with Teresa's designs, your own, or even use my free digital papers.
Don't stop at birthday cards either. Cards of all kinds sell all year around.
Teresa gave me a special code as I was late to the launch.
Use code jansbirthday for 50% off  making the whole pack just $13.50
I'm going to have such fun with this, creating my own designs,  once my birthday celebrations are over.
Why not join me and start a new product line with the Birthday Card Printables Kit as well?
Ongoing Product Magic
▶️ Fran at The Happy Journals PLR Club has some new training on Organizing Your Content to Get More Done. This topic is one I love. Fran's course is currently on launch at $27. Get it while it's $20 off. I'm off to pick this one up.
Have a great weekend and I'll catch you soon with more tips, freebies, and some offers (but only the ones I personally think are great value and know the quality to be good.)
love
Jan
https://simplehappiness.biz
P.S. Don't forget to download your bundle products. If you bought BC Stack you need to get what you want from it soon (20th? I think). 
This email may contain affiliate links for products I personally recommend, however the opinions expressed are my own.
I will receive a small commission if you buy through my affiliate links, which helps me keep the lights on, but the product will not cost you more.