Hi
It's always a heart-stopping moment, putting out a new product (and you'll find news of my latest below 😦)
If you've launched anything, you probably recognize that feeling.
Will anyone like it?
Will they like it enough to buy it?
Will the technology work even though you've tested it six times?
Ugh!
The worst moment is the time between launching the thing and the first sale.
The shorter that moment of truth is, the better!
But there is a thing worse than waiting for the results of a launch.
And that's being stuck.
Stuck as in, not launching, not putting anything out there, and not risking being disappointed if no one or only a handful of people love it enough to buy it.
That feeling is definitely worse because it doesn't go away in a few hours.
It never goes away.
Until you take action.
So if you're stuck in that situation, jump in and launch your thing. Put it out into the world.
Success favors the brave! You never know what will happen until you launch. And it could be the start of a great new business.😊
My latest product: One day only $7

So it's day 12 of the DIGITAL DIVAS Advent Calendar and behind door #12, you'll find my latest product, a 62-page journal designed to make you feel good about yourself.
Don't get this one just to create a product to sell. Grab it as a treat for yourself and then sell it as well to reap all the benefits. 😊
It's available at a massive $20 discount (making it just $7) for one day only. So take a look quickly before it disappears.
This Advent event is brought to you by Digital Divas Melody, Ruthie, Stephanie, Helen, and me. Every day, you'll find a new freebie or mega discount from one of the Divas' sites, and the deal is only good for that day. Check back on the site (or here in the newsletter) every day so you don't miss out as the gift or deal will change out at around 10am US Eastern each morning.
Find out more about today's deal here and click "GET THIS DEAL" to get all the info.
More Awesome Deals 
TODAY & TOMORROW ONLY Lynette is celebrating her 48th birthday with 48% off when you buy three or more products at Thrive Anywhere. It's a great time to pick up a few of her fantastic journals and planners that you missed the first time around.
Knowing the quality of Lynette's work, I pre-bought 12 products at the beginning of the year using her Passport deal (which I have yet to claim as I like to see the full range before I decide LOL!)  But this feels like as good a time as any to choose them and then I can pick any extras I'd also like to get from her store at almost half price.
The difficult part will be limiting myself to 3 extra so I'll probably buy more 😊
No coupon required. The discount will be automatically calculated at checkout when you have 3 products or more in your cart.
Take a look at everything available. 
Jenn has these $10 specials today
You might wonder why I buy other people's journals when I can so easily make them myself, but I do it because it's such a  timesaver when I want a product to sell in my Etsy shop or next year in my own store.  By mixing and matching a product from Lynette or Jenn with one of my own, and giving it a new design, I can make something totally unique much, much faster. And that saves money and time to market as well as creation time.
Jenn's deals today are:
A wedding planner, $10 with coupon code WEDDC 
A pregnancy planner pack $10 with coupon code PREGDC
An ombre planner $10 with coupon code OMBDC
Get them at great prices while you can as these topics are super popular with buyers.
For even lower prices 
Grab the Fresh Start Color Monthly bundle and get 33 products for less than  a dollar a product!
This bundle is particularly good if you are in the coloring niche, but it also has a lot of planner goodies in it.
Selling one or two products will cover the cost!
Tip: If you buy it, schedule the launch date for each product you plan to sell!
My bonus: If you buy the bundle through my link, send me your receipt and I'll verify, and send you a gift card for $25 to spend in my store making it even better value.
TODAY ONLY: Deal of the day from Coach Glue
Grab  "7 Ways to Destress Your Business for More Happiness & Profit" for an amazing $27 using PROMO CODE: 2021 (instead of $97) and you will have a fantastic course or 7 day challenge ready to sell in no time. This product includes video script for each of the 7 methods. (Take a look at each of the seven methods here)
Put these ideas to work in your own business and then create a product to sell with your own experience included and you'll immediately have something super valuable and unique!
The beauty of Coach Glue is that you can use their products yourself to improve your own business and life, but you can also sell them too.
Get this Package for Only $27 (regularly $97) with Promo Code: 2021
For even more value from Coach Glue, save over $1400  and grab the 12 for 1 offer below and have twelve products to sell and a ready made multi-product business up and running before 2022!
If you purchase this 12 in 1 deal, you will get commercial rights to all these packages for one low price. This will save you so much time and effort creating training courses and workbooks to sell that you would be crazy to start from scratch.
Bonus from me: If you buy this 12 in 1 Coach Glue deal through my link, send your receipt to me at jan@simplehappiness.biz and once I've verified it, I'll send you a gift card for $80 to spend in my shop, making this a no-brainer even if you own one or two of these products already.
Di and Sue's Advent Event: Day Twelve gives you a 50% off deal
Take a look at today's treat which is on Sue's site (hint: It's very spicy!)  and use code ADVENT2021 to get the discount.
Show Off Your Book or Journal & Sell It
It's no good hiding your finished work in a corner of your website once you're done.
Before you can sell your product, potential buyers have to notice it, otherwise you'll get…crickets.
Go for maximum visibility everywhere with great product images and video.
That sounds like a lot of work but luckily there's a product called Mockupshots that gives you an easy and very fast way of drawing attention to a book or journal on your website or on social media.
You load up your cover and in a few seconds, you have a huge number of realistic mockups, GIFS and videos that draw the eye and stop the scroll like nothing on earth.😊
Not only will MockupShots allow you to create hundreds of epic photos of your books, it will give you suggestions for social media posts for each mockup and even allow you to crop, edit and add text right from inside the interface so your graphics are ready to post right away.
I've had this for a while and use it mainly to create 3D images of my products with transparent backgrounds but I just looked again at what it can do and I know I'll be using it a lot more in the future.
The cover reveal videos are amazing!
Best thing is, they've slashed the price for the holidays.
Take a look at the magic here.  So many cool images, GIFs and videos to make from one cover in an instant to show off your work. Use it on as many books as you like. 
ENDS TODAY! SELL MORE STUFF!
Boost your income, increase your visibility, and impact more lives by leveraging what you've already have in new and buzz-worthy ways with SALE EVENT STRATEGIES: HOW TO CASH IN WITH ANNUAL, SEASONAL, AND FLASH SALES.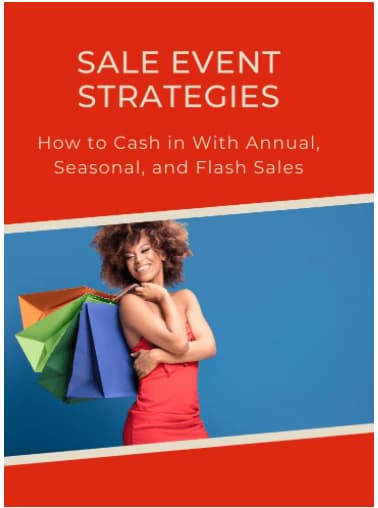 It's the easy way to invite more cash, more customers, and more time freedom to your business!
Use code SALE to save $60 and get it for $37 instead of the regular $97
Grab it today and put it to good use in your business. More details here.
Enjoy the rest of your weekend and I'll catch you soon with more tips, freebies, and some offers but only the ones I personally think are great value and know the quality to be good.
love
Jan
https://simplehappiness.biz
P.S. ❤️ ENDING SOON Sell Fillable PDFs -Excellent training to create something better than printables with a lot of demand. Pick up this gem for just $27. I bought this myself as I see lots of opportunity with this for new products.
This email may contain affiliate links for products I personally recommend, however the opinions expressed are my own.
I will receive a small commission if you buy through my affiliate links, which helps me keep the lights on, but the product will not cost you more.