Hi
If you want to sell products, then first of all you need to create them.
Then you need to put them up for sale.
Most vendors seem to get that part.
Then many (especially those selling on marketplaces like Amazon or Etsy) just hope that the products will sell.
But no matter how good you are at hoping, hope is not a great promotional strategy.
Ideally, before you create your purple dancing widget, you know which groups of people will want it, and you have a plan to reach those people.
Otherwise your purple dancing widget is going to get lost in the fray.
And no one will buy it.
And if your potential customers already have a whole pile of purple dancing widgets, you had better know how are you going to make yours seem new and exciting enough for them to want to own it.
Of course, the product and how good it is are important in business.
But products, even good products, don't sell themselves.
So give yours a fighting chance and have a plan to tell people about it!
In fact, even before you create your product, work on how you're going to promote it to get maximum sales without going overboard with effort and cost.
In other words, create a strategy for promoting each of your products.
Every single one you want to sell anyway.  💖
NEW FREE BONUS: A STRATEGY THAT MAKE A DIFFERENCE
Free with any product marked 💖💖💖 in the newsletter. Or choose any one alternative from the list at the end of the newsletter.
NEW: A TRIO OF CINDY'S BEST STRATEGIES
If you need a step by step plan to follow for email marketing, grab this trio of products from Cindy for 71% off and create your own highly responsive, profitable email list.
She puts all the parts together for you in her Email Marketing Fundamentals set.
This three-course bundle covers EVERYTHING you need to know from creating a compelling lead magnet to attract your first subscribers to using your list to build your six-figure business.
Take a look at everything included here, but get it before Sunday when this offer ends.
No coupon code required.
My bonus: If you buy this through my link, choose any one of my popular bonus reports from the end of this newsletter. 💖💖💖
NEW: PLR STACK
PLR Stack is a bundle of over 35 products with PLR rights and courses.
I bought this yesterday because it really was too good to pass up!
There are a couple of items in it that swung the deal so I'll be happy if that's all I use from it.
Your mileage may vary, but if you think you can make use of this, then it's a brilliant way to get a lot of content and products for less than a dollar per product.
The product is now on a dime sale so the price is going up with every sale (but just by a few pennies.)
I didn't know they were going to do that or I'd have told you about this sooner.
The bundle disappears altogether on the 17th.
If you get the bundle but you're puzzled about what you can do with it all, there's a whole step by step business model contained in the upsells.
The first upsell, gives you the means to create great graphics for your product sales pages, the second is a comprehensive course on turning your PLR into profit. If you have a  stash of the stuff, seriously consider it.
My bonus: Choose any one of my free reports for the main PLR STACK offer if you buy through my link. If you choose the first upsell, you can also get a $20 coupon for my site, and if you get the second you can get a $50 coupon. You can choose whether to have the coupons as a single $70 or to have two separate ones if you buy both. See the end of the newsletter for details on how to claim.
FREE: SUNFLOWER BIRTHDAY CALENDAR
This may be part of a bigger drive to help later, but time is of the essence with these things, so I'm giving it to you now.
It's totally free, no guilt trips here, but I'd like you to consider giving to a charity in aid of Ukraine if you have the means to do so (sunflowers are the national flower of Ukraine. I hope they will bloom in peace very soon.)
If you are not able to donate, but would like to help, feel free to sell this product in PDF format to raise funds as this comes with a PLR commercial use license, or you can give it away as a token gesture, when you ask others to donate.
Usual PLR terms apply (included in the zip file).
Download it here (as it's 75MB be sure to allow time for it to download properly from Dropbox)
EMERGENCY CASH KIT
If you stuck wondering which business model to follow or you just want a new step-by-step income stream without having to think too hard, take a look at Amanda's Emergency Cash Kit, designed to help you out when you just need to get it done and get earning.
I've often been critical of 'push button solutions' because they don't work.
What does work are tried and tested, ethical methods like this one…
But all the heavy lifting has been done for you.
Just follow the step by step instructions and follow the templates provided.
At less than $20 (it was just $17 when I bought it earlier today), it's a total steal but it's one of those pesky sales where the price jumps a few cents with each sale made so don't hang around too long to take a look.
My bonus: If you buy this through my link, choose any one of my popular bonus reports from the end of this newsletter. 💖💖💖
LAST FEW HOURS: 20 PRODUCT MOCKUPS FROM YADSIA
Get Yadsia's brand new product mockups in her flash launch sale.
I love the clean, bold look of these mockups which are not included in any of her other products or courses.
You can get them for just $10 today.
Grab them quickly before the price doubles to $20 midnight tomorrow.
My bonus: Buy Yadsia's mockups through my link and choose any one of the bonus reports at the end of this newsletter.  💖💖💖
LAST FEW HOURS: CAREER PLANNER
Lynette's latest release is a career planner which is perfect for those who want to get on in the corporate world.
Take a look at the details here and grab this planner template while it's half price during launch if this is relevant to your customers. (No coupon code required)
Lynette's templates are now available in Powerpoint, Canva, Indesign and Affinity Publisher so you can use the software you prefer to update and brand them.
My bonus: If you buy the Career Planner through my link,  send your receipt (to jan@simplehappiness.biz) with your choice of any one bonus from the list at the end of this newsletter 💖💖💖
ENDS TOMORROW: SELL PRINTABLES WITHOUT A SHOP
If you would like to sell printables, but you're feeling overwhelmed by the process of getting a shop going, start selling now without a shop.
Faith's easy step by step course will show you how to create beautiful printables and put them up for sale on Sendowl in no time at all.
What's more she will challenge you to do it, and if you meet the challenge, you win back what you paid.
Sounds like a good deal to me!
Don't wait to buy this, as you'll have longer to earn the cost back in the challenge!
Only $27 (with coupon code SELLTHISWEEK for a limited time!)
Take a look at the details here and get your printables selling! 
My bonus: Choose any one of my regular bonus reports (see the end of the newsletter) 💖💖💖 if you buy through my link, making this offer even better value. 😊
KIDS' BOOK BREAKTHROUGH
Most parents would rather see their kids reading a book than playing a video game or watching TV so the children's book market is always buoyant even in hard times.
And these books are much easier to put together than many kinds of books.
With simple text and images that you can get from graphic sites, you could be publishing within a few days.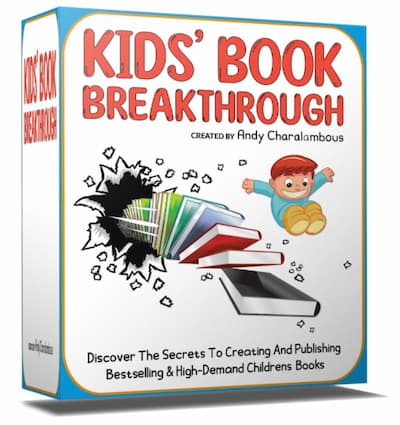 You'll find everything you need to know about creating quality, high-demand books that kids AND parents will love in Kids' Book Breakthrough
Just $17 during launch (regular price $47)
(There are two upsells for related baby book products but you don't need them to create and promote a whole raft of kids' books!)
If you'd like to make an income creating and selling kids' books, find out more about Kids' Book Breakthrough here.
My bonus: Choose any one of my regular bonus reports (see the end of the newsletter) 💖💖💖 if you buy through my link, making this offer even better value. 😊
BONUS  SELECTION (  💖💖💖  ITEMS ONLY)
As I had a lot of requests for various different bonuses, it's now official that you can choose any one of the recent bonuses when you buy through any of my links marked with a 💖💖💖 in my newsletter on top of any other bonuses mentioned.
This works better for those who already own one or more of these or who want to buy a couple of items.
To claim just send your receipt(s) to me and let me know which bonus(es) you would like. I'll verify with the vendor and send them right back to you, usually within a day or so.
Here are the currently available bonuses.
▶️ My plan for making $3K a month from Amazon KDP in 2022
▶️ Aargh! exactly what to do when you feel like quitting
▶️ My millionaire plan (February 2022 update) for how I plan to retire with a lot of fun money
▶️ Simplify! 15 things I do to avoid getting overwhelmed
▶️ Graphics – my process for making PLR unique using graphics
▶️ 339 best selling printable ideas
▶️ 25 ways to get more mileage from the PLR on your hard drive
▶️ 27 best converting lead magnet ideas
▶️ Boost your business by reviving old blog posts
▶️NEW! 10 Steps to Creating a  Winning Strategy for Your Next Project
Enjoy the rest of the week and I'll be back soon with more tips, freebies, and some offers but only the ones I personally think are great value and know the quality to be good.
love
Jan
https://simplehappiness.biz
This email may contain affiliate links for products I personally recommend, however the opinions expressed are my own.
I will receive a small commission if you buy through my affiliate links, which helps me keep the lights on, but the product will not cost you more.