Hi
If the start of this year is feeling just like the start of 2021, then you're probably not the only one having déjà vu.
Here we are still being locked down for our own good.
And I'm back on a January diet trying to lose the same twenty pounds that I lost in the summer (I wish I could stop finding them!)
And I'm still not getting as much done as I wanted to.
It's all looking remarkably familiar 🤣
The only thing that has really changed is my business which is in a completely different state from this time last year.
But there were no monumental shifts that I remember.
I didn't suddenly find "the secret to profit" or a wonderful new niche that no one has discovered to create a course about.
It was just a case of taking action one day at a time, exactly as I'm doing this year.
So though my to do list didn't get any shorter, I must have been getting more done than I thought.
Or doing the right things when I was working.
Or something like that.
How do you know if you're doing the right things?
The right things are nearly always in category 1, 2, or 3 below.
1. creating products for sale or delivering services you already sold
2. putting your products or services on a platform for buyers to find
3. selling (promoting your products or services so that buyers see them, or promoting products as an affiliate)
4. everything else (admin, email, social media (unless essential part of 3), training (unless essential for 1, 2 or 3), zoom calls)
Of course, not all the time spent in category 4 is wasted time but if all your time is in category 4 it's a problem.
Where do you spend most of your time? Do you need to fix that to change the course of your business?
ENDS TOMORROW: AFFILIATE ADVANTAGE
By marketing as an affiliate, recommending products to others in exchange for commission, it's possible to create a business without having any products at all for sale.
Not a single one!
Immediately cutting out a whole lot of work.
Though I would say a whole lot of fun and profit, too. 🤣
But whether you create products or not, don't neglect the potential of being an affiliate and developing that side of your business.
Otherwise you are leaving a whole lot of profit behind.
If you're not sure how to take advantage of that potential, take a look at Karon's Affiliate Advantage course to find out the proven strategies top affiliates use to get commission on demand.
Get all the details here and use coupon code AFFADV33 to take 33% off, making this course a steal.
Grab this and put it to work as soon as you can (it's a category 3 activity 💖)

FLASH SALE: Dream to Do to Done Ready Made Course with commercial rights
White label courses from Coach Glue are such high quality that they will cut down your course-building time to a fraction of what it would have been.
The "From Dream to Do to Done" done-for-you workshop, is packed with ideas and actionable steps designed to help your clients (and you!) effortlessly move from dreamer to successful entrepreneur.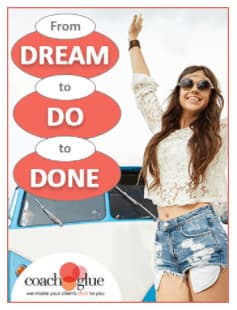 The course includes sections for creating a workshop or course as follows:
Walking them through the steps to find their dreams (not someone else's)
How to discover their big "why" and turn their dreams into goals
How to get over the roadblocks that are holding them back
How to track their progress
How to create a rock solid business plan
How to save time, money, and energy in everything they do
How to avoid letting fear of success derail their efforts
How to successfully assess and manage their risks
How to handle a change of heart
How to create and manage time-saving systems without hiring expensive contractors
How to earn more income without doing more work
How to easily create new products without re-inventing the wheel each time
How to prioritize their day so you can maximize their success
And so much more!
Normally $247 but only $47 in the sale with coupon code 47
Expires Wednesday midnight EST
INSTANT EMAILS…
It probably isn't a surprise to you that you need an email list to succeed online, but I know many would-be business owners collect emails and then hesitate to send anything.
That's such a shame.
It all starts to go wrong in the first few emails. You need a great nurture sequence to introduce yourself so that your new subscriber can see if your list is a good fit for them.
But that can feel super awkward. What on earth do you say?
I know my own sequences need some improvement, so I picked up Amanda Craven's Instant Emails a few days ago and I've just read the content.
Call me impressed, this is 30 pages full of great insights and actual templates for your first six emails so you can fill in the blanks and know you have an effective sequence.
There are also two bonuses, one is 47 pages a Superpowered Subject Lines training guide. The other is a 24 page Email follow up planner showing you how to turn your new subscriber into a customer within 7 days.
Amazing value for a pocket money price. Take a look here
EXTRA BONUS WITH ANY PURCHASE TODAY
Buy anything at all costing more than a single dollar using any of the links in today's newsletter, then send me your receipt today (to jan@simplehappiness.biz), and I'll send you an extra bonus 27 best converting lead magnet ideas (on top of any bonuses that I'm already promising 😍) tomorrow.
Get 27 ideas to grow your list with my take on each of them! Fit's in nicely with Amanda's low-cost report (above) if you pick that up. 😊 But you can get it with anything below as well as Affiliate Advantage above.
Affirmation Coloring Pages and Self Care Planner from Ruthie 
Ruthie has two items on special at the moment, a set of beautiful affirmations coloring pages, great for self care, and an actual 30 day self care planner.
Both products come with commercial rights so you could sell them or create an optin for your list.
Combining them would make something really special.
For the self care planner use coupon code BUBBLE10 to save $10 today. 
For the affirmations coloring pages use code AFFIRM17 to pick them up for only $17 (reg. $25).
ENDS in 2 DAYS: How to Use Templates to Streamline Your Business
Looking forward to diving into this one myself. When my VA started working for me, one of her tasks was to create the operating procedures for my business and we have continued to use them ever since, adding to them when we do something new and updating them find a better way to do something. Like magic if I've forgotten how to do something, there's a process for that, and no need to remember what to do.
How to Use Templates to Streamline Your Business walks you through that process, but as it's white label, you can also add your branding and sell it.
It includes modules on:
Where to Use Templates in Your Business
Types of Templates (And When to Use Them)
How to Create Your Templates
How to Start Using Templates in Your Business
Evaluate the Effectiveness of Your Templates and more!
Take a closer look here. Save up to 67% if you get it this week.

Bonus from me: To encourage good business practices, I'll offer a $35 coupon bonus if you buy the Blaze package through my link in this email and a $20 coupon bonus if you buy the Beacon package through my link.
APRIL'S DAILY DEALS
April creates great quality done for you PLR, brilliant for boosting the content on your site as well as creating products.
She will have three new things on 52% off sale every day in January, but if you missed the ones you want, don't worry because you can see all the deals here. 😊
Use code 2022 to get 52% off everything.
ENDS TOMORROW: Stop the Procrastination and Get Things Done EKit Value Pack

There's even more in Alice's latest Ekit Stop the Procrastination and Get Things Done, just out, also with commercial rights so you can use it to create a product to give away or sell.
The value pack is available for just a few days and at a tiny launch price.
ENDS TOMORROW: Lynette's 30 Day Workbook Learning to Let Go
Another brilliant product with commercial rights. Lynette's 30 Day Learning to Let Go workbook is perfect for coaches and those in the self development niche who need a product to sell or a lead magnet.
Take a look here and use coupon code LETGO for your launch discount until the 11th.
50% OFF EVERY COACH GLUE PLANNER!
You can also get 50% off all Coach Glue planners this month including new ones so you will have even more to offer your customers.
Choose anything on this page and use coupon code 50 to get the 50% discount making most of these substantial products a fantastic deal at just $23.50 instead of $47.
ENDS TOMORROW: 2022 MOSAIC DIGITAL & PRINTABLE PLANNERS
If you loved the design of our November freebie series, you'll love this digital and printable planner set with PLR commercial rights.
You can choose either the digital or printable option or buy both in a value packed bundle.
Find all three options, a video (with a small sample of the pages) and more details on this page.
During our launch sale, the digital planner is just $17 with coupon code MOSAICDIGITAL  (regularly $37)
The printable planner is also $17 with coupon code MOSAICPRINTABLE (regularly $27)
For best value, buy the bundle of both printable and digital planners together for just $27 with coupon code MOSAICBUNDLE (regularly $47)
Enjoy the week ahead and I'll be back soon with more tips, freebies, and some offers but only the ones I personally think are great value and know the quality to be good
love
Jan
https://simplehappiness.biz
P.S. DID YOU MISS THIS FREEBIE? Grab this gorgeous digital planner with full commercial rights and a zero price tag and then see how many ideas you can have for it!
You can change this into any kind of quarterly digital planner you like, change the design, brand it, sell it or create a lead magnet from it. Get this no charge gift from the Digital Divas right here.
This email may contain affiliate links for products I personally recommend, however the opinions expressed are my own.
I will receive a small commission if you buy through my affiliate links, which helps me keep the lights on, but the product will not cost you more.