Hi
It's my 60th birthday tomorrow and after the past year, reaching that milestone is feeling pretty good, all things considered.
So, instead of sticking my head in the sand about the big 6-0, I'm celebrating.
And sharing 😊
Use coupon code BIRTHDAYGIFT to make this new product free—60 digital papers with commercial rights that you can use in any of your projects even if you sell PLR.
Also because I love you, here's a coupon to match my age so you can also get 60% off your whole cart. See what's in my shop here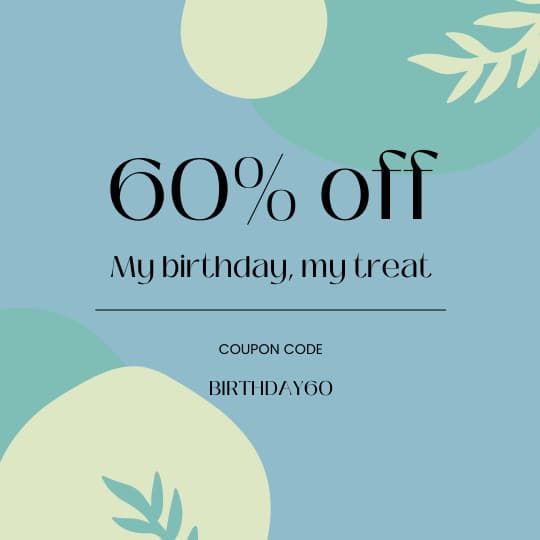 [NOTE: Use the BIRTHDAYGIFT coupon first get your papers free if you want them. Then go in again to buy other stuff as you can't use two coupons at once.]
You can use coupon BIRTHDAY60 up to five times until Sunday so you can shop more than once if you wish.
New Product Line?
I don't know if you know but birthday cards and matching envelopes are great sellers on Etsy.
That's why I finally noticed Teresa's new product, though typical of me, I was late to the party!
The great thing about this product is that it includes both the cards in two sizes and the matching envelope templates.
You could sell them in a print-your-own cards and envelopes format.
Or you could offer them as finished cards and envelopes with Teresa's designs, your own, or even use my free digital papers.
Don't stop at birthday cards either. Cards of all kinds sell all year around.
Teresa gave me a special code as I was late to the launch.
Use code jansbirthday for 50% off (there's a  theme to this email I see LOL) making the whole pack just $13.50
I'm going to have such fun with this, creating my own designs,  once my birthday celebrations are over.
Why not join me and start a new product line with the Birthday Card Printables Kit as well?
Ongoing Product Magic
▶️ Fran at The Happy Journals PLR Club has some new training on Organizing Your Content to Get More Done. This topic is one I love. Fran's course is currently on launch at $27. Get it while it's $20 off.
Have a great week and I'll catch you soon with more tips, freebies, and some offers (but only the ones I personally think are great value and know the quality to be good.)
love
Jan
https://simplehappiness.biz
This email may contain affiliate links for products I personally recommend, however the opinions expressed are my own.
I will receive a small commission if you buy through my affiliate links, which helps me keep the lights on, but the product will not cost you more.